IAN ESKELIN NOMINATED FOR 4th TIME IN A ROW AS PRODUCER OF THE YEAR FOR 41ST ANNUAL GMA DOVE AWARDS;
Eskelin's Work Is Also Recognized With Nominees Francesca Battistelli, Sidewalk Prophets;

All Star United's Single "Beautiful Way" From The Good Album Just Added At Air 1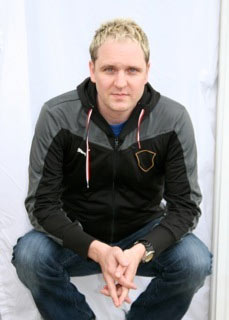 NEWS SOURCE: Vining Media
February 22, 2010
February 22, 2010 - Nashville, TN - The well-known and highly respected work of Ian Eskelin has been recognized by the Gospel Music Association. Also a songwriter and the name and mind behind the popular rock band, All Star United, Eskelin has been nominated yet again as Producer of the Year for this year's 41st Annual GMA Dove Awards. The awards will be given out on Wednesday, April 21st, 2010 at Nashville's famed Grand Ole Opry House and televised nationwide on gmc (www.gmclife.com) Sunday, April 25th.
In his highly successful career as a producer, Ian Eskelin has been nominated four times in a row for Producer of the Year, walking away with the top prize in 2008. He is honored to be acknowledged again this year for his production efforts.
"What an incredible blessing to be included in this list of producers," exclaims Eskelin. "Congrats to Franny and Sidewalk Prophets - thanks for making me look like I know what I'm doing. God is good!"
Not only is Eskelin singled out as a Producer of the Year nominee but his production is also recognized through the nominations of Francesca Battistelli (Artist of the Year, Female Vocalist of the Year, Song and Pop/Contemporary Recorded Song of the Year for "Free To Be Me") as well as Sidewalk Prophets (New Artist of the Year, Pop/Contemporary Album of the Year for These Simple Truths).
"All of us at E1 congratulate Ian on this recognition by the GMA members for his work with some of the best new artists in Contemporary Christian music." states Jim Sturgeon, E1 Entertainment. "We are thrilled to be representing Ian as an artist in his own right with his band All Star United and as the consummate producer of our Avalon 'Reborn' project that released this past fall."
One would think that his plethora of production work with artists like Avalon, Battistelli, Sidewalk Prophets, and many more would keep him busy enough, but not according to Eskelin, as All Star United continues to churn out new music. Most recently, The Good Album, originally released in August 2009 nationally and internationally via online and iTunes, was re-released this past January, making it available for the first time to retail stores nationwide. The re-release includes an exclusive bonus track, "Beautiful Way," which is also the band's new radio single that has already been added at a number of stations, including Air 1.
The Good Album is All Star United's first project released via E1 Entertainment (Avalon, Ashley Cleveland). The 12-song project tackles head-on with profound topics such as redemption and forgiveness, and cultural tendencies toward materialism and celebrity-worship while also exploring weightier topics like guilt, original sin, and the power of forgiveness in relationships. A unique song by song and biblical references, created for each tune on the current project, can be downloaded by visiting www.AllStarUnited.com.
MORE ABOUT.....ALL STAR UNITED
With their 1997 self-titled debut, All Star United obtained four #1 radio hits and a GRAMMY nomination (Best Rock/Gospel Album), this critically-acclaimed band has also has not only toured the world in over 20 countries but have obtained significant placement in prime time TV. Their music as appeared on both ABC and CBS networks, as well as in the movies, specifically in the film trailer for the movie "Superbad."
From the start, this hard-touring rock ensemble quickly developed a widespread following that stretched across the continents where their music has a power that draws festival crowds numbering in the thousands. Although All Star United has lightened their performance dates recently due to Eskelin's emergence as one of Nashville's most popular songwriters and producers (Battistelli, Sidewalk Prophets, Avalon, Krystal Meyers, Remedy Drive, Stellar Kart, Starfield), but their worldwide fanbase stays strong. It's no question that The Good Album will keep that staying power alive and well.
For more info on Ian Eskelin, visit the JFH Artists Database.
For more info on All Star United, visit the JFH Artists Database.


[2022]
Jan. | Feb. | March | April | May | June | July | Aug. | Sept. | Oct. | Nov. | Dec.
[2021]
Jan. | Feb. | March | April | May | June | July | Aug. | Sept. | Oct. | Nov. | Dec.
[2001 - 2021]
Visit our complete MUSIC NEWS ARCHIVE