M I K E S C H A I R
Receives Four Dove Nominations For 41st Annual GMA Dove Awards!
MIKESCHAIR Also Recognized At SESAC Awards
NEWS SOURCE: Vining Media
February 22, 2010
February 22, 2010 - Nashville, TN - What a year for MIKESCHAIR! Their self-titled debut project, which released just last summer from Curb Records has not only delivered some major radio hits but now it's delivered award nominations. MIKESCHAIR has been nominated an astounding four times by the voting members of the Gospel Music Assocation for the upcoming 41st Annual GMA Dove Awards. Recognized for the top honor of Song of the Year with "Let The Waters Rise," the song is also acknowledged in the Pop/Contemporary Recorded Song of the Year category. The band's first hit single, "Can't Take Away," is nominated for Rock/Contemporary Recorded Song of the Year, while the album is up for Pop/Contemporary Album of the Year.
The 41st Annual GMA Dove Awards will be held Wednesday, April 21st, 2010 at Nashville's legendary Grand Ole Opry House, and will be televised nationwide on gmc (www.gmclife.com) Sunday, April 25th.
Since their self-titled project released on July 14th, MIKESCHAIR - Mike Grayson, Sam Tinnesz, Jesse Hale, Jon Haire - are so honored to be recognized by their peers and the industry as a whole.
Bassist Jon Haire explains, ""Being the one guy in MIKESCHAIR that has grown up in Nashville, the Doves have always been an exciting time of year for me to watch my parent's friends and musical influences receive recognition for their achievements. I am just blown away that I too now have an opportunity to experience such a wonderful thing. God has once again connected a dream of mine to a calling of His, and for that reason alone I am honored and humbled."
"Dove Nominations are something we definitely didn't expect at all," lead vocalist Mike Grayson adds. "We already feel so blessed just to be nominated!"
"God has been really doing some incredible things this year in our lives and in our ministry," Sam Tinnesz, lead guitarist shares. "He has protected us in some of the most dangerous moments and also really encouraged us by opening doors that we could never open by ourselves. Being nominated for a Dove is truly an honor."
The music of MIKESCHAIR was also recently recognized by the performing rights organization SESAC. Held at the the famed Loveless Cafe and Barn in Nashville earlier this month, both songs "Can't Take Away" and "Let The Waters Rise" were acknowledged at SESAC's Christian Awards, which honors songwriters and the hit songs that topped Billboard's Christian charts in 2009. A photo from the awards presentation is below.
MIKESCHAIR is a band well-known for infectious songs that inspire action to change the world through love. The group, also known for their humanitarian efforts, specifically with mikestable, visited Peru this past December with Tampa's JOY-FM in support of Buckner International's "Shoes for Orphaned Souls" program (www.buckner.org), where thousands of shoes were donated to orphaned children of Peru, South America.
Partnering with organizations and utilizing mikestable at many of their shows, it is the band's hope for people to be aware of what's going on in the world in terms of need, to give them empowerment, while also give options. Audiences are welcomed to visit mikestable, which is dedicated to offering information for various causes such as Food for the Hungry, IJM, Love 146 and much more.
MIKESCHAIR is currently touring on WINTERBLAST 2010 with Building 429, Britt Nicole and Chris And Conrad. The band will join the last leg of Winter Jam 2010 starting in mid-March where they will hit such markets as Little Rock, AR, Shreveport, LA, and Grand Rapids, MI. Visit www.MIKESCHAIR.com for the most updated tour schedule, especially for more concert dates being added for the spring and summer.
MIKESCHAIR is managed by Creative Trust, Inc., and booked by Jeff Roberts & Associates, both located in the Nashville, TN area.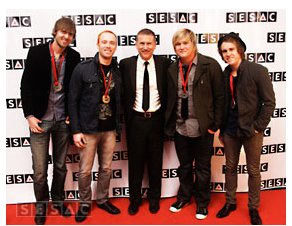 (L-R) Jon Haire, Sam Tinnesz, SESAC's John Mullins, Mike Grayson and Jesse Hale at the SESAC Awards.
For more info on MIKESCHAIR, visit the JFH Artists Database.


[2022]
Jan. | Feb. | March | April | May | June | July | Aug. | Sept. | Oct. | Nov. | Dec.
[2021]
Jan. | Feb. | March | April | May | June | July | Aug. | Sept. | Oct. | Nov. | Dec.
[2001 - 2021]
Visit our complete MUSIC NEWS ARCHIVE