Integrity Music Announces National Contest
Two Winners to Receive All-Expense-Paid Trips to
New York to be a Featured Soloist with the
Grammy Award Winning Brooklyn Tabernacle Choir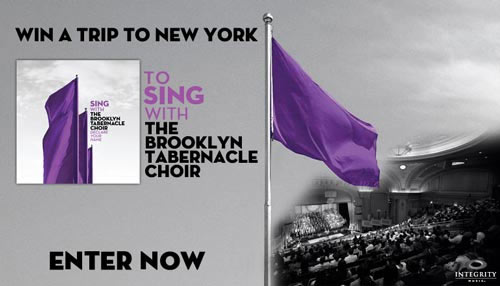 NEWS SOURCE: Integrity Music
March 24, 2010
BROOKLYN, NY (March 22, 2010) - - Integrity Music announces the "Sing with the Brooklyn Tabernacle Choir Contest," an opportunity for two fans to win a trip to New York to sing with the Grammy Award winning Gospel choir at the historic Brooklyn Tabernacle.
To enter, contestants should:
1.) Obtain free backing tracks for songs from the choir's latest project, Declare Your Name, by emailing a request to singwithbtc@gmail.com. For men, the recommended track is "I Surrender" and for women, "Oh The Cross."
2.) Prepare a video of his/her song presentation and submit it via You Tube at www.YouTube.com/DeclareYourName, which also includes a message from choir director Carol Cymbala and assistant music director Jason Michael Webb.
The contest is open to U.S. residents only and ends at midnight, April 15. (No purchase is necessary to win.) Entries will be judged by an expert panel that includes Cymbala, Webb and others. The winning two entrants will each receive an all-expense-paid weekend trip for two to New York to sing with the choir.
Originally founded in 1973 with only eight members, the Brooklyn Tabernacle Choir is today one of the most respected choirs in America with six GRAMMY Awards, nine Dove Awards and over four million in album sales to their credit. The 300-voice Gospel choir was born out of the historic Brooklyn Tabernacle in downtown Brooklyn, NY. The Choir, like the church, is a blend of ethnic and economic backgrounds. The ensemble is comprised of passionate and often musically-untrained church members ranging from lawyers and doctors to ex-crack addicts. Additional information regarding the life-changing ministry of the Brooklyn Tabernacle and Brooklyn Tabernacle Choir is available at www.brooklyntabernacle.org.


[2022]
Jan. | Feb. | March | April | May | June | July | Aug. | Sept. | Oct. | Nov. | Dec.
[2021]
Jan. | Feb. | March | April | May | June | July | Aug. | Sept. | Oct. | Nov. | Dec.
[2001 - 2021]
Visit our complete MUSIC NEWS ARCHIVE