HAWK NELSON INVITES FANS TO LIVE LIFE LOUD ON THEIR HEADLINE TOUR
FRONTMAN JASON DUNN VISITED HAITI WITH SAMARITAN'S PURSE;
A PART OF ARTIST CHOIR FOR "COME TOGETHER NOW"
NOMINATED FOR TWO GMA DOVE AWARDS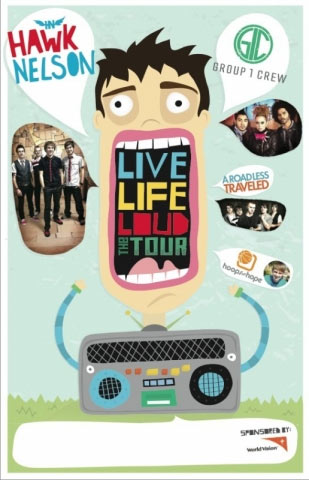 NEWS SOURCE: Overture Media
April 6, 2010
SEATTLE, WA…April 6, 2010...Encouraging fans to "Live Life Loud," Hawk Nelson is ready to introduce their headline tour that begins April 16, 2010 in Duluth, MN. The World Vision sponsored tour will also include fan favorites Group 1 Crew and A Road Less Traveled as well as feature Hoops for Hope. For the complete tour schedule, visit http://www.hawknelson.com.
"Life Life Loud" the tour begins on the heels of their recent release "Live Life Loud," which embodied everything fans know of Hawk Nelson. Their fourth-studio project loudly resounded with media reviewers as they touted the album as Hawk Nelson's "most mature," "diverse collection," and "best overall album." This year, the guys have spent time in the studio recording special acoustic tracks and this last week they traveled to to Australia to perform for their international fans. In addition to their upcoming headline tour, Hawk Nelson is celebrating two GMA Dove Nominations this year for "Recorded Music Packaging" and "Short Form Video."
As part of their campaign to get everyone living life loud, Hawk Nelson is asking their Twitter followers to use the hashtag #livelifeloud whenever they Tweet about something that showcases the true meaning of what it means to "Live Life Loud." On the tour homepage, fans can see others tweeting about how they "Live Life Loud."
Taking their recent release's subject matter to heart, Hawk Nelson is striving to "Live Life Loud." Recently with the devastating 7.0 magnitude earthquake in Haiti, Jason Dunn joined the 100+ artist choir for Michael W. Smith's "Come Together Now" recording. This song was recorded live at Belmont University's Ocean Way Studios and is now featured on the "Healing 4 Haiti" CD. All net proceeds from the sale of this album will support relief efforts in Haiti including clean water, shelter, medical care and other critical aid from Samaritan's Purse. It will also support the work of the Billy Graham Evangelistic Association's Rapid Response Team, who had chaplains on the ground within 24 hours of the earthquake providing emotional and spiritual comfort to survivors. In addition to Dunn's participation in this recording, he also traveled in February to Haiti with Samaritan's Purse to see for himself the tragedy.
"My trip to Haiti was life-changing," shares Dunn. "On my flight there, I asked God to break my heart for these people. He listened, like He always does!"
For more information, tour dates, and video updates from the band visit http://www.hawknelson.com and follow the band on Twitter @HawkNelson.
About Hawk Nelson:
This powerhouse, pop rock foursome hailing from Canada has won the hearts of thousands since their debut release. In 2009, Hawk Nelson performed fans across the country with the Winter Jam Tour Spectacular, REVOLVE tour, the Rock and Worship Roadshow and Skillet's Awake & Alive tour. Despite their insane touring schedule, the guys recorded their fourth studio album, "Live Life Loud," which released September 2009. This release was the third top album on the overall Christian chart, the 18th digital album in the nation, the second digital album on the Christian chart and debuted with eight singles in the Top 200 digital tracks during street week. Hawk Nelson has also appeared on NBC's drama "American Dreams," a cameo appearance in the Nickelodeon film "Yours, Mine, & Ours" as well as had their songs featured on NBC's Stanley Cup promo spots, WB's Smallville, Summerland, & Laguna Beach. In addition, the band has formed a lasting relationship with TOMS Shoes. For the band's effort, every pair of shoes purchased via Hawk Nelson's website, TOMS donates a pair of shoes to someone in Haiti as the band's ongoing involvement with the Hands & Feet Orphanage.
About Group 1 Crew:
A self-professed entertainer, a pop diva, and a bona fide producer: that's the makeup of breakout urban sensation Group 1 Crew, three everyday Latinos who rose above their circumstances and the middle-of-the-road to become one of the most exciting aggregates in faith-based music. Their 2008 release, Ordinary Dreamers (2009 Dove-winning "Rap/Hip Hop Album of the Year"), the trio's second album for Fervent Records, shattered any and all preconceptions created by their out-of-the-box, Dove-winning debut, Group 1 Crew (2008 "Rap/Hip Hop Album of the Year"), to position itself as one of the most unordinary offerings of the moment—an amalgam of rhythm and rhyme that takes the best of urban pop and hip-hop and turns them upside down. G1C challenge people to dream and pursue the calling God has given them. For more information, visit http://www.group1crew.com.
About A Road Less Traveled:
The Christian rock group A Road Less Traveled from Lubbock, TX has toured with Superchick and supported some of the biggest names in Christian music such as Switchfoot, Skillet, Toby Mac, Family Force 5, Relient K, and many more. Their latest EP, "Of a Captive Heart", is capturing hearts and getting national media attention. The single "Underneath" has been steadily picking up adds on Christian rock radio. They are currently a finalist in Camp Electric's Rock the Camp Contest (partly owned by Toby Mac). Not too bad for a independent band from Texas. For more information, visit http://www.myspace.com/aroadlesstraveled
- ### -
For more info on Hawk Nelson, visit the JFH Artists Database.


[2021]
Jan. | Feb. | March | April | May | June | July | Aug. | Sept. | Oct. | Nov. | Dec.
[2020]
Jan. | Feb. | March | April | May | June | July | Aug. | Sept. | Oct. | Nov. | Dec.
[2001 - 2020]
Visit our complete MUSIC NEWS ARCHIVE