Diamond Rio Preps for Big Week with 41st Annual GMA Dove Awards and Team Rios Participation in the Country Music Marathon
Diamond Rio's Running and Walking group, Team Rio, Gears Up For Country Music Marathon and 1/2 Marathon this Saturday in Support of Big Brothers Big Sisters of Middle Tennessee

Band honored at 41st annual GMA Dove Awards Tonight with Their First-ever Multiple Nominations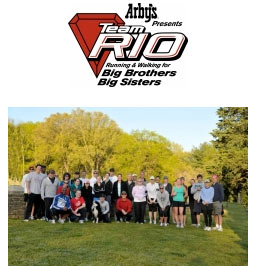 NEWS SOURCE: The M Collective
April 21, 2010
Nashville, TN April 21, 2010... Marty Roe and Jimmy Olander of the six-time Vocal Group of the Year and multiple Dove nominated band, Diamond Rio, have been hitting the pavement for the sixth year in a row as long-time running captains for Team Rio. This dedicated group of almost 200 adult runners and walkers have been training with a purpose since January and will cross the finish line this Saturday, April 24 at the Country Music Marathon and 1/2 Marathon in Nashville. This marks Team Rio's sixth anniversary raising money for Big Brothers Big Sisters of Middle Tennessee and with donations still in full swing, the team has raised over $120,500.00 thus far sending Team Rio's overall fundraising totals to well over $500,000.00.
"I am pumped to get to the starting line and get my Country Music running shoes into high gear," shares Diamond Rio's Jimmy Olander. "Last year my time was crunched by the heat like many of my friends on Team Rio. This year the forecast looks like we might get a little wet. All I can say is bring on the rain! Not so great for my Country and Western hair doo, but great for my finish time. My fastest runs are always in rainy conditions. It's not too late to run with a purpose. Anyone - and I mean anyone - can join us. We've had people run with us from as far as North Dakota and California. In 2008 we had a runner from D.C. who got to town on Friday, heard about our team that day, came straight to the office to make a donation and pick up his Team Rio jersey to run with us. If you have been training for the full or the half marathon and are officially registered for the 2010 CMM, I encourage you to make your miles count for the kids and take part in our team camaraderie." Diamond Rio's Marty Roe adds, "so far everything is still working... my knees and my joints. Here we go. Yee haw!" For more information on how to sign up for this or next year's team, please visit www.teamrio.org.
Additionally this year, a theme song, "The Finish Line," written by local artist and songwriter, Michael Rhodes, will be featured on www.teamrio.org starting Friday, April 23. Jimmy Olander, past winner of the coveted Team Rio award for "Best Legs," was featured in this song.
To add to the adult team, Team Rio Kids, will compete in Friday's Country Music Kids Marathon. Master Fitness Trainer and six-time Soldier of the Year Sgt Ken Weichert will lead 120 kids from numerous local schools as they run the last mile of the marathon and cross the official Country Music Marathon finish line. Team Rio Kids partners with local schools to teach and encourage healthier lifestyles and to assist the kids with training for the Kids Marathon.
Before they hit the pavement, the Word Records' recording artists will attend tonight's GMA Dove Awards in Nashville. The band received their first-ever and multiple nominations from their recently released project, The Reason, for "Song of the Year" ("God is There"), "Country Recorded Song of the Year" ("God is There"), and "Country Album of the Year." The Dove's will air on Sunday, April 25th at 8/7 cst.
If you would like to support Jimmy, Marty or any of the Team Members, a donation can be made at www.teamrio.kintera.org/jimmyo, www.teamrio.kintera.org/martyroe or www.teamrio.kintera.org.
About Team Rio:
Team Rio was founded in the winter of 2004 by Diamond Rio's guitarist, Jimmy Olander and Modern Management's Renee Behrman-Greiman. Diamond Rio, long-time National Ambassadors for Big Brothers Big Sisters and Behrman-Greiman, a Big Sister and Board Member with the agency allocated BBBS as the team's benefactor. Neither of them remember 100% committing to running the Country Music Marathon and Half Marathon in 2005, however they do remember crossing the finish line for the first time with twenty-five committed team members, an amazing cheering section and raising over $24,000.00 for Big Brothers Big Sisters of Middle Tennessee. In the past five years over $390,0000 has been raised for the Middle Tennessee agency. Team Rio Running/Walking for Big Brothers Big Sisters has grown to over 150 runners and walkers and added Team Rio Kids with over 80 kid participants in the kid's marathon. Team Rio is celebrating its sixth anniversary.
About Team Rio Kids:
In addition to raising funds and awareness for the agency, a main goal of Team Rio Running and Walking for Big Brothers Big Sisters is to promote health and fitness to local kids. The youth team, TEAM RIO KIDS, partners with local schools to teach and encourage a healthier lifestyle and assist the kids with their training for the Kids Marathon. Team Rio Kids will train within their respective schools or with their parents to complete 25.2 miles prior to April 23 when they will complete the last mile of the actual course and cross the official Country Music Marathon finish line. SGT Ken, Team Rio Kids Coach, provides training schedules and health tips in his weekly email newsletters, "SGT Ken Says."
About Diamond Rio:
Diamond Rio unveiled their 11th album The Reason on Word Records 9/22/09. The autobiography "Beautiful Mess" from Thomas Nelson coincided with the album release. Formed in 1984, Diamond Rio features lead singer Marty Roe, guitarist Jimmy Olander, drummer Brian Prout, keyboardist Dan Truman, bassist/harmony Dana Williams and Gene Johnson on mandolin/harmony. The band signed with Arista in 1988 and embarked on one of the most successful careers in country music. The band has sold over 10 million albums earning three platinum and five gold records and won the Country Music Association's Vocal Group of the Year award four times as well as netting two Academy of Country Music Awards in the top Vocal Group of the Year category and thirteen GRAMMY ® nominations. When they debuted in 1991 with the hit "Meet in the Middle," Diamond Rio became the first group in the history of country music to have a debut single reach No. 1. They continued to place 32 more singles (including nine #1 singles)on the charts, including "How Your Love Makes Me Feel," "Norma Jean Riley," "Beautiful Mess" and "Love a Little Stronger." They have been nominated for 13 consecutive CMA Vocal Group of the Year awards (more than any other band in the format), 13 Grammy nominations, and named Grand Ole Opry members in 1998. The band is highly regarded for their charitable contributions as the longtime National Spokespersons for Big Brothers Big Sisters of America and was further honored with the prestigious Minnie Pearl Humanitarian Award in 2004. For Diamond Rio news and tour dates, please visit www.diamondrio.com http://www.diamondrio.com/.
About Big Brothers Big Sisters:
Big Brothers Big Sisters helps children reach their potential through professionally supported one-to-one friendships between a caring adult volunteer and a child. The children are from all backgrounds, and they are found to benefit from an additional positive adult role model in their lives. This one-to-one relationship is proven to cause children to do better in school, avoid drugs and violence, and establish new goals for themselves. Their website is www.mentorakid.org.
In 2008, Big Brothers Big Sisters of Middle Tennessee served over 2,200 Middle Tennessee children with a one-to-one mentor. 2009 marks Big Brothers Big Sisters of Middle Tennessee's fortieth anniversary for serving children.
Big Brothers Big Sisters serves children all across Middle Tennessee in Metro Nashville/Davidson County as well as Rutherford, Williamson, Cheatham, Hickman, Dickson, Robertson, Sumner, and Wilson counties. The administrative offices for Big Brothers Big Sisters of Middle Tennessee can be reached at 1704 Charlotte Avenue, Suite 130, Nashville, TN 37203 or by calling (615) 329-9191. To better serve clients, there is additionally a satellite office in Murfreesboro.

[2021]
Jan. | Feb. | March | April | May | June | July | Aug. | Sept. | Oct. | Nov. | Dec.
[2020]
Jan. | Feb. | March | April | May | June | July | Aug. | Sept. | Oct. | Nov. | Dec.
[2001 - 2020]
Visit our complete MUSIC NEWS ARCHIVE