Big Idea Proudly Presents VeggieTales Live! Sing Yourself Silly!
VeggieTales Characters Perform Favorite Songs with Singing, Dancing Extravaganza During 37+-city Major Market Tour

World Vision Sponsors Tour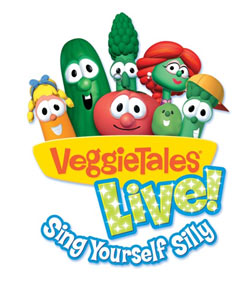 NEWS SOURCE: Hoganson Media
June 9, 2010
FRANKLIN, TN (June 9, 2010) – There's never ever been a show like VeggieTales, and now fans can enjoy the ultimate live experience with VeggieTales Live! Sing Yourself Silly! tour coming to a city nearby. Everyone's favorite VeggieTales characters take to the stage this fall to perform for audiences nationwide during their 37+-city major market tour. (Current tour itinerary follows.)
The tour kicks off on September 28 in Shreveport, Louisiana before heading to cities such as Atlanta, Chicago, Dallas, Houston, Louisville, Nashville, Orlando, Washington, D.C. and Birmingham, just to name a few. For the latest itinerary, ticket information and group sales (ranging from $10 - $25), please visit www.bigidea.com/live.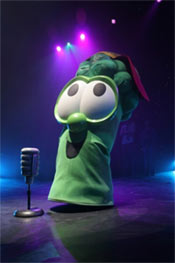 Bob, Larry and the entire Veggie cast bring zany antics to the stage with wacky fun, engaging story telling and lots of music! It's crowd pleasing Silly Songs and timeless values in a show like you've never seen before. Kids and parents alike will have the opportunity to enjoy this 60-minute high-energy musical extravaganza at top venues across the country.
"We are thrilled to have created a high-quality, fun and interactive experience for kids and their parents with this live show," says Leslie Ferrell, General Manager of Big Idea Entertainment. "As is our hope with all our ventures, we want to combine a high level of fun, music—and of course, silliness—with an encouraging message for kids that their parents will appreciate as well!"
As official sponsors of the VeggieTales Live! Sing Yourself Silly! tour, Big Idea will partner with World Vision. Sharing a mutual passion for the world's children, Big Idea will facilitate child sponsorship efforts with World Vision during each show through a video presentation and sponsor cards. Through World Vision's child sponsorship efforts, countless lives have changed for individual children and their entire communities by providing access to things like clean water, health care, education, and hope for a better future.
Show Synopsis
It's bedtime for Junior Asparagus– but no matter how hard he tries, he just can't fall asleep! Between thoughts of the boogie man and Godzilla, crazy nightmares about giant pickles, and imagining shadowy images of his furniture creeping across the room—Junior is wide-awake! No amount of sleep-inducing tactics from his Veggie friends seems to work! But when Junior's babysitter Suzie reminds him that the Bible tells us to "think about whatever is true, right, pure and lovely," and that God is bigger than any fear or problem we may have, Junior begins to understand that he is safe under God's protection—even when he is sleeping! To help Junior think "happy thoughts," Bob, Larry and the whole gang kick it into high gear with the best silly song show ever! Packed with singing, dancing and a whole lot of fun, everyone learns that God really is "bigger than the boogie man!"
Fan favorites include classic silly songs such as "His Cheeseburger," "I Love My Lips," "Oh, Where is My Hairbrush," "The Water Buffalo Song," and more, as well as the original, never-before- heard silly song, "My Bear" featured on the brand new VeggieTales: It's A Meaningful Life DVD coming this fall!
About Big Idea Entertainment
Big Idea Entertainment is the leading faith-based studio and producer of children's and family programming, characters and brands. Since 1993, Big Idea's best-selling animated series VeggieTales has sold 53+ million videos, 13 million books and more than 7 million CDs. VeggieTales and Big Idea's property, 3-2-1 Penguins!, enjoyed four seasons as top-rated series on NBC Saturday mornings, Telemundo and ION TV via the qubo children's programming block. The studio's two theatrical releases, Jonah-A VeggieTales Movie (2002), and Universal Pictures' and Big Idea's The Pirates Who Don't Do AnythingÔ-A VeggieTales Movie (2008), are distinguished among the top ten most successful faith-based films of all time. Big Idea also maintains an extensive presence in publishing, licensing and live entertainment arenas. For more information on Big Idea Entertainment, visit: www.bigidea.com.
VeggieTales Live! Sing Yourself Silly! Tour Itinerary:
SEPTEMBER
9/22/2010 Shreveport, LA
9/23/2010 Little Rock, AR
9/24/2010 Dallas, TX
9/25/2010 Houston, TX
9/28/2010 Wichita, OK
9/30/2010 St. Louis, MO
OCTOBER
10/1/2010 Cincinnati, OH
10/2/2010 Grand Rapids, MI
10/8/2010 Louisville, KY
10/9/2010 Birmingham, AL
10/10 & 10/11/2010 Charlotte, NC
10/12/2010 Raleigh, NC
10/13/2010 Winston-Salem, NC
10/14/2010 Lancaster, PA
10/15/2010 Lynchburg, VA
10/16/2010 Atlanta, GA
10/19/2010 Montgomery, AL
10/21/2010 Largo, FL
10/22/2010 Orlando, FL
10/26/2010 Memphis, TN
10/28/2010 Chattanooga, TN
10/29/2010 Huntsville, AL
10/30/2010 Knoxville, TN
10/31/2010 Madisonville, KY
NOVEMBER
11/4/2010 Charleston, WV
11/5/2010 Fayetteville, NC
11/6/2010 Washington, DC
11/8/2010 Indianapolis, IN
11/9/2010 Detroit, MI
11/12/2010 Kansas City, KS
11/13/2010 Oklahoma City, OK
11/15/2010 Des Moines, IA
11/16/2010 Omaha, NE
11/18/2010 Nashville, TN
11/19/2010 Chicago, IL
11/20/2010 Milwaukee, WI
* All dates subject to change.
# # #


[2022]
Jan. | Feb. | March | April | May | June | July | Aug. | Sept. | Oct. | Nov. | Dec.
[2021]
Jan. | Feb. | March | April | May | June | July | Aug. | Sept. | Oct. | Nov. | Dec.
[2001 - 2021]
Visit our complete MUSIC NEWS ARCHIVE