JESUS CULTURE MY PASSION EP RELEASES TO WORLDWIDE SUCCESS,
HITS ITUNES TOP ALBUM CHART AT NO. 8 IN U.S., NO. 2 IN AUSTRALIA,
NO. 1 ON U.S. CHRISTIAN CHART
Free Song Download Available At http://mypassionep.com

Kingsway Releases Music Of Jesus Culture For First Time
Into Christian, General Market Retail Stores July 13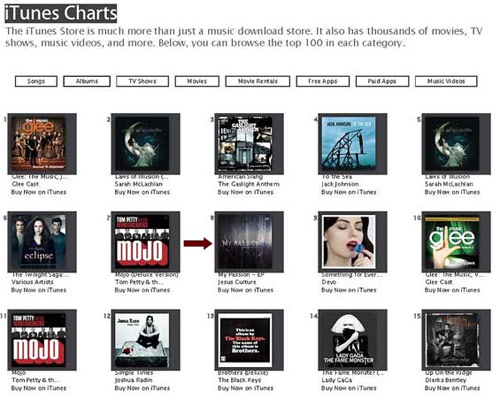 NEWS SOURCE: Hoganson Media
June 17, 2010
(Nashville, TN) June 17, 2010 – Jesus Culture Music released its newest EP recording, My Passion, to digital retailers in the U.S. June 15. Without any traditional marketing and radio support, the recording quickly became the No. 8 best-selling album on the iTunes Top Albums chart, while hitting the No 1 position on its Christian albums chart. The EP also found significant digital sales success worldwide, reaching the iTunes No. 2 overall albums position in Australia and No. 44 in England.
Recorded live at a Jesus Culture Conference in Las Vegas in April 2010, the EP features Kim Walker-Smith, who was named this year by Charisma magazine as one of 21 "Emerging Leaders of Tomorrow's Church," and Chris Quilala, who recently appeared on The 700 Club, leading three original worship songs: You Are My Passion, Kingdom and Show Me Your Glory.
"How is this currently selling more than Lady Gaga, B.o.B., Lady Antebellum and Ke$ha on iTunes? Where is the radio play? The marketing?" writes one journalist at the music blog site www.thesoundloft.com.
The answer may be best summarized by the 5-star rating and 210 reviews posted so far by fans of Jesus Culture Music on iTunes. One reviewer writes, "Once Again JesusCulture sets the bar for where worship music should be. They are relevant to this generation and the sounds they produce are truly changing the atmosphere!"
Featuring almost 25-minutes of music, the first track on My Passion, "You Are My Passion," is being offered by Jesus Culture for free at http://mypassionep.com.
Jesus Culture Music exists to ignite revival in the nations of the earth, compelling the Body of Christ to radically abandon itself to a lifestyle of worship, motivated by a passion to see God receive the glory that is due His name. In addition to Quilala and Walker-Smith, Jesus Culture includes solo artists Jake Hamilton, Kristene Mueller and Heather Clark. Selling hundreds of thousands of recordings spanning seven full-length albums and CD/DVD combinations to primarily an international audience through online outlets and at events, Kingsway will for the first time bring Jesus Culture Music to physical retail throughout the USA into both Christian and general market stores with distribution by EMI CMG.
Jesus Culture recordings that will be released July 13 through Kingsway follow:

2009 Consumed (Chris Quilala, Kim Walker-Smith, Melissa Wise-How)
2009 Marked By Heaven (Jake Hamilton)
2008 Those Who Dream (Kristene Muller)
2008 Your Love Never Fails (Chris Quilala, Kim Walker, Melissa Wise-How)
2008 Here Is My Song (Kim Walker)
2007 We Cry Out (Chris Quilala, Kim Walker, Melissa Wise-How)
2006 Everything (Chris Quilala, Kim Walker, Melissa Wise-How)
In addition to its recordings, Jesus Culture holds conferences led by Banning Liebscher, Jesus Culture director, and its team of worshippers travelling across the USA and beyond. Upcoming conferences will be held in Atlanta July 14-16 and in Jesus Culture's hometown of Redding, CA July 28-30, where the next CD/DVD will be recorded and is scheduled to be released by Kingsway in November. Other upcoming albums include Heather Clark's Overcome, which releases in July.
More information on Jesus Culture, including its conferences, can be found at www.jesusculture.com.
Kingsway Music:
Kingsway Music, a division of Kingsway Communications Ltd, is owned by David C Cook, a global ministry and publisher of Sunday school curriculum, children's discipleship, books and Christian materials for the church and home and whose profits and 100% of its donations provide free discipleship materials to pastors and teachers across the globe. For more than thirty years, Kingsway has produced worship music that has become the soundtrack for churches and concert venues across the world, including the music of such well-known artists as Delirious?, Tim Hughes, Matt Redman. Brenton Brown, Ben Cantelon, Chris McClarney, Kelly Minter, Miriam Webster and more. Kingsway Canadian distribution is through David C. Cook Distribution Canada, with U.S. distribution through EMI Christian Music Group.
More information on Kingsway Music is available at www.kingsway.co.uk.
# # #


[2022]
Jan. | Feb. | March | April | May | June | July | Aug. | Sept. | Oct. | Nov. | Dec.
[2021]
Jan. | Feb. | March | April | May | June | July | Aug. | Sept. | Oct. | Nov. | Dec.
[2001 - 2021]
Visit our complete MUSIC NEWS ARCHIVE