STRYPER REVEALS CLIPS FROM THEIR UPCOMING ALBUM THE COVERINGS
For a limited time, fans can preview Stryper's upcoming Big3 Records release by following Stryper frontman Michael Sweet on Twitter. The new collection of cover songs pays tribute to the bands that inspired Stryper, including Black Sabbath, Judas Priest, Iron Maiden, Led Zeppelin, Kansas and many others.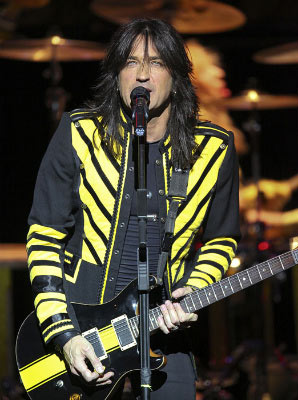 NEWS SOURCE: Nashville Publicity
July 23, 2010
(NASHVILLE, Tennessee) -- Following the success of their 25th Anniversary World Tour earlier this year, legendary rock band Stryper headed into the studio to work on their upcoming album, The Covering, tentatively scheduled for release October 13th from Big3 Records/SONY. For a limited time, fans can preview the new album by following Stryper frontman Michael Sweet on Twitter at http://www.twitter.com/michaelhsweet, where he will be revealing a hidden website where fans can hear exclusive song clips not available anywhere else.
The Covering, produced by Michael Sweet, will be unlike any previous Stryper recording, in that it's a collection of cover songs from bands that inspired them and helped to shape their sound and musical identity, including past hits from Judas Priest, Iron Maiden, Led Zeppelin, Kansas and many others. A cover of Black Sabbath's hit "Heaven and Hell" will be the first single, with an expected iTunes release in advance of the album. The Covering will also include "God," a new original recording from Stryper.
"Stryper recorded The Yellow and Black Attack (Enigma Records) back in 1983, and it was released the following year," says Michael. "Twenty six years have passed and after seven studio releases and multiple compilation and live projects, we decided to show our fans where our roots lie musically. The Covering consists of particular songs and groups that molded and shaped us and made us who we are today."
One of the highlights for Stryper fans is that The Covering is the first studio album in nearly two decades on which all four original members, plus longtime keyboardist Charles Foley, have recorded together.
"This record includes the original lineup," explains Michael. "Tim, Robert, Oz and I haven't recorded a full-length project together since 1990's Against the Law (Enigma Records), so this is truly history in the making. We also had what was probably the best time we've ever had recording a record together and I believe that this comes through in the energy and the spirit of each track. We're all extremely excited about this record and more importantly, we're all extremely confident about the future of Stryper and the four of us making music together for years to come."
About Stryper
Stryper's latest album, Murder by Pride, was released in 2009. The band supported the album with a year-long 25th Anniversary World Tour which took them throughout North America, South America, Europe and Australia. In 1984, Stryper broke onto the scene with their debut EP The Yellow and Black Attack, and have since gone on to sell 8 million albums and tour the world spreading an inspirational message through their branded sound of rock songs, heavy guitars, and pristine harmony vocals. The group's unprecedented 1986 album To Hell with the Devil was the first Christian album to go platinum and was named one of the "100 Greatest Albums in Christian Music" by CCM Magazine. Stryper was also the first Christian band to get airplay on MTV, where they had several hit videos, including the #1 "Most Requested" videos "Free" and "Honestly."
For more information, visit http://www.stryper.com.
# # #
For more info on Stryper, visit the JFH Artists Database.


[2022]
Jan. | Feb. | March | April | May | June | July | Aug. | Sept. | Oct. | Nov. | Dec.
[2021]
Jan. | Feb. | March | April | May | June | July | Aug. | Sept. | Oct. | Nov. | Dec.
[2001 - 2021]
Visit our complete MUSIC NEWS ARCHIVE