Maria's Big House Of Hope Celebrates One Year Anniversary
Volunteers From Geisinger Medical Center
Performed First In-House Surgeries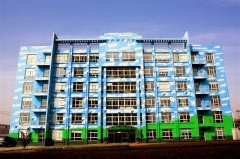 NEWS SOURCE: Vining Media
August 19, 2010
Nashville, TN – August 19, 2010 –Last month, Show Hope™, the adoption awareness and orphan care ministry founded by Steven Curtis and Mary Beth Chapman that exists to care for orphans around the world, celebrated the one year anniversary of the opening of Maria's Big House of Hope. This medical care center provides the highest level of care for special needs orphans, from newborn to age five, who are in desperate need of surgeries and medical attention thus enabling the children to thrive and increase the orphans' chances of being adopted. Maria's Big House of Hope, located in Luoyang, China, was named in loving memory of the Chapman's 5-year old daughter, Maria Sue Chapman.
Over 200 orphans have been cared for at Maria's Big House this past year, all who have received an incredible amount of love and medical attention due to the enormous support through its staff, volunteers and donations. Additionally, many of these orphans have been able to be placed into forever homes.
The staff of Maria's Big House has grown through the year as well. The facility has employed 8 management team members, 7 medical staff, 192 nannies and caregivers, 19 cooks, 20 cleaners and other miscellaneous positions, all which are helping make a difference in the lives of these children and offering more employment than ever before to the local community of Luoyang.
Other additions to the home over the course of the year were the opening of a kindergarten classroom for the older children, and in June, a youth group visiting Maria's Big House while on a mission trip installed a playground for all of the children. The playground was funded by a private foundation that partners with other organizations that do great works in the lives of children to provide play spaces for children.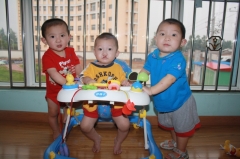 Another exciting event this past June was the arrival of a full medical team from Geisinger Medical Center, based in Danville, Pennsylvania, that traveled to Maria's Big House of Hope to voluntarily perform the first-ever in-house surgeries for some of the orphans in need. Dr. Erica McElroy, an emergency medicine doctor at Geisinger, organized and led the medical team of volunteer doctors and nurses, including plastic surgeon Dr. Joseph DeSantis. Together they performed corrective surgeries to eleven cleft lip or palate babies, giving hope and the much-needed care for these orphans.
"For many of the team members on this trip, it was their first medical mission experience and for some their first time out of the country, and God clearly had a hand in forming the medical team," Dr. McElroy shares. "An additional blessing, which is hard to put into words, is what I saw happen in the lives of the physicians, nurses and pharmacists who took part in this trip. I saw hearts transformed in response to the orphans and the love and dedication of those at Maria's Big House. God has called us to care for orphans and when we obey Him, He ministers to our hearts and changes us forever."
Another doctor on the trip, Dr. Edward Fannon, explains, "As someone who regularly takes part in international missions, I can say that the surgical trip to Luoyang stands out as one of the most rewarding and most memorable. Memorable because we were 'treading new ground' by performing surgeries in a foreign country, in a new operating room, in a relatively new facility. This led to a fair amount of anxiety for the whole team, but we saw that God called on each one of us for the skills that we were able to offer."
Since the doors opened in July 2009, it's been an exciting and fruitful year for everyone involved at Maria's Big House of Hope and Show Hope. With the wonderful care given to the orphans who have moved on from Maria's Big House and to those currently receiving care, there is hope. Already a single floor special care unit opened in April in Jiaozuo, near Luoyang, which is able to care for 36 children at capacity. Opening as an extension to Maria's Big House of Hope, plans are underway to look ahead and to reach out for more opportunities such as this.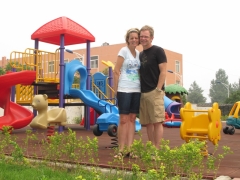 The Chapman's in front of the brand new Maria's Big House of Hope playground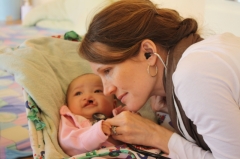 Dr. Erica McElroy with one of the children who received corrective surgery
ABOUT show HOPE™:
Originally named after the Chapman's first adopted daughter, Shaohannah's Hope (now known as Show Hope) began with a simple desire to help "assist" families in the process of adoption, particularly by helping tear down the financial barrier that prevents many of them from bringing an adopted child into their home. The organization has given over 2,400 financial grants, affecting the lives of children from 45 different countries, including many from the U.S. In addition to giving financial grants, Show Hope empowers families, churches and communities with adoption and orphan care resources and advocacy efforts. Show HOPE has become an internationally recognized "voice" for orphan advocacy and adoption awareness.
# # #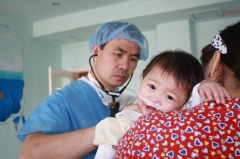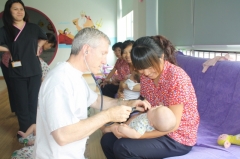 For more information about Maria's Big House of Hope and Show Hope™, please visit
ShowHope.org


[2021]
Jan. | Feb. | March | April | May | June | July | Aug. | Sept. | Oct. | Nov. | Dec.
[2020]
Jan. | Feb. | March | April | May | June | July | Aug. | Sept. | Oct. | Nov. | Dec.
[2001 - 2020]
Visit our complete MUSIC NEWS ARCHIVE