WORD ENTERTAINMENT TO PROVIDE YOUTH MUSIC VAULT LOUNGE AT
DISNEY'S "NIGHT OF JOY"
SEPTEMBER 10-11
Group 1 Crew, Sidewalk Prophets and BarlowGirl will perform
at "Night of Joy" on September 10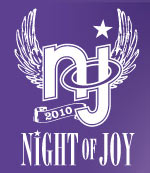 NEWS SOURCE: Word Records
September 7, 2010
Nashville, TN – Word Entertainment's "Youth Music Vault" presents a lounge exclusively for youth leaders at Disney "Night of Joy," a two-night Christian music extravaganza being held September 10-11 at the Magic Kingdom® Park within the Walt Disney World® Resort near Orlando, Fla. The "Youth Music Vault" is a web site designed as a one-stop shop for youth pastors to purchase music and resources for their youth group. The "Youth Music Vault Lounge" will be hosted at the Disney event in the Adventureland Veranda and will be open from 7:30 PM – 11:45 PM. The lounge will feature appearances from Contemporary Christian artists Chris August, BarlowGirl, Group 1 Crew, MIKESCHAIR, Britt Nicole, Pocket Full of Rocks, Point of Grace, Sidewalk Prophets and Chris Sligh. Fervent Records' artists BarlowGirl, Group 1 Crew and Sidewalk Prophets will also be performing at the "Night of Joy" event on September 10 at the Galaxy Stage and Rocket Tower.
"We are thrilled to be working with Disney Night of Joy to express our gratitude to youth leaders," says Leigh Holt, Vice President of Strategic Partnerships at Word Entertainment. "There is no doubt that these leaders have some of the toughest jobs today and give a great deal of themselves to make a difference in student's lives. The entire Disney staff has been gracious to allow Youth Music Vault to present this exciting lounge exclusively for these individuals during Disney Night of Joy."
Youth Music Vault is a one-of-a-kind program that provides youth pastors and churches with digitally delivered teaching curriculum and other resources. Every bi-monthly issue of Youth Music Vault includes MP3's of the featured artists' complete album, Bible studies based on each song, an illustration video, video greeting from the artist, music videos, interviews and an online chat with the artist. Chord charts, an instructional video, artist posters, game ideas and helpful articles provided by Youthworker Journal round out the contents of the package.
NIGHT OF JOY PERFORMANCES
GALAXY STAGE and ROCKET TOWER

Friday, September 10
Group 1 Crew
Sidewalk Prophets
BarlowGirl
YOUTH MUSIC VAULT LOUNGE SCHEDULE
Friday, September 10
Host: Chris August
BarlowGirl: Talkback Session
Chris August: Acoustic Set
Chris Sligh: Acoustic Set
Point of Grace: Acoustic Set
Group 1 Crew: Album Preview/Talkback Session
Sidewalk Prophets: Acoustic Set
Saturday, September 11
Host: Michael Farren of Pocket Full of Rocks
Pocket Full of Rocks: Acoustic Set
Chris Sligh: Acoustic Set
Chris August: Acoustic set
MIKESCHAIR: Acoustic set
Britt Nicole: Acoustic set
Point of Grace: Acoustic set
For more information on Youth Music Vault and to sign up for a subscription, visit www.youthmusicvault.com.
For additional details and ticket information about Disney Night of Joy, visit www.nightofjoy.com.
*** Appearances are subject to change without notice ***
About Word Entertainment
A leader in the music industry for more than 50 years, Word Entertainment, a Warner/Curb company, is a unique, comprehensive entertainment company comprised of multi-faceted artist service departments including publishing, merchandising, booking, and online initiatives. Word Entertainment represents some of the top names and brands in music, including Point Of Grace, BarlowGirl, Mark Schultz, Big Daddy Weave, Group 1 Crew, Sidewalk Prophets, Remedy Drive, pureNRG and Francesca Battistelli, and is home to Word Distribution, Word Print, The Breen Agency, Word Music Publishing and Word Label Group's Word Records, Fervent Records, Myrrh Records and Squint Records.
###


[2021]
Jan. | Feb. | March | April | May | June | July | Aug. | Sept. | Oct. | Nov. | Dec.
[2020]
Jan. | Feb. | March | April | May | June | July | Aug. | Sept. | Oct. | Nov. | Dec.
[2001 - 2020]
Visit our complete MUSIC NEWS ARCHIVE