Tooth & Nail Records, BEC Recordings' Fall Artist Update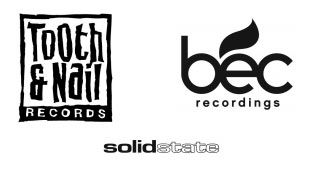 NEWS SOURCE: Overture Media
September 23, 2010
As Fall has arrived, so has the time for an update from Tooth & Nail Records, BEC Recordings and Solid State Records. It has been a wonderful year of new music for 2010, and we are already looking forward to 2011 with upcoming releases. Grab a pumpkin spice latte and catch up with what is happening with our artists!

Happy Fall!
Lori Mahon, Overture Media

IN THE STUDIO

August Burns Red is starting to write and will enter the studio in 2011.

Becoming the Archetype will be going in the studio with Matt Goldman starting next month and November.

FM Static is currently putting the final touches on their next release that will be out early 2011.

Hawk Nelson has just finished their next album with producer Ian Eskelin. The debut single from the February 2011 release, "Crazy Love," will be going for adds in October.

New signing, Icon For Hire, will be hitting the studio with Rob Hawkins in October for their label debut.

Run Kid Run has been the chatter on social media sites as they are in the studio with Matt Thiessen and Mark Lee Townsend working on their 2011 release.

Other upcoming 2011 releases:
Aaron Gillespie (solo worship project)
Emery
I Am Empire


2010 FALL TOURING HIGHLIGHTS


August Burns Red - will be on the Alternative Press Tour with Bring Me The Horizon (October/November)

The Almost - headline tour as well as touring with Switchfoot on select dates

Hawk Nelson - "Fly Me To The Show" with Mocha Club featuring special guests Britt Nicole, Revive and John Reuben - starts in October.

Jeremy Camp - will be headlining "The Worship Tour" with Carlos Whittaker and John Mark McMillan starting October 8th.

Manafest - will be on the Superchick "Reinvention" tour which began last night!

Since October - will be on the fall tour with Sevendust

Solid State Tour - featuring Living Sacrifice, The Showdown, Becoming the Archetype, To Speak of Wolves, As They Sleep
Thousand Foot Krutch - will headline their tour "Welcome To The Masquerade" presented by Creation Festival: The Tour featuring special guests Disciple and Ivoryline.

Underoath - will be on tour with A Day To Remember


RECENT RELEASES

Last month, Jeremy Camp had his highest Billboard 200 debut at No. 15 - this also marked BEC Recordings highest Billboard debut. "We Cry Out: The Worship Project" has been resonating with fans since it's release.

This summer, BEC Recordings' newest addition The Museum released their debut project "Let Love Win," which has been receiving a great response from everyone. Radio, media and the fans are loving this new band. AND if you are in the Kansas City area and attending the KC Chiefs game on Sunday, 9/26, catch The Museum singing the National Anthem!

Other summer release highlights were Ivoryline ("Vessels") and Starflyer 59 ("Changing of the Guard"). Both albums have made a splash - if you haven't taken a listen, do yourself a favor!

Manafest has a new EP available now digitally - "Avalanche/No Plan B"

UPCOMING 2010 RELEASES


9.28.10
Bebo Norman, "Ocean"
August Burns Red "Home" Live CD/DVD/Documentary
"Happy Christmas 5"
"O Come All Ye Faithful" - features new songs from Kutless, Seventh Day Slumber and The Museum. It also includes songs from Jeremy Camp, Chris Tomlin, Amy Grant, Bebo Norman and more of your favorite artists.

10.26.10
The Almost, "Monster, Monster" Deluxe Edition EP (5 bonus songs, 4 music videos)
Kutless, "It Is Well" Expanded Edition (5 additional songs - 1 unreleased studio song, 3 live tracks and 1 acoustic)

11.9.10
Underoath, "Ø (Disambiguation)"
Josh White, "Achor"

11.23.10
As They Sleep, "Dynasty"

GIVING BACK - MAKING A DIFFERENCE


Continuing to Live Life Loud, Hawk Nelson will introduce concertgoers to the Mocha Club on tour. Mocha Club is an online community of people giving up the cost of two mochas a month or $7. Hawk Nelson stands behind this organization and their initiatives for the Orphan Care + Vulnerable Children, specifically the Grace Foundation. Fans can sign-up to help support Hawk Nelson's efforts with Mocha Club here ( http://www.mochaclub.org/sponsor/hawknelson).
Jeremy Camp announces a special evening of music with a free event, "Come Celebrate Nashville," on Friday, October 8th at Allen Arena at Lipscomb University. Honoring Nashville, the show will be benefiting two local organizations: Second Harvest Food Bank and Warm Coats from Warm Hearts. Concert attendees are encouraged to bring canned goods and/or winter coats. This will be a night of community outreach that Camp hopes will become an annual event.

The Museum has partnered with NotForSale, who is becoming a global leader in the movement to fight against slave trade & human trafficking. The band has created a T Shirt that says "This Shirt Frees Slaves." By buying and wearing the shirt you help raise awareness & also give proceeds directly to Not For Sale. You can click here to view the shirt. Please take a minute to check out this video they've created & check out www.NotForSaleCampaign.org to see how you can do your part.


RADIO UPDATE

AC Monitored:
Jeremy Camp "Jesus Saves" - #8
The Museum "My Help Comes From The Lord" - #16
Kutless "Everything I Need" - #25
Bebo Norman "Here Goes" - #29 Debut

AC Indicator:
Jeremy Camp "Jesus Saves" - #3
The Museum "My Help Comes From The Lord" - #10
Kutless "Everything I Need" - #15
Bebo Norman "Here Goes" - #17

CHR:
Jeremy Camp "Jesus Saves" - #4
Manafest "Avalanche" - #13
Kutless "Remember Me" - #20
Thousand Foot Krutch "Look Away" - #22

Rock:
Tooth & Nail has 4 out of the Top 5 singles at Rock
Children 18:3 "Lost So Long" - #1
Demon Hunter "Driving Nails" - #2
Ivoryline "Instincts" - #3
Thousand Foot Krutch "E For Extinction"
Hawk Nelson "Never Enough" - #10
Since October "Believe" - #13
Haste The Day "White As Snow" - #14
The Letter Black "Believe" - #22
The Classic Crime "A Perfect Voice" - #26 Debut

Inspo:
Jeremy Camp "Jesus Saves" 2nd week at #1!
Kutless "Everything I Need" - #13

National Christian Audience:
Jeremy Camp "Jesus Saves" - #5
Kutless "Everything I Need" - #27
Bebo Norman "Here Goes" - #40
Manafest "Avalanche" - #47