CIRCLESLIDE MARRIES ART AND MUSIC
Critically Acclaimed Band Releases Innovative Art-Music Video Thru iTunes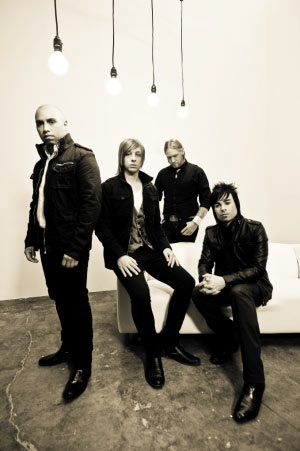 NEWS SOURCE: McCain & Co PR
September 28, 2010
Seattle, Wash. (September 28, 2010) - The release of a video single, or "Vingle," hardly raises an eyebrow these days. But when music marries art, the result is an innovative "Art Vingle" that lets the viewer experience art and music as they both unfold to tell a story. In anticipation of their sophomore album, critically acclaimed Christian pop/rock band Circleslide is releasing an Art Vingle version of their new song, "You Are Everything," through Apple's iTunes store today.
Rather than the typical concept or concert footage that usually comprises a music video, Save the City Records commissioned acclaimed artist Randy Elrod to paint the song, "You Are Everything," while the cameras rolled. Through the use of time-lapse editing, the stunning images of Elrod's creation of the painting are wedded to the music, resulting in a mesmerizing new work of art that the band has dubbed an Art Vingle.
To purchase the Art Vingle on iTunes, visit http://itunes.apple.com/us/video/you-are-everything-16x9/id393993209.
An HD version of the "You Are Everything" Art Vingle is available exclusively in Circleslide's web store (youareeverythingartvingle).
The Art Vingle is being released in anticipation of Circleslide's sophomore project, Echoes of the Light, which is set to release on Save the City Records October 5, 2010. The project will be distributed through Provident-Integrity Distribution.
"As we were listening to the new Circleslide record and working on the marketing plan, the song "You Are Everything" made me feel as though I was listening to a painting," recalls Keith Stancil, Artist Garden Entertainment/Save The City Records. "It was immediately apparent that this song had to be painted and paired with music for a video. Randy Elrod was the first artist that came to mind as he does such a great job of connecting art and music. Hence, the idea of the Art Vingle was birthed with Circleslide and Randy Elrod being the inaugural pairing."
"I'm so honored to collaborate with the band Circleslide to create a 'Vingle' for their incredible song 'You Are Everything,'" says Elrod. To read his blog entry about the Art Vingle, visit Randyelrod.com/Circleslideartvingle.
Since the band's debut project, which landed them on Christianity Today's list of "Best New Artists of 2006," among other accolades, Circleslide — whose lineup includes frontman Gabe Martinez, lead guitarist Jonathan DeAnda, bassist Eric Vickers and drummer Lee Yoder — has toured unceasingly, refining their modern rock ruminations, while keeping their ministry agenda firmly in focus. In addition to shows with newsboys, tobyMac, MercyMe, Casting Crowns, Salvador, Jaci Velasquez and downhere, the guitar-driven band has headlined everything from clubs to churches and colleges, with plenty of youth camps and outreach events in between — all of which build off the group's Youth With A Mission beginnings. The band was developing the new project last spring when Nashville was hit with a devastating flood which destroyed Martinez's house, as well as all of the band's gear, instruments, PA and trailer.
"We were out of town when the flood happened," remembers Martinez. "A friend who was staying at our house waded through five feet of water to save some vintage guitars, but other than that, we had to completely rebuild from scratch. The Nashville community really came together, though. So many people showed up to help us sort through the mess and rebuild — four different church groups, friends and neighbors and people we didn't even know. Thanks to amazing organizations like MusiCares, Graceworks Ministries and Porter's Call, we've been able to replace our music gear and home appliances, and we have a renewed realization that God has called us to this ministry. Nothing's going to hold us back from spreading His word."
Circleslide's ordeal, and the season of spiritual reassurance which followed, directly inspired the band's recent songwriting process. Several cases in point include the guitar-charged romp "The Litany," the pleading praise ballad "Open Door" and the endurance anthem "Eye of the Hurricane." Additional vertically-tinged variety comes courtesy of the vulnerable yet gorgeous "Love Amazing," the ethereal crescendos of "You Are Everything" and the vibrant fist pumper "Nothing Compares To You." The progressive and lyrically poetic worship of "Looking Up" serves as a true spine chiller wrapped around the idea of unconditional surrender. Yet the project's themes all tie together through the resplendent title track "Echoes of the Light," which poignantly refers to God's act of speaking light into existence, while simultaneously calling believers to be reflections of that light.
The band has evolved sonically since the last project — not only do they sound more explosive, dynamic and melodic than ever, but the choruses are instantaneously contagious from an initial spin of the album. There's also an increased continuity that comes from producer and fellow Save the City labelmate Brandon Bee (Stacie Orrico, Lanae Hale, Benjiman). Expect shades of anthemic alternative acts like Arcade Fire and The Flaming Lips, crossed with the edge of Kings of Leon and the envelope pushing likes of The Choir (from whom the band gleaned its moniker). The new album also reveals a worship side of Circleslide that fans have experienced at their live shows.
Echoes of the Light is conceptual from start to finish, sequenced impeccably to take the listener through a roller coaster of musical and spiritual emotions. There is an undeniable and immediately apparent chemistry across the dozen cuts that is especially refreshing in an iTunes age of picked-apart albums in search of a single or two.
All the while, it's impossible to take a listen through Echoes of the Light and not be struck with an unbreakable sense of perseverance from Circleslide members in both professional and personal contexts. In exposing their own vulnerabilities, the guys' authenticity is evident. At the same time, the album possesses an ability to inspire others from any walk of life looking for the resolve to press on.
"It could be someone without a job, someone else having a hard time in general with the economy, a person dealing with death, a single mom with a crazy schedule or a college kid chasing a dream — no matter who you are, we want to remind you that you're not alone and God has given you the ability to keep going, no matter how hard it gets," assures Martinez. "Even in the midst of our brokenness, God is great and He's there to walk us through the restoration process."
Circleslide's Echoes of the Light is slated to release on October 5 through Save the City Records and Provident-Integrity Distribution. For more information on Circleslide and Echoes of the Light, visit circleslide.net or savethecityrecords.com.
# # #
For more info on Circleslide, visit the JFH Artists Database.


[2022]
Jan. | Feb. | March | April | May | June | July | Aug. | Sept. | Oct. | Nov. | Dec.
[2021]
Jan. | Feb. | March | April | May | June | July | Aug. | Sept. | Oct. | Nov. | Dec.
[2001 - 2021]
Visit our complete MUSIC NEWS ARCHIVE