REND COLLECTIVE EXPERIMENT JOINS CHRIS TOMLIN
FOR MAJOR U.S. TOUR BEGINNING FEB. 15
Rend Collective Debut, Organic Family Hymnal, Named Among Best Albums of 2010,
Band Named One To Watch in 2011
New Video "Come On My Soul" To Release Soon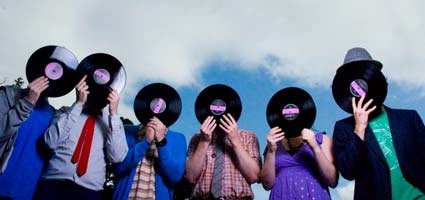 NEWS SOURCE: Hoganson Media
January 25, 2011
Hailing from Bangor, Northern Ireland, Rend Collective Experiment released its international debut Organic Family Hymnal to widespread critical acclaim. The band's success began at home as a movement of 20-somethings that has now begun to spread across Europe to the Americas and beyond. Rhapsody named the band among the Top 5 Christian/Gospel artists to watch in 2011 as Gospel Music Channel named Organic Family Hymnal among the "Best Albums of 2010." Catching the attention of modern worship icon Chris Tomlin, the band was invited to join him on his 30-city major market "And If Our God Is For Us…" tour that begins Feb. 15 and features Louie Giglio with special guest Christy Nockels. (See itinerary below)
The invitation was sparked in part by Tomlin label-mate David Crowder, who added his unmistakable vocals and creativity on the sweeping modern rock textures of the song, "Faithful," a featured track on Organic Family Hymnal, and especially by Rend Collective Experiment's highly creative and unusual cover of Chris Tomlin's "How Great Is Our God." One of the first bands to record using iPhones solely for instrumentation, more than 292,000 people have viewed this recording at www.youtube.com/watch?v=gaJ4A7mXJH8.
Charting a unique course, Rend Collective Experiment is a group of friends collectively wondering how to make sense of the conundrum of life, God and community. What Rend Collective Experiment's members add to the conversation are melodies, harmonic progression and lyrics that are scriptural and contemporary, fresh and ancient. The resulting mix has already gathered endorsements from Dr. Tony Campolo, Francis Chan and David Crowder, and acclaim from Worship Leader, CCM, Indie Vision Music, CBA Retailers + Resources, Crosswalk.com, JesusFreakHideout.com, HollywoodJesus and many more. As critics try to explain the fresh sound they are hearing on Rend Collective Experiment's Organic Family Hymnal, they draw comparisons to a wide variety of musical icons ranging from Sufjan Stevens and Sigur Ros to Elbow and The Flaming Lips to Arcade Fire, Broken Social Scene, Noah and the Whale, Fleet Foxes, Anathallo and The Glorious Unseen.
"Just when I thought worship was getting a little boring, this group comes along with one of the best efforts of the year," says Gospel Music Channel. "Love the unorthodox songwriting, instrumentation, and their clever music videos are among some of our favorites this year." (www.watchgmctv.com/news/2010-best-best)
"Words such as 'poetic,' 'artistic creativity' and 'indie inclinations' can send more traditional worshipers running for cover, but I beg of you—stay and hear about this one!" says Foursquare Leader. (www.foursquare.org)
Prior to the tour with Tomlin, Rend Collective Experiment took its modern worship sounds on the road, wrapping up a tour of the UK/Ireland with Francis Chan, and a stint in the US to lead worship with Rob Bell at Mars Hill Bible Church in Grand Rapids, MI Nov. 28. The band also played a Nashville showcase event for industry and media last fall at the Hard Rock Café.
Rend Collective Experiment is a nod to the places in Scripture where it says to "rend your hearts" and not your garments, a bold call to be genuine. "We're a 'collective' that is not into the celebrity aspect of the worship scene - a bunch of guys and ladies, a body, an experiment in progress," explains Rend Collective Experiment member Gareth Gilkeson, helping to underscore why the band's images do not feature individual faces.
In that 'collective' spirit, Rend Collective Experiment recently invited the first 50 people to respond to its newsletter/online invitation to join them for its next video shoot for the song "Come On My Soul," which opens Organic Family Hymnal. Already known for its creative videos, the new addition was shot Jan. 15 at Castlewellan Castle in Northern Ireland and will be released soon. Other live and concept videos from the band Include: "Faithful" (www.youtube.com/watch?v=YPmxI8XRTkI), "Movements" (www.youtube.com/watch?v=lCYgQWLO8vY), and "You Bled (Jesus Loves Me)" (www.youtube.com/watch?v=3N3h0BKV6gw).
For more information on Rend Collective Experiment and Organic Family Hymnal, go to www.rendcollectiveexperiment.com.
The "And If Our God Is For Us…" Tour Itinerary follows:
Tue, Feb 15th 2011 7:00 pm First Federated Church Des Moines, IA
Wed, Feb 16th 2011 7:00 pm Xcel Energy Center St. Paul, MN
Thu, Feb 17th 2011 7:00 pm Sioux Falls Arena Sioux Falls, SD
Thu, Feb 24th 2011 7:00 pm Kay Yeager Coliseum Wichita Falls, TX
Fri, Feb 25th 2011 7:00 pm Fellowship of the Woodlands The Woodlands, TX SOLD OUT
Sat, Feb 26th 2011 7:00 pm Houston's First Baptist Houston, TX
Thu, Mar 3rd 2011 7:00 pm James River Assembly Ozark, MO
Fri, Mar 4th 2011 7:00 pm Prairie Capital Convention Center Springfield, IL
Sat, Mar 5th 2011 7:00 pm Abba's House Hixson, TN
Wed, Mar 9th 2011 7:00 pm Memorial Coliseum Exp Fort Wayne, IN
Thu, Mar 10th 2011 7:00 pm Alliant Energy Center Madison, WI
Fri, Mar 11th 2011 7:00 pm Willow Creek Church South Barrington, IL
Sat, Mar 12th 2011 7:00 pm Arkansas State Univ.: Convocation Center Jonesboro, AR
Thu, Mar 17th 2011 7:00 pm 1st Mariner Arena Baltimore, MD
Fri, Mar 18th 2011 7:00 pm Giant Center Hershey, PA
Sat, Mar 19th 2011 7:00 pm Bank of Kentucky Center Highland Heights, KY (On Sale 1/28)
Wed, Mar 23rd 2011 7:00 pm Christ's Church Jacksonville, FL
Thu, Mar 24th 2011 7:00 pm Manatee Civic Center Palmetto, FL
Fri, Mar 25th 2011 7:00 pm Cruzan Amphitheatre West Palm Beach, FL
Sat, Mar 26th 2011 7:00 pm Lakeland Center Lakeland, FL
Tue, Mar 29th 2011 7:00 pm Independence Event Center Independence, MO
Thu, Mar 31st 2011 7:00 pm Mabee Center Tulsa, OK
Tue, Apr 5th 2011 7:00 pm Wells Fargo Center Denver, CO
Wed, Apr 6th 2011 7:00 pm Kiva Auditorium Albuquerque, NM
Thu, Apr 7th 2011 7:00 pm Christ Church of the Valley Peoria, AZ
Fri, Apr 8th 2011 7:00 pm Christ Church of the Valley Peoria, AZ SOLD OUT
Tue, Apr 12th 2011 7:00 pm Gibson Amphitheatre Universal City, CA
Wed, Apr 13th 2011 7:00 pm Adventure Church Roseville, CA
* Tour dates subject to change.
About Kingsway:
Tracing its music heritage to 1969, Kingsway today is known as a leader in Worship Music. As the creator of Thank You Music, and later in partnership with EMI, its catalogue includes songs such as "Here I Am to Worship," "In Christ Alone," "Everlasting God" and "Blessed Be Your Name" to name a few.
Kingsway's songs are sung in more than 300,000 churches worldwide accounting for over 30% of CCLI's (Church Copyright Licensing International) bestseller list. With writers and artists like Tim Hughes, Matt Redman, Delirious?, Graham Kendrick and Stuart Townend, Kingsway is dedicated to feeding the Church with songs that will change the world. As the music arm of David C Cook, a non-profit organization located in Colorado Springs, CO, a significant portion of the profits that Kingsway and David C Cook generate are used to provide discipleship and music materials free of charge to church leaders in developing parts of the world who wouldn't be able to get them any other way.
# # #


[2020]
Jan. | Feb. | March | April | May | June | July | Aug. | Sept. | Oct. | Nov. | Dec.
[2019]
Jan. | Feb. | March | April | May | June | July | Aug. | Sept. | Oct. | Nov. | Dec.
[2001 - 2018]
Visit our complete MUSIC NEWS ARCHIVE