NEWSBOYS ANNOUNCE "THE BORN AGAIN EXPERIENCE" TOUR, PRESENTED BY COMPASSION INTERNATIONAL
A Portion Of Tour Proceeds Will Go To Provide Clean Water In Dominican Republic;

"Miracles" Music Video Debuts On VEVO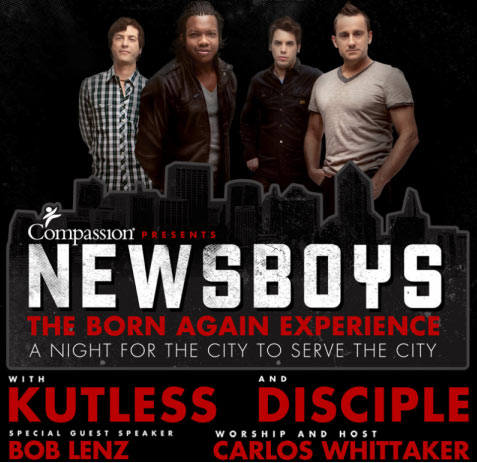 NEWS SOURCE: Vining Media
February 24, 2011
Nashville, TN - February 24, 2011 - Announced in January, the award-winning band Newsboys are readying for their 25-city spring tour, "The Born Again Experience." With the support of Compassion International, the tour will bring the message of "A Night For The City To Serve The City." Proceeds of the tour will go towards a water well to be built in a community in need located in the Dominican Republic.
Redefining the live show experience, Newsboys is planning for a sure-to-be revolutionary and jaw-dropping set to get audiences on their feet while offering the evening's mission to offer hope, service and compassion to the community, for one another and for those in need of fresh water in the Dominican Republic. Each night of the tour hopes to bring a true partnership of service with the city for the city.
Newsboys will be joined on the tour by Kutless, Disciple, Carlos Whittaker, and special guest speaker Bob Lenz. As previously announced, a limited number of Platinum or Premium tickets are available for the VIP Born Again Experience, where concertgoers can participate in a meet and greet with the band, received autographed merchandise, and receive special venue seating. A portion of the VIP proceeds will go directly to the work and ministry of Compassion International. General tickets are now available, and for more information how to register for VIP tickets, please visit Newsboys.com.
Be sure to check out the premiere on VEVO of Newsboys' brand new music video for their single "Miracles." You can view it here now!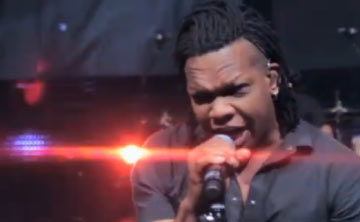 Stills from the "Miracles" music video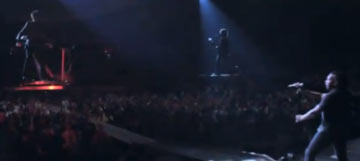 THE BORN AGAIN EXPERIENCE tour dates*:
Sat. April 9 - Gateway Ministries - Williamsport, MD
Mon., April 11 - Community Arts Center - Williamsport, PA
Fri, April 15 - E.A. Diddle Arena - Bowling Green, KY
Sat., April 16 - Paducah Regional Sportsplex - Paducah, KY
Sun., April 17 - Kansas Expocentre - Topeka, KS
Mon., April 18 - Dodge City Civic Center - Dodge City, KS
Thurs., April 21 - Black River Coliseum - Popular Bluff, MO
Fri., April 22 - Six Flags Over Georgia - Austell, GA
Sat., April 23 - Eastern Kentucky Expo Center - Pikeville, KY
Thurs., April 28 - Berry Center - Cypress, TX
Fri., April 29 - Kay Yeager Coliseum - Wichita Falls, TX
Sat., April 30 - Sea World - San Antonio, TX
Sun., May 1 - Richard M. Borchard Fairgrounds - Robstown, TX
Tues., May 3 - City Bank Coliseum - Lubbock, TX
Thurs., May 5 - Legacy Church - Albuquerque, NM
Fri., May 6 - North Phoenix Baptist Church - Phoenix, AZ
Sat., May 7 - Calvary Church - Santa Ana, CA
Sun., May 8 - Capital Christian Center - Sacramento, CA
Thurs. May 12 - Medford Armory - Medford, OR
Fri., May 13 - OSF Pavilion - Salem, OR
Sat., May 14 - Overlake Christian Church - Seattle, WA
Sun., May 15 - HUB Sports Center - Liberty Lake, WA
Tues., May 17 - Idaho Falls Civic Auditorium - Idaho Falls, ID
Wed., May 18 - Shrine Auditorium - Billings, MT
Thurs., May 19 - Casper Events Center - Rapid City, SD
*All tour dates subject to change
Newsboys are currently headlining this year's Winter Jam, which kicked off earlier this month and will be hitting a total of 47 cities. 2010's Winter Jam brought in a total audience of over 400,000 with over 74,000 making a commitment to follow Christ! For 2011 concert dates, please visit jamtour.com.
# # #
ABOUT Newsboys:
This GRAMMY®-nominated and Dove Award-winning band has achieved what few artists have in their lifetime, selling almost 7 million units, garnering five Gold albums and 26 #1 radio hits. Since Newsboys' 2010 CD release of Born Again, their 15th studio project, its first week out was the largest street week of their careers by selling an astounding 45,311 units and hitting #4 on Billboard's overall chart. Its self-titled single topped the charts for weeks, having more than 7.47 million impressions to date, and the second single, "Way Beyond Myself," made history by garnering the most adds at Christian CHR radio in a single reporting period.
The anticipated March 29th expanded version of Born Again: Miracles Edition features all 12 songs from the original July release, plus 4 remixes of: "Miracles," "Mighty To Save," "Way Beyond Myself" and "Born Again." This exclusive CD, a collector's item with its unique High Definition 3-D cover, also includes the brand-new "Miracles" music video along with the songs "I'll Be," "Give Me To You," "Glorious," and "We Remember," the tunes that were originally available only as part of Born Again's digital deluxe version. Newsboys.com.
ABOUT Compassion International:
Compassion International is the world's largest Christian child development organization that permanently releases children from poverty. Founded in 1952, Compassion successfully tackles global poverty one child at a time, serving more than 1 million children in 26 of the world's poorest countries. Recognizing that poverty is more than a lack of money, Compassion works holistically through local churches to address the individual physical, economic, educational and spiritual needs of children - enabling them to thrive, not just survive. Charity Navigator, America's largest charity evaluator, has awarded Compassion its highest rating—four stars—for nine consecutive years, placing Compassion in the top one percent of all charities. Compassion.com.
ABOUT Kutless:
Portland, Oregon-based Kutless has emerged as one of Christian and rock music's hottest acts, playing before more than two million fans in the past six years. The band has been awarded RIAA Gold certification for their worship-based album Strong Tower in addition to Gold certification for their long-form video Live From Portland. Since the 2009 release of their hit worship album, It Is Well, Kutless has catapulted to the top of the charts with their hit song "What Faith Can Do." The song's success carried into 2010 as it topped the 2010 Mediabase as Christian AC Song of the Year and was the No. 2 Billboard Hot Christian Song of the Year. Kutless was also named the No. 7 Billboard Christian Artist of the Year, and It Is Well was the No. 10 Billboard Christian Album of the Year. Kutless.com.
ABOUT Disciple:
Disciple's fall 2010 release Horseshoes & Handgrenades debuted at No. 1 on the Christian Soundscan charts and bolstered the radio hit "Dear X, You Don't Own Me." The band's previous discography includes Disciple (2005), Scars Remain (2006) and Southern Hospitality (2008). Disciple has been nominated for nine GMA Awards including a win for "Rock Album of the Year" in 2008. Their music has been used on such notable programs as "Best Damn Sports Show," NFL's "Total Axxess," WWE's "Cyber Sunday," Speed TV's "Speed Report," "Criminal Minds" and "CSI Miami" as well as in venues such as Madison Square Garden in New York City. In 2008, the rockers were tapped to perform one of the songs on "WWE: The Music Vol. 8" for WWE superstar duo Hawkins and Ryder. Disciplerocks.com.
ABOUT Carlos Whittaker:
Worship leader and blogger Carlos Whittaker first gained notoriety with his blog Ragamuffin Soul which earned him a reputation as one of the most thoughtful, creative and provocative voices in the Christian community. He added to that reputation with his Integrity Music CD debut Ragamuffin Soul last year, which received critical acclaim and landed him a gig as featured guest on Jeremy Camp's The Worship Tour last fall. The son of a Southern Baptist minister, Whittaker has served as a worship leader for Andy Stanley's Buckhead Church in Atlanta and as a leader/planner for major ministry conferences including Catalyst, Story, North Point and Saddleback. Once featured on the popular TLC series "L.A. Ink," Whittaker has been a featured guest commentator for CNN Headline News and he and his family recently won a People's Choice Award for Favorite Viral Video with "Single Ladies Devastation."
For more info on Newsboys, visit the JFH Artists Database.


[2022]
Jan. | Feb. | March | April | May | June | July | Aug. | Sept. | Oct. | Nov. | Dec.
[2021]
Jan. | Feb. | March | April | May | June | July | Aug. | Sept. | Oct. | Nov. | Dec.
[2001 - 2021]
Visit our complete MUSIC NEWS ARCHIVE