SINGER-SONGWRITER DANEN KANE OFFERS UP LATEST PROJECT, LOVE IS WAITING, JUNE 21
Album Offers Transparent Look at Everyday Life From a Faith Perspective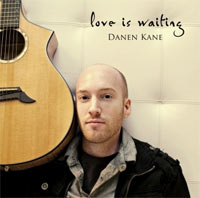 NEWS SOURCE: Savvy Media
May 16, 2011
(NASHVILLE, Tenn.) May 16, 2011--Wisconsin native Danen Kane releases his latest collection of songs on Love Is Waiting, available via digital music outlets June 21. The project is in keeping with Kane's signature introspective lyrics and pure, acoustic sound, delivering a message of hope amidst the trials of everyday life.
Written and produced by Kane, while mixed by all-star engineer Mills Logan (Taylor Swift, Toby Keith, Montgomery Gentry), Love Is Waiting draws musically from a variety of influences including European rock, earthy jazz and America's best singer/songwriter tradition. Lyrically, the album is filled with vivid songs about life, faith and relationships.
"I tried to write congregational worship stuff, and it just didn't come off authentic enough," Kane admits candidly, "but when I started writing about everyday life and relationships that I had gone through and how that affected me, that's when my writing came alive. I wrote things that made sense to me---things from a Christian perspective and what I've learned."
Songs like "Beautiful Mess," the album's first single, has a buoyant melody and showcases the warmth and conviction in Kane's voice. "My greatest desire is to live a life that truly matters, to be obedient to Him in all things," he says. "Yet it doesn't take long for me to falter in that goal--either in thought, action, or both. But God loves me regardless, and this song is just my heart's cry to be obedient so that I may truly know Him."
"Alive" is a vibrant song of thankfulness to God for the gift of life even amid earthly challenges, while Kane began writing "I Found Love," four years ago after a failed relationship. "Inheritance" has a cool, atmospheric vibe and a potent lyric about examining what is truly valuable, and "Awakening" is a compelling worship song Kane wrote in his church sanctuary during a quiet time with God.
In addition to the radio single, Kane will support Love Is Waiting with a heavy tour schedule this summer including festivals, church and conference dates. An up-to-date list of appearances is available at www.danenkane.com.
About Danen Kane
Hailing from Appleton, Wis., Dane Kane was a basketball playing pre-law student in college who detoured into music and found his life's calling. Shortly after picking up a guitar for the first time to lead worship at his university's Campus Crusade for Christ chapter, Kane began performing small coffee shops and church gigs, all the while establishing a large local following. Before he knew it, his independent recordings were generating strong regional buzz. He began touring heavily, routinely performing 150-175 dates a year, sometimes headlining and other times opening for acts like BarlowGirl, Leeland, Sara Groves, and Shawn McDonald. To date, Kane has sold more than 11,000 albums independently and self-booked more than 1500 dates in 17 states. His songs are a fixture on independent and college radio stations throughout the country. For more information on Danen Kane and his latest release, Love Is Waiting, visit www.danenkane.com or www.facebook.com/danenkane.
# # #


[2022]
Jan. | Feb. | March | April | May | June | July | Aug. | Sept. | Oct. | Nov. | Dec.
[2021]
Jan. | Feb. | March | April | May | June | July | Aug. | Sept. | Oct. | Nov. | Dec.
[2001 - 2021]
Visit our complete MUSIC NEWS ARCHIVE