JOHN WALLER APPEARS ON SID ROTH'S "IT'S SUPERNATURAL!"
Popular Recording Artist Featured In Five-Day Interview for "Messianic Vision" Radio Show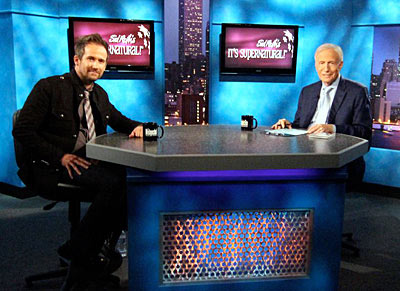 Pictured (L to R): Waller and Roth on the set of "It's Supernatural!"
NEWS SOURCE: McCain & Co. PR
July 20, 2011
Nashville, Tenn. (July 20, 2011) - John Waller, the popular recording artist who touched the world with his song "While I'm Waiting" from the film "Fireproof," was the special guest on Sid Roth's "It's Supernatural!" television show during the week of July 11-17. In addition to featuring Waller's music, Roth and Waller talked in depth about the singer's 20-year struggle with depression and his supernatural deliverance from that debilitating illness.
"John Waller writes music that breaks curses and releases blessings," says host Sid Roth. "I believe when people hear the first cut ("Our God Reigns Here") of this new CD, As For Me and My House, they are going to be healed and delivered and set free in an amazing fashion."
Roth also conducted an in-depth five-day radio interview with Waller which was featured on the "Messianic Vision" radio show. The program featured music from Waller's new CD, As For Me and My House, as well as music from his previous CD, While I'm Waiting, and the "Fireproof" movie soundtrack.
"People are being touched by John's music and are feeling the presence of God," says Warren Marcus, executive producer of "It's Supernatural!" "His album is an overcoming album about having faith in the midst of circumstances. Our audience is really responding to John and we're seeing amazing results."
Roth's "It's Supernatural!" is broadcast on the Trinity Broadcasting Network and the Daystar Network. The "Messianic Vision" radio show is broadcast on Freedom Radio FM affiliate stations and on independent stations around the world. Both the television and radio programs can be accessed online at sidroth.org.
About John Waller:
Waller first captured the attention of the Christian music community as frontman for the pop band According to John. But the talented Georgia native laid his aspirations for a career as a performing artist aside when he and his wife Josee moved to Colorado to help establish a new church. Songs that were birthed in John during that time opened new doors for the worship leader, and his major label debut, The Blessing, introduced Waller's music to a wider audience. His follow-up solo project included the powerful title track, "While I'm Waiting," the theme song from "Fireproof," the No. 1 independent film of 2008.
Waller has long been known for injecting heavy doses of scripture into his songs, and As For Me and My House is no exception. He draws on Joshua 24:15 to boldly proclaim the Word of God to this generation. More than just the title of an album, John Waller wants Joshua 24:15 — "As For Me and My House, we will serve the Lord" — to become a heart's cry for individuals and families across the country and the world. In the hope that it will help restore our focus back to family values, he is offering the song as a free download to those who sign the Joshua 24:15 Declaration on his website, johnwallermusic.com.
As For Me and My House received a robust welcome from fans and industry veterans when the CD was released May 3 through Provident-Integrity Distribution. The critically-acclaimed CD, the first project for Waller since signing with Nashville-based City of Peace Media, debuted at No. 4 on iTunes' Christian Gospel Chart and claimed the No. 26 spot on SoundScan's Christian Adult Contemporary and Christian/Gospel Current Digital Albums charts.
Andy Argyrakis, music critic for the Gospel Music Channel says, "On As For Me and My House, John Waller's channeling his own pensive pop within Casting Crowns-styled anthems that won't have any trouble connecting with both the church and the radio waves."
NewReleaseTuesday.com calls John Waller "...one of the most relatable artists I've ever heard," and says As For Me and My House "... is a great adult contemporary worship album. If you like Steven Curtis Chapman, Casting Crowns and MercyMe, then you should really enjoy John Waller."
Waller's As For Me and My House is available through City of Peace Media and Provident-Integrity Distribution. For more information on Waller and As For Me and My House, visit johnwallermusic.com or cityofpeace.com.
# # #
For more info on John Waller, visit the JFH Artists Database.