JOHN WALLER RELEASES STATEMENT
ABOUT THE BIRTH OF HIS SON AND THE DEATH OF HIS MOTHER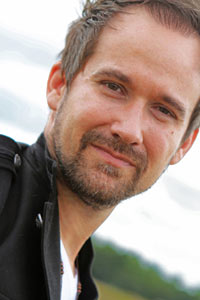 NEWS SOURCE: McCain & Co. PR
August 2, 2011
Atlanta, Ga. (August 2, 2011) - This has been a week of extreme highs and lows for singer/songwriter and recording artist John Waller. On Thursday, July 28, son Josiah Emmanuel Waller was born to Waller and his wife Josee. On Friday, July 29, Waller's mother, Joyce Scarbrough Waller, died of a heart attack. She is survived by her husband, four children and 16 grandchildren.
"It's in moments like these when you realize how deeply God loves you," says Waller. "I am so overjoyed by the birth of my son and so very grieved by the unexpected loss of my mother. She was young. I so wanted and expected her to be holding her grandson now. Instead, she is being held by her loving savior. Thank you for your prayers, especially for my precious father."
A funeral service was held today at the First Baptist Church of Jonesboro Worship Center with John Waller and Dr. Mel Blackaby officiating.
For more information, visit www.mowellfuneralhome.com.
About John Waller:
Waller first captured the attention of the Christian music community as frontman for the pop band According to John. But the talented Georgia native laid his aspirations for a career as a performing artist aside when he and his wife Josee felt led to move to Colorado to help establish a new church. Songs that were birthed in John during that time opened new doors for the worship leader, and his major label debut, The Blessing, introduced Waller's music to a wider audience. His follow-up solo project included the powerful title track, "While I'm Waiting," the theme song from "Fireproof," the No. 1 independent film of 2008.
Waller has long been known for injecting heavy doses of scripture into his songs, and As For Me and My House is no exception. He draws on Joshua 24:15 to boldly proclaim the Word of God to this generation through a rich variety of musical styles ranging from tender, heartfelt prayers like "Somebody Else's Story," to poignant ballads like "Man of the Valley," to his trademark declaration anthems like the impassioned spiritual warfare battle cry "Our God Reigns Here" and "Bless Us and Keep Us," both of which express God's heart for Israel.
"Yes" continues Waller's assertion that God is good and His plans for His children are positive, yet he also addresses the seeming dichotomy of bad things happening to good people in "Because God is Good," a song Waller co-wrote with Third Day frontman Mac Powell and the album's co-producer, Jason Hoard.
The title track highlights the album's theme of declaring our allegiance to God. The music video version of "As For Me and My House" has already started to go viral, with more than 56,000 views on YouTube within a few weeks of its release. To view the video, visit johnwallermusic.com.
More than just the title of an album, Waller wants Joshua 24:15 — "As For Me and My House, we will serve the Lord" — to become a heart's cry for individuals and families across the country and the world. In the hope that it will help restore our focus back to family values, he is offering the song as a free download to those who sign the Joshua 24:15 Declaration on his website, johnwallermusic.com.
Waller's As For Me and My House is available through City of Peace Media and Provident-Integrity Distribution. For more information on Waller and As For Me and My House, visit johnwallermusic.com or cityofpeace.com.
For more info on John Waller, visit the JFH Artists Database.