CANADA-BASED WORSHIP ARTIST JON BAUER SET TO RELEASE U.S. DEBUT, FOREVERMORE, JANUARY 3RD;
Bauer Also Readies For 2nd Children's Album,
Releasing In November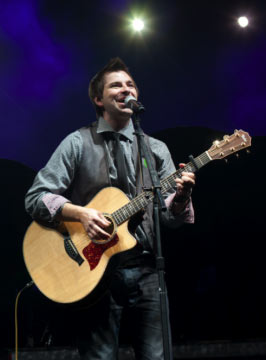 NEWS SOURCE: Merge PR
October 24, 2011
Nashville, Tenn - 24 October 2011 – Award-winning Canadian worship artist and songwriter Jon Bauer is set to release his fourth worship album, Forevermore, in the U.S. January 3rd. The project, which originally released in Canada this past May, will be Bauer's US debut. Produced by 2010's Dove-Award winning producer Rusty Varenkamp (Tenth Avenue North, Meredith Andrews), Forevermore is comprised of ten tracks, eight of which were written or co-written by Bauer.
"My heart is to encourage people that worship is more than music," Bauer shares. "It's a lifestyle, and it's a choice. We need to look for ways to serve God and serve others, representing Him to this hurting world."
Forevermore is already seeing success around the world as Bauer is sharing his new songs on tour around Europe, Canada and the States. His single, "Chasing After Me," is presently No. 1 on the Canadian Christian Charts, and Forevermore just released to iTunes on Oct. 11. The album, which you can check out here, is already climbing the iTunes charts with a debut on the New and Noteworthy section of the Christian homepage.
Additionally, Bauer has been nominated for an astounding five GMA Canada Covenant Awards. As the second most nominated artist for the 2011 awards, Bauer is recognized in the categories of "Praise and Worship Song of the Year," "Song of the Year," "Children's Song of the Year," "Classical/Traditional Song of the Year," and for "Male Vocalist of the Year." The GMA Canada Covenant awards will be held in Calgary on October 28th. For more information about the awards, please click here.
Before the January debut of Forevermore, Bauer will continue his versatility as an artist by releasing his second children's album. Titled Come And Save Us Kids Worship: Volume 2, the project will release November 15th.
For more information on Jon Bauer, please visit the following links: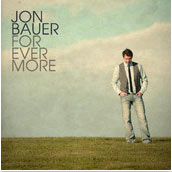 Forevermore Track Listing:
1. Our God
2. Light Of Another World
3. Come And Save Us
4. Beautiful Name
5. Chasing After Me
6. A Prayer Away
7. Fall Over Me
8. Forevermore
9. Life Of Worship
10. Hosanna
About Jon Bauer:
Canadian-based worship artist Jon Bauer marks his U.S. debut January 2012 with his fourth worship album, Forevermore. Bauer has been nominated for five consecutive years for the GMA Canada Covenant Awards and was awarded in 2009 for "Children Album of the Year" and in 2008 "Male Vocalist of the Year." Bauer also was named MAJA Awards' "Male Artist of the Year" in 2008 and "New Artist of the Year" in 2007 for the SHAI Award (People's Choice). Bauer has also stormed the Canadian Christian radio charts, having topped the charts along with receiving numerous other radio accolades.