Five Iron Frenzy Announces Exclusive Kickstarter Pledge Show
A special event that will cost $200 for two tickets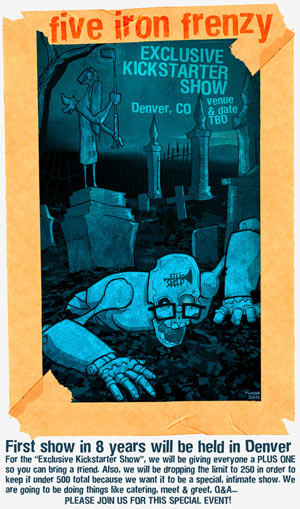 NEWS SOURCE: Five Iron Frenzy
November 28, 2011
It's been over a week now since Five Iron Frenzy announced their 2013 new album release and possible 2012 live performances. Their original Kickstarter fundraising project had the goal of $30,000 but, as of this post, the band has raised over $120,000! To celebrate, the gang has announced a new Kickstarter pledge perk -- a special intimate concert limited to 500 total people that will cost $200 a pop (which includes one guest with each ticket pledge). Below are the details the band announced this afternoon...
"First show in 8 years will be held in Denver
For the "Exclusive Kickstarter Show," we will be giving everyone a PLUS ONE so you can bring a friend. Also, we will be dropping the limit to 250 in order to keep it under 500 total because we want this to be a special intimate show. We are going to do things like catering, meet & greet, Q&A... PLEASE JOIN US FOR THIS SPECIAL EVENT!"

Hey rockers, we wanted to give you some more details about the Kickstarter show we'll be doing in a few months. We realize asking $200 is high, especially for a Five Iron show, but this one is going to be extra special. Aside from the fact that it will be our first show in over 8 years, this will be an intimate setting, as we will be performing at a small venue and are limiting it to approximately 400-500 people. We are also having the show catered, and all of us will be hanging out throughout the evening as we'd love a chance to meet as many of you as we can. Still, we know that there are many of you that would love to attend but can't swing the $200. So we have decided to give everyone who makes this pledge a +1, effectively cutting the price of this special show in half. This, of course, applies to anyone who has already made this pledge as well. This also means we have to reduce the number of available tickets, though, so we can keep this an intimate show. We hope this helps!
Five Iron Frenzy's Kickstarter Project: http://fiveiron.co/kstart
###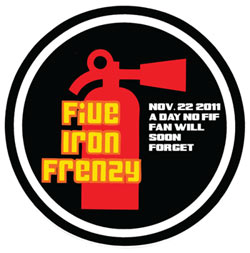 For more info on Five Iron Frenzy visit the JFH Artists Database.