GRAMMY AWARD-WINNING CASTING CROWNS
ANNOUNCES 44-CITY SPRING LEG OF
'COME TO THE WELL' TOUR FEATURING SPECIAL GUESTS
MATTHEW WEST, ROYAL TAILOR AND LINDSAY MCCAUL
2012 Arena Tour Kicks Off February 9
Follows String of Sell-Outs and More Than 155,000 in Attendance This Fall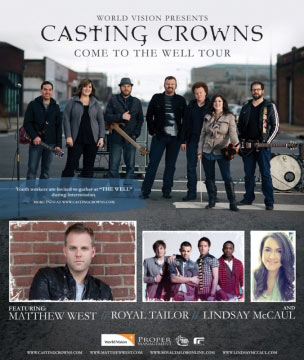 NEWS SOURCE: Provident Music Group
January 3, 2012
(Nashville, Tenn.) Jan. 3, 2012 - Multi-platinum selling, GRAMMY®, AMA and 2010 Dove Award-winning Artist of the Year Casting Crowns will extend its massive "Come To The Well" tour into the spring by adding an additional 44 dates across the U.S., this time featuring special guests, singer/songwriter Matthew West, pop-rockers Royal Tailor (both GRAMMY-nominated) and Christian music newcomer Lindsay McCaul who was also on the 2011 fall tour lineup. Following a hugely successful fall run, which included a string of more than15 sell-out performances, playing before more than 155,000 people, the spring leg of the "Come To The Well" tour kicks off Feb. 9, in Florence, S.C. Among its scheduled 44 shows, the tour will hit arenas in major markets like Grand Rapids, Orlando, Washington D.C., Philadelphia, Pittsburgh, Birmingham, Oklahoma City, Minneapolis, Houston and many more.
The tour takes its name from the Casting Crowns' newest studio project, Come To The Well, (released October 18, its first new studio album in two years), featuring the hit single "Courageous," which was showcased in the recent Sherwood Pictures film by the same title. The project is filled with songs that both challenge and encourage believers in their walk, including, "Just Another Birthday" which goes for radio adds today. Frontman Mark Hall collaborated on several of the tracks with top songwriters including Steven Curtis Chapman, Matthew West and award-winning country songwriter Tom Douglas.
The week of its release, Come to the Well sold 99,138 copies, making it the highest debut on Billboard's Top 200 at No. 2. The album additionally topped the Billboard Contemporary Christian Overall chart, while also claiming No. 1 on the iTunes Christian Albums chart and No. 3 on its Overall Albums chart. Lead radio single "Courageous" landed at No. 1 on the iTunes Christian Songs chart and peaked at a No. 1 on the Billboard National Christian Audience chart in just 10 weeks. In addition, the band celebrated its second career American Music Award win, from six career AMA nominations, on Nov. 20.
The "Come To The Well" tour is partnering with Christian humanitarian organization World Vision (www.worldvision.org). World Vision provides assistance to approximately 100 million people in nearly 100 countries by tackling the causes of poverty and injustice. Casting Crowns has helped to generate a total of 52,000 child sponsorships for World Vision to date.
About Casting Crowns:
All of Casting Crowns' projects are RIAA certified, with a tally of three RIAA Platinum Albums, two RIAA Platinum DVDs, two RIAA Gold Albums, two Gold DVDs and two Gold digital singles, holding position as Billboard's top-selling act in Christian music since 2007. The group also claims two American Music Awards, with six total nominations, three GRAMMY Awards and 14 GMA Dove Awards.
Despite an unprecedented eight-year career with Casting Crowns, the seven band members remain active in student ministry in the Atlanta area and tour part-time around their local church duties. Serving his 18th year in youth ministry, lead singer/songwriter Mark Hall is the student pastor at Eagle's Landing First Baptist Church in Atlanta. As a testament to the band's impact, Casting Crowns performed for a second time in North Korea in April 2009, in partnership with Global Resource Services, as the band continues to forge invaluable relationships with the people in the D.P.R.K. For more information on Casting Crowns and Come to the Well, visit: www.castingcrowns.com or follow Mark Hall's Twitter at twitter.com/markhallCC.
About Matthew West
Lauded by The New York Times as "a vivid and compelling songwriter with impressive approaches to the familiar," two-time GRAMMY ® nominee Matthew West's discography includes acclaimed releases Happy (2003), History (2005) and Something to Say (2008). His latest studio album, The Story of Your Life, was inspired by 10,000 stories from every state in the U.S. and 20 countries. The album released on October 5, 2010, and garnered attention from CNN Online, FOX News, Billboard Magazine, Country Weekly, American Songwriter and more. The Story of Your Life gave West the largest street-week debut of his career, selling over 10,000 units the first week, landing at No. 3 on Christian Soundscan, and No. 41 on the Billboard Top 200. In conjunction with Harvest House Publishers, West teamed up with bestselling author Angela Thomas for "The Story of Your Life" book. The Heart of Christmas marks West's first full-length Christmas project which also boasts the top 15 mainstream AC radio hit "The Heart of Christmas." A multiple ASCAP "Song of the Year" winner, West has had four No. 1 radio hits including his latest GRAMMY-nominated tune "Strong Enough." His songwriting credits include Rascal Flatts, Billy Ray Cyrus, Diamond Rio and more. For more information, visit www.MatthewWest.com.
About Royal Tailor
With a contagious blend of pop, R&B, hip hop and rock, Royal Tailor is a high-energy band and music ministry reaching out to a new generation of students suffering from symptoms of a visionless life. The four-member band -- made up of Tauren (lead singer), DJ (guitar), Blake (bass) and Jarrod (drums) -- met while in school in Indianapolis and began to hone its sound while playing for churches and youth groups around the country. In just under two years, Royal Tailor has performed more than 300 shows, most recently playing at the Nashville GRAMMY Chapter's Block Party stage alongside artists including Old Crow Medicine Show and The Civil Wars.
Produced by Aaron Lindsey, Chuck Butler, and Daniel Kinner, Black & White showcases Royal Tailor's distinctive musical blend, highlighting influences that range from Bruno Mars to Maroon 5 to Michael Jackson. The result is 11 high-energy tracks that make audiences want to dance, pray, shout and sing along. Royal Tailor is currently debuting new music from Black & White on the road, having just wrapped up the 20-city "The Overcome Tour," which also featured Fireflight, After Edmund and Hyland. For more information on Royal Tailor, please visit: www.RoyalTailor.com, www.facebook.com/royaltailor or follow the band on Twitter at www.twitter.com/royaltailor.
About Lindsay McCaul
There's a phrase often heard in music industry circles: "It all begins with a song." That motto carries extra weight in Christian music where a great lyric transcends entertainment and becomes a vehicle to share the gospel. Lindsay McCaul is an artist keenly aware of words and their value. From her teen years pouring over the lyrics of her favorite music to her college days majoring in linguistics at Moody Bible Institute, McCaul's gifts manifest themselves in vibrant, insightful songs crafted with thoughtful precision reflecting a compassionate heart and deep intellect. McCaul's 11-track debut If It Leads Me Back, produced by Jason Ingram (Tenth Avenue North, Meredith Andrews), reveals considerable depth and pathos; keen songwriting paired with her shimmering voice only compels the listener deeper into the album's overall experience. If It Leads Me Back is an auspicious beginning from a talented newcomer whose music will leave a lasting impression. Audiences nationwide will experience Lindsay live on both the fall 2011 and spring 2012 legs of the Casting Crowns "Come To The Well" tour.
For more information on Lindsay McCaul, please visit www.lindsaymccaul.com, www.facebook.com/lindsaymccaulmusic
CASTING CROWNS "COME TO THE WELL" SPRING TOUR 2012
*Dates, markets and venues subject to change without notice
FEBRUARY
2/9 (Thursday) - Florence, S.C. - Florence Civic Center
2/10 (Friday) - Virginia Beach, Va. - Rock Church
2/11 (Saturday) - Woodbridge, Va. - Hylton Memorial Chapel
2/16 (Thursday) - Grand Rapids, Mich. - Van Andel Arena
2/17 (Friday) - Troy, Ohio - Hobart Arena
2/18 (Saturday) - Lynchburg, Va. - Vines Center - Liberty University
2/23 (Thursday) - Coral Gables, Fla. - BankUnited Center
2/24 (Friday) - Orlando, Fla. - UCF Arena
2/25 (Saturday) - Tallahassee, Fla. - Leon County Civic Center
2/26 (Sunday) - Pensacola, Fla. - Pensacola Civic Center
MARCH
3/1 (Thursday) - Ft. Wayne, Ind. - Memorial Coliseum
3/2 (Friday) - Brookfield, Wis. - Elmbrook Church
3/3 (Saturday) - Toledo, Ohio - Huntington Center
3/8 (Thursday) - Johnson City, Tenn. - Freedom Hall
3/9 (Friday) - Raleigh, N.C. - RBC Center
3/10 (Saturday) - Charlotte, N.C. - Bojangles Coliseum
3/11 (Sunday) - Greenville, S.C. - Bi-Lo Center
3/15 (Thursday) - Lowell, Mass. - Lowell Memorial Auditorium
3/16 (Friday) - Newark, N.J. - Prudential Center
3/17 (Saturday) - Getzville, N.Y. - The Chapel at Crosspoint
3/18 (Sunday) - Baltimore, Md. - 1st Mariner Arena
3/22 (Thursday) - Independence, Mo. - Independence Event Center
3/23 (Friday) - Moline, Ill. - iWireless Center
3/24 (Saturday) - St. Charles, Md. - Family Arena
3/29 (Thursday) - Philadelphia, Pa. - The Liacouras Center
3/30 (Friday) - Hershey, Pa. - Giant Center
3/31 (Saturday) - Pittsburgh, Pa. - Console Energy Center
APRIL
4/5 (Thursday) - Bowling Green, Ky. - E.A. Diddle Arena
4/6 (Friday) - Chattanooga, Tenn. - UTC MacKenzie Arena
4/7 (Saturday) - Birmingham, Ala. - BJCC Arena
4/12 (Thursday) - Austin, Texas - Shoreline Church
4/13 (Friday) - Odessa, Texas - Ector County Coliseum
4/14 (Saturday) - Oklahoma City, Okla. - State Fair Arena (Private)
4/19 (Thursday) - Cedar Falls, Iowa - McLeod Center
4/20 (Friday) - Sioux Falls, S.D. - Sioux Falls Arena
4/21 (Saturday) - Minneapolis, Minn. - Target Center
4/22 (Sunday) - Fargo, N.D. - Fargo Dome
4/24 (Tuesday) - Springfield, Mo. - JQH Arena
4/26 (Thursday) - Louisville, Ky. - Broadbent Arena
4/27 (Friday) - Woodstock, Ga. - First Baptist Church
4/28 (Saturday) - Charleston, W.V. - Charleston Civic Center
MAY
5/3 (Thursday) - Tulsa, Okla. - Spirit Bank Event Center
5/4 (Friday) - Lubbock, Texas - United Spirit Arena
5/5 (Saturday) - The Woodlands, Texas - The Cynthia Woods Mitchell Pavilion
# # #
For more info on Casting Crowns visit the JFH Artists Database.
For more info on Matthew West visit the JFH Artists Database.
For more info on Royal Tailor visit the JFH Artists Database.
For more info on Lindsay McCaul visit the JFH Artists Database.