NEWSBOYS TAKE OVER THE RADIO AIRWAVES WITH
NEW SINGLE "GOD'S NOT DEAD," GRABBING BOTH
CHR AND AC RADIO ADDS,
MUSIC VIDEO DEBUTS ON VEVO
The 60+ City God's Not Dead Tour Kicks Off This week!
NEWS SOURCE: Merge PR
January 11, 2012
Nashville, Tenn - 11 January 2012 - With their latest radio single, "God's Not Dead (Like A Lion)," Newsboys continue to take over the radio waves in a powerful way. The song, the debut from their brand new release God's Not Dead (Inpop Records), is being heard on hundreds of stations across the country as well as climbing up the Billboard radio charts.
The single is currently #3 on Billboard's Christian CHR Chart, and #17 on Billboard's Christian AC Indicator chart, moving up an astonishing 12 spots this week. The song is also #25 on Billboard's National Christian Audience Chart, closing in on almost 2 million impressions in just the first two weeks. The song also received an astounding 34 AC adds in 2 weeks on such key stations as KLOVE, Sirius/XM, Family Life Radio Network, WJQK / Grand Rapids, MI; WHPZ / South Bend, IN; WBSN / New Orleans, LA; and KSOS / Las Vegas, NV.
The music video for "God's Not Dead (Like A Lion)" is also hot off the presses! Making its debut on Vevo just this week, you can view the new music video here. Be sure to share it with your friends on Facebook and Twitter to spread the news that "God's Not Dead!"
On the heels of releasing their highly acclaimed rock worship project, the band announced the news of their biggest tour yet, the "God's Not Dead Tour." Kicking off this week on Jan 12th and running through May 6th, the tour will run in 60+ markets across the U.S. The tour is presented by Compassion International, continuing their partnership with Newsboys to raise awareness for child sponsorships. A special VIP Pre-Show Meet & Greet Experience will be held nightly with a portion of its proceeds going to support Compassion International's child trafficking initiatives. Other major sponsors supporting the tour are I Am Second and Interstate Batteries. Tour dates for the "God's Not Dead Tour" are listed below, with more dates being added daily.
Please visit Newsboys.com for more about the band, and also visit the tour's official webpage at GodsNotDeadTour.com for the most updated schedule.
# # #
Newsboys' God's Not Dead Tour Dates:*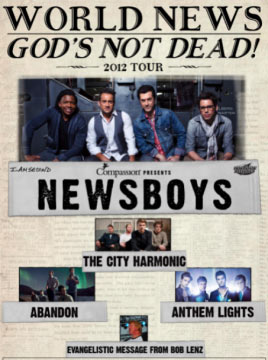 January 12 - Holland, MI
January 19 - Sheboygan, WI
January 20 - Port Huron, MI
January 21 - Menominee, MI
February 02 - Amarillo, TX
February 03 - Longview, TX
February 04 - Abilene, TX
February 09 - Temple, TX
February 10 - Carlsbad, NM
February 11 - Glendale, AZ
February 12 - Tucson, AZ
February 17 - Oceanside, CA
February 18 - Brentwood, CA
February 19 - Sacramento, CA
February 21 - Layton, UT
February 23 - Anaheim, CA
February 24 - Redlands, CA
February 25 - Fresno, CA
February 26 - Bakersfield, CA
March 01 - Colorado Springs, CO
March 02 - Farmington, NM
March 03 - Lubbock, TX
March 04 - Woodward, OK
March 09 - New Bern, NC
March 10 - Myrtle Beach, SC
March 11 - Huntington, WV
March 15 - Joplin, MO
March 16 - St. Charles, IL
March 17 - Quincy, IL
March 18 - Boaz, AL
March 22 - Barre, VT
March 24 - Lynchburg, VA
March 25 - Hopkinsville, KY
March 28 - Yankton, SD
March 29 - Indianola, IA
March 30 - North Platte, NE
March 31 - Spencer, IA
April 01 - Bourbonnais, IL
April 05 - Edna, TX
April 06 - Pharr, TX
April 12 - Estero/Ft. Myers, FL
April 13 - Clearwater, FL
April 14 - Valdosta, GA
April 15 - Jacksonville, FL
April 16 - Vero Beach, FL
April 21 - Springfield, OH
April 22 - Wabash, IN
April 26 - Knoxville, TN
April 27 - Evansville, IN
April 28 - Anderson, IN
April 29 - Reading, PA
May 03 - Menasha, WI
May 04 - Oak Creek, WI
May 05 - Flint, MI
May 06 - Williamsburg, VA
*Dates and supporting acts are subject to change. For the most updated tour schedule, please visit Newsboys.com.
# # #
For more info on Newsboys visit the JFH Artists Database.