Steven Curtis Chapman Celebrates 25-Year Career
With Video Series Retrospective, New Greatest Hits Collection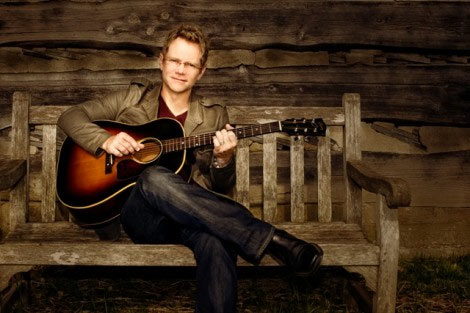 NEWS SOURCE: The M Collective
January 30, 2012
Nashville, TN, January 30, 2012: With 46 No. 1 singles, including "Do Everything," which topped charts last month; 56 GMA Dove Awards; five GRAMMY awards; and more than 200 songs recorded on 17 original albums spread across an illustrious 25-year career, Steven Curtis Chapman has already amassed a collection of songs worth celebrating.
Since his first national recording, First Hand, Chapman has become one of the most beloved artists in all of popular music. This year on his website, StevenCurtisChapman.com, he revisits some of his favorite tracks with a video series called Twenty Five, featuring acoustic performances of some of Chapman's most popular songs and the stories behind them. Every other Thursday in 2012, a new acoustic, one-take, raw performance of one of Chapman's songs will be debuted, each one only available to view for only 25 days. To check out Twenty Five, visit stevencurtischapman.com/scc25.
In addition, Sparrow Records is releasing a new Chapman greatest-hits package, #1's Vol. 1. Available on April 3, the album features 13 of his biggest songs, each of which charted at No. 1, and features the career-defining songs "Dive," "The Great Adventure," "I Will Be Here" and more. Would you believe more than 15 years have gone by since his previous greatest-hits album released? Many of Chapman's biggest songs and albums have never been represented on a greatest-hits collection.
In November, Chapman wrapped his first "Songs & Stories" tour with friends Andrew Peterson and Josh Wilson. After performing in front of sold-out crowds across the country, the Show HOPE-sponsored tour continued to be in high demand and, as a result, Chapman announced a spring leg of the intimate tour.
The spring leg of the "Songs & Stories" tour launches on Feb. 2 in Broken Arrow, Okla., with Peterson and Wilson supporting. After visiting markets including Cleveland, Nashville and Tampa, among others, the tour will wrap on Mar. 11 in Ocala, Fla. During this uniquely formatted writer's night, 47 instruments are integrated into the show, and true collaboration dominates the night with Peterson, Wilson and Chapman all playing and singing on each other's songs. Chapman performs songs from his latest album re:creation and more, including his most recent No. 1, "Do Everything," for which he collected his 16th career GRAMMY nomination. Chapman also opens up about the stories that inspired him to write the songs that have impacted lives around the world.
For more date and ticket information about Steven Curtis Chapman and the upcoming "Songs & Stories" tour, please visit http://stevencurtischapman.com/tour.
###
About Steven Curtis Chapman:
Steven Curtis Chapman has sold over ten million records including two RIAA certified platinum albums and eight RIAA certified gold albums. Along with his five GRAMMY awards, Chapman has won an American Music Award, has recorded 46 No. 1 US radio hits and been awarded 56 Dove Awards, more than any other artist to date. Since his recording career began in 1987, Chapman has recorded seventeen projects with Sparrow Records. He has performed at the White House and has appeared on multiple national programs via CBS, NBC, ABC, CNN, MSNBC, CMT, FOX News, the Hallmark Channel and E!, including Good Morning America, Larry King Live, Fox&Friends, Huckabee, CBS Sunday Morning, The Tonight Show with Jay Leno and more. Chapman and his wife Mary Beth created Show HOPE in 2001 after bringing their first adopted daughter, Shaohannah, home from China. The ministry's goal is to help families reduce the financial barrier of adoption, and has provided grants to more than 2,700 families wishing to adopt orphans from around the world.
About Andrew Peterson:
Andrew Peterson is a man of many talents with a successful recording and songwriting career, as well asbeing an award-winning author and the host of a highly popular creative community known as the Rabbit Room ( www.RabbitRoom.com). Peterson's current project Counting Stars debuted at #1 on iTunes, and #6 on Billboard. His single "Dancing in the Minefields" reached the Top 10 on the Christian AC chart, while the video for the song has received well over500,000 views online. Peterson won the 2010 Christy Award for Young Adult Fiction for book two in the four-part Wingfeather Saga series, while book three, The Monster In The Hollows, released in May and is already being hailed as a classic. In September, Peterson will host Hutchmoot, the second annual Rabbit Room conference for lovers of art, songs, and stories-an event that sold out in six hours! In December, he will embark on his 12th annual Christmas tour, Behold the Lamb of God, which is an annual sell-out at Nashville's Ryman Auditorium. For more information on Peterson please visit www.Andrew-Peterson.com.
About Josh Wilson:
Singer/songwriter Josh Wilson grew up the son of a preacher in Lubbock, Texas. He signed to Sparrow Records in 2006 and released his major label debut, "Trying to Fit the Ocean in a Cup" in 2008. The album was met with critical acclaim, hailed by Christian Retailing as "the future of Christian pop" and named among the Top Ten Best Albums of 2008 by GospelMusicChannel.com. Since then he has released numerous No. 1 hits including "Savior Please" and the powerful track "Before the Morning," which recently landed the No. 4 spot on Billboard's Year-End Christian Songs chart, while also releasing a sophomore album, "Life Is Not A Snapshot" and a compilation self-titled record. This year he released his third studio album "See You," which was praised by critics across the board. Wilson also attracted national media attention with a breakout viral video when he had travelers at the Newark airport breakout in "Hey Jude" during a 6-hour security lockdown. For more information on Josh Wilson, visit www.joshwilsonmusic.com.
# # #
For more info on Steven Curtis Chapman visit the JFH Artists Database.