U.K. PUBLISHER RELEASES MICHAEL MILTON'S
HIT BY FRIENDLY FIRE IN U.S. THIS WEEK
New Book By Theologian, Author and Singer/Songwriter Explores How To Move
From Being A Victim To Being A Victor After Being Wounded By A Fellow Believer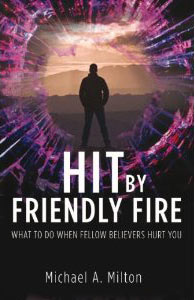 NEWS SOURCE: McCain & Co.
February 15, 2012
Nashville, Tenn. (Feb. 15, 2012) - British publisher EP Books has released Hit By Friendly Fire this week in the United States. The book, written by theologian, author and singer/songwriter Michael Milton, discusses the often-ignored topic of how to handle the hurt caused by fellow believers among each other. Hit By Friendly Fire is available on Amazon.com.
Published last month in the U.K., Hit By Friendly Fire is already finding an audience both inside and outside the church, with clergy using it as a ministerial resource and believers reading it for understanding and guidance.
Milton, who currently serves as the chancellor/CEO-elect of Reformed Theological Seminary and as a chaplain in the U.S. Army Reserves, understands the devastation that betrayal at the hands of a friend can cause. Wounds at the hands of fellow believers run even deeper, he says.
"This is not Baghdad or the Battle of the Bulge or Pork Chop Hill. I am speaking of the many walking wounded in the body of Christ who have been hurt by other believers, people who have been hit by the betrayal of a Christian," says Milton.
Although Jesus promised that His followers should expect tribulation from the world, they don't usually expect to be troubled by their brothers and sisters in the church. Unfortunately, the experiences of Biblical heroes of the faith like Joseph and Paul demonstrate that this is not a new phenomenon. In Hit By Friendly Fire, Milton draws on Scripture to prove that it is possible to move from being a victim to being a victor, even when Christian bonds make the wounds deeper.
"Full of personal and pastoral wisdom, this little book will help many believers face a trauma all too common in the Christian church, yet all too seldom addressed in the literature," says Iain D. Campbell, pastor of the Free Church of Scotland in Point on the Isle of Lewis, Scotland.
For more information on Milton and Hit By Friendly Fire, visit michaelmilton.org.
About Michael Milton:
Milton, the Chancellor/CEO-Elect of Reformed Theological Seminary, is an ordained Presbyterian pastor who earned his doctorate degree in theology from The University of Wales and holds multiple degrees from such respected institutions as Knox Theological Seminary, MidAmerica Nazarene University and the Defense Language Institute. He also currently serves as Professor of Pastoral Theology at Reformed Theological Seminary.
Milton has released three CDs, penned 11 books and writes for numerous scholarly periodicals. He was appointed to the College of Military Preachers, serves as a Chaplain in the U.S. Army Reserve and is an instructor at the Armed Forces Chaplain School. But anyone who has listened to his music can attest that "stuffy" is not a word that is found in his vocabulary. Much like his friend and sometimes musical collaborator, legendary Christian singer/songwriter Michael Card ("El Shaddai"), Milton has an uncanny ability to unpack complex theological concepts into everyday language that makes them both memorable and accessible.
Milton's latest book, Hit By Friendly Fire, is published by EP Books, an independent missions organization based in the United Kingdom. Milton's latest CD, Through the Open Door, is available through Music for Missions, an independent record label that donates two-thirds of profits to various mission organizations. Proceeds from the project go to Reformed Theological Seminary for the education of pastors and missionaries.
For more information on Milton and Through the Open Door, visit throughtheopendoor.org