NATALIE GRANT & CARMEN BROWN FROM THE JOY FM'S "TEAM FREEDOM" PARTICIPATE IN
DISNEY PRINCESS ½ MARATHON & RAISE NEARLY $60,000 FOR ABOLITION INTERNATIONAL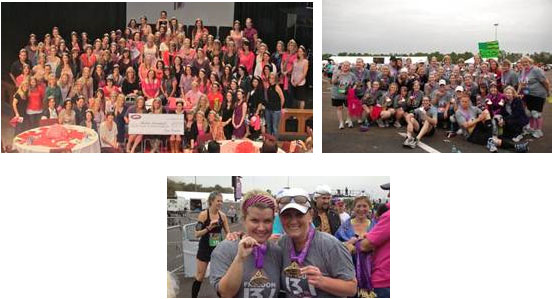 NEWS SOURCE: Rogers & Cowan
February 28, 2012
Los Angeles, Calif. (February 28, 2012)- Last Sunday on February 26, recent Dove Female Vocalist nominee Natalie Grant and The JOY FM's morning show host, heard in Tampa and Atlanta, Carmen Brown, along with 132 team members laced up their tennis shoes and ran 13.1 miles for freedom in the 2012 Disney ½ Princess Marathon in Orlando, FL. Together, "Team Freedom" raised nearly $60,000 for Grant's foundation, Abolition International, an organization that is combating domestic and international sex trafficking through accreditation, advocacy, education, and restoration.
"Not only does human trafficking happen halfway around the world, it happens in less mileage from my home than I signed up to run," says The JOY FM's Carmen Brown. "We mobilized our community to shine some light in this horrible darkness. They did."
Over the past several months, The JOY FM listeners and fans of Grant were encouraged to join "Team Freedom" and support the cause by either participating in the marathon, through financial support, or through prayer. A year later, all was reaped. Through the race participants alone, $49,281 was raised, and a generous donor matched $719 which evened the total to $50,000 for the evening. Furthermore, through online supporters, nearly $10,000 was given making the grand total almost $60,000.
"When I thought I couldn't make it to the finish line, I kept reminding myself that this was for a cause so much greater than myself," says Grant as she reflects on the event. "I am free to run. And I will continue to fight until many others experience that same freedom."
Earlier in the weekend, Grant gave a special intimate performance for her team as they enjoyed a carb-loading pasta dinner hosted by The Joy FM and Abolition International, where a check was presented to Grant and Abolition International for the funds raised prior to the online support. The next morning the team headed out to Orlando to prepare for and run the half marathon.
To find out more information about Abolition International please visit http://abolitioninternational.org. To get connected with The JOY FM, please go to http://www.thejoyfm.com and to keep up on the latest news about Natalie Grant please visit www.nataliegrant.com.
###
ABOUT NATALIE GRANT:
A powerhouse vocalist, heart-gripping songwriter and charismatic performer, Natalie Grant has an unshakable determination to remind us of the simple significance of love, and the revolutionary power that it carries, as expressed on her latest project, Love Revolution. Released in August 2010, Love Revolution gave Natalie the highest-selling debut of her career. As a Grammy Nominee, GMA Female Vocalist of the Year for four consecutive years (2006-2009) and the top-selling Adult Contemporary female solo artist in 2005, 2006 and 2008, Grant is among a select number of artists to have achieved a formidable foothold at mainstream media and radio. Despite these accomplishments, it is the message of the Gospel, and the revolutionary power of love it carries, that she waves as her banner and her hope. Beyond her artistry, Grant remains an outspoken advocate for victims of human trafficking through Abolition International, which she created in 2005. She balances all of these endeavors with her greatest calling-as a wife, and mother of three.
About The JOY FM:
Playing the best in Christian Contemporary Music, The JOY FM has been serving North, Central and Southwest Florida and Atlanta, GA for over 20 years. We are listener supported and appreciate the generous donations of our listeners, churches and business underwriters.
About Abolition International:
The vision for Abolition International began in 2005 when founder Natalie Grant first learned about the plight of women and children around the world and the travesty of sex trafficking. After researching the issue and speaking with devoted anti-human trafficking groups and caregivers, Natalie soon realized the desperate need for quality aftercare for victims. With that vision and the passion to make a difference Natalie founded The Home Foundation.
Since that time, the Foundation has grown and evolved into Abolition International and is an international leader in the fight to eradicate sex trafficking through our aftercare accreditation, our advocacy and education initiatives and our dedication to opening restoration homes for those already victimized by sex trafficking.
*A: photo credit- Courtesy of The JOY FM / Brittany Burke: Natalie Grant and Joy FM's Carmen Brown with their Team Freedom before lacing up their shoes for the ½ marathon*
*B: photo credit-Courtesy of The JOY FM / Brittany Burke: Team Freedom crosses the finish line at Disney's ½ Marathon
*C: photo credit -Courtesy of The JOY FM / Brittany Burke: Natalie Grant and Carmen Brown celebrate their victory
For more info on Natalie Grant visit the JFH Artists Database.