First Music Video From Rhema Soul's Critically-Acclaimed New Album RED Released This Week
Pilot television show now in the works for band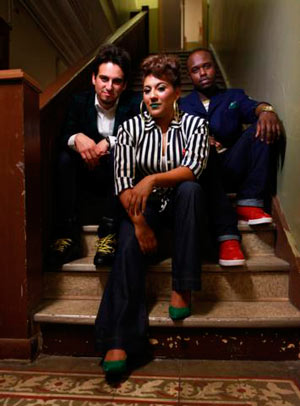 NEWS SOURCE: Adams Group
April 25, 2012
Nashville, TN)--The hip-hop group Rhema Soul has released their first music video from their critically-acclaimed album, RED (Universal Christian Music Group/220 Entertainment Group/Good City Music). The song entitled "Break Out" was written by the three members of Rhema Soul and the video was directed by Wilbert J. Thomas of Space Cherry Films. Thomas' work has been featured on BET, JCTV, and WAY-TV, among many others. He was nominated as Best Emerging Director at the Jacksonville (FL) Film Festival and won Music Video of the Year from Rapzilla's Best of 2011 Awards.
Rhema Soul says "Break Out" explores the idea of embracing true freedom. "As people, we too often allow ourselves to be bound by fear and uncertainty," says K-Nuff. "We look at the mistakes of our past and think we are destined to fall into the same patterns. The truth is we no longer have to be bound by anything. We can say goodbye to yesterday and, through faith, grab a hold of what's to come with courage and strength."
"With the video," says juanlove, "we just wanted to strip everything down so the words and the emotion behind them took center stage." "The song as a whole," concludes Butta P," signals somewhat of a new direction for us. We love the energy and the organic feel of it."
Rhema Soul is also filming a new reality television pilot for JCTV, showing the making of their next music video from RED entitled "Off the Edge." JCTV is a Christian youth network designed for 13-30 age groups. JCTV currently airs in over 800 cities in the U.S. as well as streaming online at www.jctv.org.
RED was produced by Andy Anderson whose credits include projects from TobyMac and Group One Crew. The first radio single entitled "No Walking Away" was featured on Focus on the Family's Plugged In podcast on March 29. Together now for over six years, Rhema Soul is based out of South Florida. The trio of two men and one woman recorded their first project in 2007 entitled Worn Soles, featuring the successful radio single "All You Are" with Hillsong United. Their follow-up project the next year, Dope Beats, Good News, included the innovative song "Steez" which was nominated as a favorite video by the Gospel Music Channel. And 2010's, Fingerprints , offered up more personal songs from the group, including the provocative song "Fly Away." The group opened up painful moments in their individual lives in an emotional music video of the tune, where K-Nuff describes his parent's difficult marriage; juanlove makes a statement about teenage sex; and Butta reveals the sexual abuse she suffered as a child.
The trio all came from youth and worship leader backgrounds, as well as strong ties to missionary work. They traveled with the organization One Hope (Onehope.net) for nearly two years, ministering to needy children in South Africa, Russia, Eastern Europe, and the United Kingdom. Rhema Soul has also been involved with Hope in Motion, founded by KJ52's drummer Pedro LaTorre. The Hope In Motion team visits public and private schools with a dynamic presentation of music and dance, opening doors to help counsel students who are suicidal, depressed, or have been bullied.
###
To view the new video from Rhema Soul, click here.