HAWK NELSON ANNOUNCES NEW LEAD SINGER, JON STEINGARD
BAND CURRENTLY WORKING ON NEW MUSIC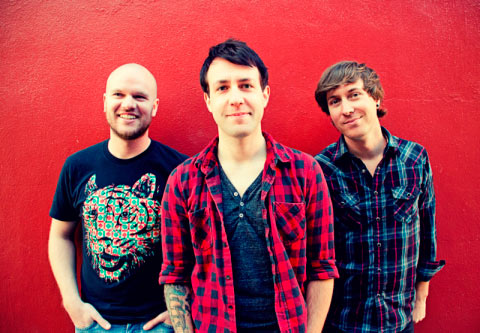 NEWS SOURCE: Merge PR
April 26, 2012
Nashville, Tenn - April 26, 2012 -Hawk Nelson enters a different chapter in the band's history as they announce their new lead singer Jon Steingard. No stranger to their fans, Steingard has been the guitarist for the past eight years. Hawk Nelson will continue with members Daniel Biro (bass), Justin Benner (drums) and Steingard (guitar, vocals).
"I am blessed to announce that Hawk Nelson will be fronted by none other than the talented Mr. Jonathan A. Steingard," states co-founder and bassist Daniel Biro. "The chemistry we share as a band cannot be fabricated. In other words, we know we have something special here. We're very excited to be working on a bunch of new songs for everybody. It's a new day, and we want to make the most of it."
"Moving forward, I couldn't be more excited to step into the role of lead singer," shares Steingard on his new role.
Hawk Nelson is currently working on writing new music and preparing to introduce the new line-up to their fans. The upcoming music will showcase a fresh direction combined with the signature Hawk Nelson sound their fans love.
"We are knee-deep in writing a new record at the moment, and these are some of the most inspiring songs we've ever worked on," says Steingard. "As a band, we've had our fair share of highs and lows, and through it all we've become a family. A further blessing has been the incredible amount of support we've received, particularly over the past few months of growing pains, from family, friends, other bands, industry folks, and especially the wonderful hawk-listeners that have stuck with us on our journey. The future is bright."
Former frontman Jason Dunn announced his departure from Hawk Nelson earlier this year to pursue his solo project, Lights Go Down (facebook.com/lightsgodown). Hawk Nelson wishes him the best of luck in his new venture.
ABOUT HAWK NELSON: This powerhouse, pop rock band has won the hearts of thousands since its debut release in 2004. Hawk Nelson has released five studio projects (Letters to the President, Smile It's the End of the World, Hawk Nelson is My Friend, Live Life Loud, and most recently Crazy Love).
Crazy Love produced a three-week No.1 single with the title track at CHR radio. In 2010, Hawk Nelson was also awarded two Canadian GMA awards. In 2011, Hawk Nelson released a Christmas EP. This year, the band was honored with four GMA Dove Award nominations as well as a JUNO nomination.
For more information on the band and stay up-to-date with developments, visit www.hawknelson.com and follow the band on Twitter at @HawkNelson.
For more info on Hawk Nelson visit the JFH Artists Database.