DAKOTA GREEN'S 'CAN'T GET ENOUGH'
IMPACTS CHRISTIAN RADIO TODAY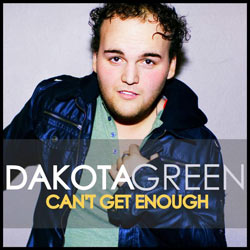 NEWS SOURCE: Turning Point PR
May 8, 2012
NASHVILLE, Tenn.-"Can't Get Enough," the latest single from acclaimed pop singer/songwriter Dakota Green is slated to impact Christian radio formats today. Written by Conrad Johnson and Green, the song was recorded and produced by Johnson at his Lakeland, Florida-based Inertia Sound Studio.
"Over the last year, God's love has become evident to me in a very tangible way," Green shares of the inspiration behind "Can't Get Enough." "That's what I had in mind as I was writing this song; I really wanted it to convey the beauty and energy that I have felt recently because of His love. As with all my music, I want it to inspire listeners to really take the time to enjoy the Lord and all He has in store. To me, the song captures the feeling of a bright summer day. 'Can't Get Enough' is truly my love song back to Him. I hope it can be the same for everyone who listens."
Green's 2011 debut EP, Love Is Taking Over, debuted on the iTunes Top 100 Christian & Gospel chart and featured the hit single "All I Wanna Know." He has opened for such artists as Skillet, Building 429 and Decyfer Down, and is slated to perform at Atlanta Fest and Hills Alive, among other festivals and events this summer.
"Can't Get Enough" will be available on iTunes June 26 and is the first single from Green's forthcoming full-length recording, Who I'm Becoming. To hear the song, visit www.youtube.com/watch?v=TrCsNAnn5MM.