HEATHER BURCH TO RELEASE GUARDIAN ON OCT. 9, 2012 THROUGH ZONDERVAN
Book two in Halflings Trilogy Series Offers Action-Packed Read for Both "Fanlings" and New Followers Alike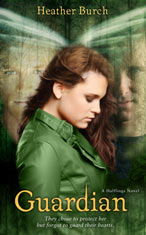 NEWS SOURCE: Rogers & Cowan
August 21, 2012
LOS ANGELES, Calif. (Aug. 21, 2012) - Heather Burch announces the release of her highly anticipated second book release in the Halflings trilogy series. Guardian will hit stores nationwide through Zondervan on Oct. 9, 2012.
Burch exploded on the YA blogosphere, creating a huge buzz with the publication of her popular Halflings book. Guardian picks up where Halflings left off and is the story her "fanlings" are patiently waiting to get their hands on. Packed with the same exciting elements as her debut book, this second novel in the trilogy series speaks directly to Burch's core audience, including a romantic subplot that will encourage new readers to join in.
"Guardian was a blast to write, and I think that both Halfling fans and new followers alike are going to enjoy the journey," says Burch.
Reminiscent of novels by popular authors such as Cynthia Hand, Stephenie Meyer and Tammar Stein, Burch's concept is witty and original while drawing on inspiration from biblical passages.
"I want to write wholesome books that portray the voice of the regular young adult market," says Burch. "People can pick up Halflings and Guardian which read very much like secular books with characters that have a much higher moral standard minus the cuss words, drinking and smoking."
Guardian continues to follow the ever-so-popular Halflings characters through twists and turns in a battle of good versus evil unveiled in Burch's plots of mystery, action and romance.
In Guardian, the mission to safeguard Nikki Youngblood depends on the fragile alliance of two half-angel, half-human Guardians, both struggling with intense feelings for the girl who has been assigned to their care. Mace, steadfast and deeply in love, wants to protect Nikki at all costs, while Raven's loyalty to Nikki finds him advocating for her independence while battling his own darker inclinations. At the same time, Nikki finds it harder and harder to choose between the two heavenly beings she may never have. Dangers intensify, and tensions between Mace and Raven flare as the purpose of their mission becomes clear. Can their defenses hold up to master manipulator Damon Vessler and the powerful secret he holds regarding Nikki's heritage? Can anyone protect Nikki from her true purpose and destiny?
Although Burch is a new, budding author with a devoted fan base, she is quickly becoming a leading author in the YA market. Stretching beyond the teenage audience, Guardian is a "universal" read that is capable of garnering mass appeal.
For more information about Guardian, please visit http://zondervan.com/9780310728214.
Guardian
Reading level: Ages 15 and up
Price: $14.99 (USD)
Hardcover: 320 pages
Publisher: Zondervan (October 9, 2012)
Language: English
ISBN 13: 9780310728214
UPC: 025986728212
About Zondervan
Zondervan, a HarperCollins company, is headquartered in Grand Rapids, MI, is a world leader in Christian communications, and is the leading Christian publishing brand. For more than 75 years, Zondervan has delivered transformational Christian experiences through general and academic resources authored by influential leaders and emerging voices and has been honored with more Christian Book Awards than any other publisher.
About Heather Burch
Heather Burch writes paranormal young adult novels. Her YA novel Halflings released in hardcover in January 2012 and is the first book in the Halflings Series. Heather grew up in Branson, Missouri, where she learned to love fiction. She then married into a family of published novelists and quickly learned writing was her heart's desire. When she's not working on her latest book, Heather can be found watching a sunset at a beach near her home in Southern Florida, along with her sons Jake and Isaac, and husband, John---who is her hero in every way.
###