AWARD-WINNING TRIO POINT OF GRACE COMMEMORATES
10 YEARS OF "GIRLS OF GRACE" IN EDEN PRAIRIE ON SEPTEMBER 22
Over 3,000 Audience Members Join in Celebration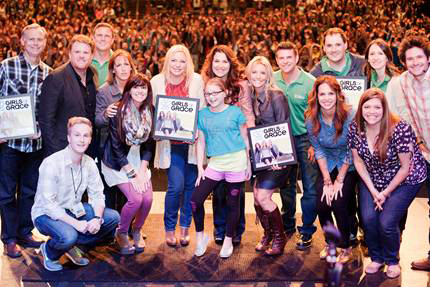 Names: L-R Dan Wynia (Northwestern Media), Tim Marshall (Word Entertainment), Josh Thompson (Word Entertainment), David Breen (25 Entertainment), Leigh Holt (25 Entertainment), Meredith Andrews, Shelley Breen (Point of Grace), Leigh Cappillino (Point of Grace), Darby Cappillino, Denise Jones (Point of Grace), Curtis Stoneberger (25 Entertainment), Amber Lehman, Jason Jenkins (25 Entertainment), Dara Easterday (25 Entertainment), Annie Downs (Author, Zondervan), Chris Wheeler (Show Hope)
NEWS SOURCE: Word Records
September 27, 2012
Nashville, TN - (September 27, 2012) - On September 22, Point of Grace was presented with plaques commemorating 10 years of their time-tested event for teen girls, "Girls of Grace," in Eden Prairie, MN. Artists Britt Nicole, for KING & COUNTRY and Meredith Andrews were on hand for the celebration in addition to renowned guest speakers, Chris Wheeler, Annie Downs, Amber Lehman and Constance Rhodes. The "Girls of Grace" events have impacted the lives of over 100,000 young women over the past decade.
In 2002, Point of Grace founded the "Girls of Grace" conferences with the desire to bring teen girls together to talk about issues that affect them. "It's hard to believe that 10 years has gone by since our very first Girls of Grace conference in Orlando, Florida," said Shelley Breen of Point of Grace. "We are humbled that we continue to hear stories from girls all over the country about life-changing decisions that were made at a Girls of Grace. Leigh, Denise and I can never express our gratitude to Word Records for breathing new life into this event, with a passion we could have never imagined. In my heart, I know this is only the beginning of what God is going to do with this incredible team of speakers and artists that we are blessed with in this new season of Girls of Grace." The 10th Anniversary Season, "Girls of Grace: The Beautiful Truth," will continue throughout May 4, 2013 when it concludes in Atlanta, GA.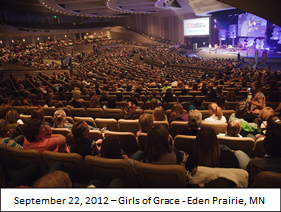 The conference is a day-long interactive high-energy event for girls in 6th - 12th grades featuring live music and speakers that focus on age-related issue with a positive Christian message. 98.5 KTIS, SUSIE Magazine, WinShape Camps, Zondervan, ChildFund, Grand Canyon University and NewReleaseTuesday.com served as sponsors of the event. Upcoming Dates for "Girls of Grace: The Beautiful Truth" 2012-13 Season:
November 3, 2012: Grand Rapids, MI - Sunshine Community Church
November 10, 2012: Spartanburg, SC - Evangel Cathedral
February 23, 2013: Nashville, TN - Christ Church
April 20, 2013: Dallas, TX - Cottonwood Creek Baptist Church
May 4, 2013: Atlanta, GA - Coming Soon!
For additional information and to register, please visit www.girlsofgrace.com.
Facebook: http://www.facebook.com/girlsofgraceevent
Twitter: www.twitter.com/gogevent
YouTube: www.youtube.com/girlsofgraceevent
About WinShape
WinShape Camps is a camp experience that was created by Chick-fil-A founder, S. Truett Cathy. WinShape Camps offers unforgettable overnight and day camp experiences for boys and girls of all ages through programs designed to sharpen their character, deepen their faith, and grow in their relationships with others. For more information please visit www.winshapecamps.org or please call our offices at 1-800-448-6955 ext. 1120.
About Zondervan
Zondervan's mission is to be the leader in Christian communications meeting the needs of people with resources that glorify Jesus Christ and promote biblical principles. Zondervan's eighty-year history as an evangelical Christian publisher is a trust we are committed to honor. Our Publishing Philosophy reflects this heritage and our desire to pursue excellence as we continue to serve the Church and seek to engage people outside the Church. Visit www.zondervan.com for more information.
About ChildFund
ChildFund International is inspired and driven by the potential that is inherent in all children; the potential not only to survive but to thrive, to become leaders who bring positive change for those around them. The heart of ChildFund International remains the one-to-one connection made when you sponsor a child. Visit www.ChildFund.org for more information and make sure to stop by our booth at the Girls of Grace event near you!
About NewReleaseTuesday.com
NewReleaseTuesday.com (http://www.NewReleaseTuesday.com) was launched in August of 2002 and offers the most complete and up-to-date listing of upcoming releases online, exclusive artist interviews, commentary from a variety of columnists, weekly New Christian Music PodCasts and the latest in Christian music news. It is also the home to the NRTeam, an online music community that maintains one of the largest online databases of Christian artist profiles, album reviews and song lyrics. NewReleaseTuesday.com is part of the FrontGate Media group.
About SUSIE Magazine
SUSIE Magazine is a Christian magazine and Online Sisterhood for teen girls. The magazine's topics include fashion, relationships, music, sports, hobbies and more - all from a Biblical worldview. Currently, the magazine is available only by print subscription. The SUSIE Online Sisterhood is an interactive social networking site that connects teen girls from across the globe and displays relevant content, blogs and message boards. For more information or to subscribe, visit www.SUSIEMag.com.
About Grand Canyon University
Grand Canyon University was founded in 1949 and is Arizona's premier private Christian university. GCU is regionally accredited and emphasizes individual attention for both traditional undergraduate students and the working professional in seven colleges: the Ken Blanchard College of Business, the College of Education, the College of Nursing, the College of Arts and Sciences, the College of Theology, the College of Fine Arts and Production, and the College of Doctoral Studies. GCU offers traditional programs on its growing campus, as well as online bachelor's, master's and doctoral degree programs. The University's curriculum fuses academic and clinical rigor with Christian values to prepare its students to be skilled, caring professionals. For more information about GCU, visit www.gcu.edu.
About 25 Entertainment
25 Entertainment is the event booking, production and promotion arm of Word Entertainment, a comprehensive Christian entertainment company comprised of multi-faceted artist service departments including recorded music, publishing, distribution, merchandising, Church resources, and online initiatives. Based in Nashville, 25 Entertainment's roster includes some of the world's most-renowned Christian artists including Chris August, Natalie Grant, Phillips, Craig & Dean, Point of Grace, and Sidewalk Prophets. The company also proudly represents Girls of Grace, a nationwide conference for 6th - 12th grade girls, focusing on common age-related issues with positive Christian messages.
About Word Entertainment
A leader in the music industry for over 60 years, Word Entertainment, a Warner/Curb company, is a unique, comprehensive entertainment company comprised of multi-faceted artist service departments including publishing, merchandising, booking, and online initiatives. Word Entertainment represents some of the top names and brands in music, including Meredith Andrews, Chris August, BarlowGirl, Francesca Battistelli, Big Daddy Weave, Jason Castro, Patrick Ryan Clark, Everfound, for KING & COUNTRY, Group 1 Crew, Dara Maclean, Point Of Grace and Sidewalk Prophets and is home to 25 Entertainment, Word Distribution (representing Curb Records and Big Idea/VeggieTales among others), Word Print, Word Music Publishing and Word Label Group's Word Records and Fervent Records.
# # #
For more info on Point of Grace visit the JFH Artists Database.