JESUS CULTURE PRESENTS THE STILL BELIEVE TOUR FEATURING KIM WALKER-SMITH WITH GUEST WORSHIP LEADER DEREK JOHNSON
Ticket Pre-Sale Begins January 3, Public On-Sale January 4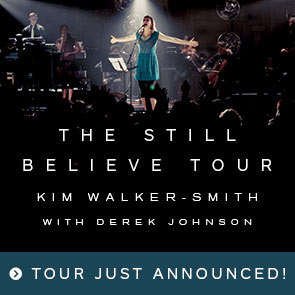 NEWS SOURCE: TKO Marketing
January 2, 2013
(High Point, N.C.) January 2, 2013 - Jesus Culture announces The Still Believe Tour featuring Kim Walker-Smith. The tour kicks off her album release in March 2013 with dates planned for the West Coast. Walker-Smith will share her heart and lead songs from her album "Still Believe," with special guest worship leader, Derek Johnson (featured on Jesus Culture Music's, "Emerging Voices") opening the night.
"The goal of these events is to gather together to seek the Lord and encounter Him through whole-hearted, passionate worship," says Banning Liebscher, director of Jesus Culture.
"Still Believe" is the sophomore solo album from Walker-Smith on the Jesus Culture Music label. Full of the presence of God, the album was recorded during a night of live worship at the Cascade Theater in Redding, Calif. and features mainly original songs, Walker-Smith's powerful anointing voice, healing lyrics, and the harmonious sounds of the orchestra.
Jesus Culture The Still Believe Tour Dates:
Date City/State
March 8, 2013 San Diego, California
March 9, 2013 Los Angeles, California
March 11, 2013 Las Vegas, Nevada
March 12, 2013 San Francisco, California
March 14, 2013 Portland, Oregon
March 15, 2013 Kent, Washington
March 17, 2013 Vancouver, British Columbia
Ticket pre-sales for the tour begin January 3 with a public on-sale date set for January 4. For more information on The Still Believe Tour and to purchase tickets, visit www.jesusculture.com/stillbelieve.
Kim Walker-Smith has quickly become one of the strongest voices for the current youth revival. She is a passionate worship leader with an anointing to bring an entire generation into an encounter with God. All of those who are in a worship service led by Kim will catch her contagious love to worship. She has many interests and at the core of them all is a heart for justice, love, and God's presence. Kim is one of the senior leaders in the Jesus Culture movement and one of the worship leaders in the Jesus Culture band. She and her husband Skyler, lead worship, teach, and impart around the world.
Derek Johnson is a singer-songwriter who has a heart to see young adults experience the power and extravagant love of God through music that carries God's presence and anointing. He has been leading worship at Bethel Church in Redding, Calif. for the past four years, believing strongly in serving the local church and is a Jesus Culture Music artist and worship leader. His heart is to see people transformed by encounters with Jesus who then transform the culture they live in. Derek is a relevant voice to this generation with a strong anointing for bringing intimacy and the joy of the Lord through praise and worship. He is featured on Jesus Culture Music's album, "Emerging Voices", available on iTunes.
About Jesus Culture: In the summer of 1999, the youth group led by Banning Liebscher at Bethel Church in Redding, California launched the first Jesus Culture conference. The heart of those gatherings was to serve other churches and lead young people to experience the radical love of God. A few years after hosting conferences in Redding, the Lord spoke to the group about helping develop a new breed of revivalists. Soon after, they mobilized taking Jesus Culture conferences to different regions of the U.S. and around the world. The Jesus Culture band was formed organically through the momentum of a movement whose focus is to equip a generation to be influencers of society. It's hard to separate the band from the movement, as they really are joined together with one focus: to bring people into an encounter with God's love through worship and to disciple them to transform society. The Jesus Culture band is fronted by Kim Walker-Smith and Chris Quilala with Ian McIntosh playing keys, Jeffrey Kunde as the lead guitarist, Brandon Aaronson as the bassist, and Josh Fisher as the drummer. Over the past 5 years, the Jesus Culture band has released five CD/DVDs with the latest one being Jesus Culture Awakening; Live from Chicago, in November of 2011. Each album captures the heart of this generation burning for God and seeking an encounter with His presence.
About Premier Productions: Formed in 1996, Premier Productions is the largest producer of Christian concert events in the nation and the co-founder of the Winter Jam Tour Spectacular - Christian music's largest annual tour! With more than 200 events a year, Premier promotes award-winning artists with No. 1 hits such as - TobyMac, Skillet, Casting Crowns, Hillsong Live, Hillsong UNITED, Bill Gaither & Friends Homecoming, Jesus Culture, Lecrae, Kari Jobe, Matthew West and many more!
For more information on Premier Productions, please visit www.premierproductions.com.
# # #