GROUP 1 CREW RELEASE OFFICIAL MUSIC VIDEO FOR THEIR CURRENT HIT SINGLE "HIS KIND OF LOVE"
Five-Time Dove Award-Winners Earn Second Consecutive No. 1 at Hot Christian AC / CHR Following "He Said"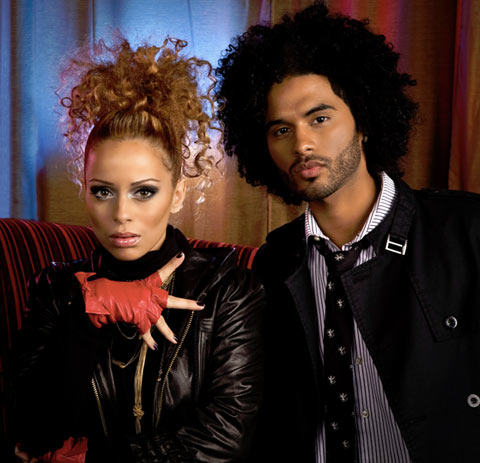 NEWS SOURCE: Word Entertainment
January 29, 2013
Nashville, TN - (January 29, 2013) - Leading hip-hop/pop sensation Group 1 Crew's video for their No. 1 single, "His Kind of Love," debuts today on YouTube, iTunes and www.Group1Crew.com. This marks the duo's second career No. 1 single and fifth Top 5 hit. Group 1 Crew is scheduled to hit the road on March 3 when they join Audio Adrenaline on the "King's & Queen's Spring Tour."
The video, shot this past November throughout Group 1 Crew's "Winter Jam" dates captures the duo's impressive live show. "Having never seen a G1C performance prior to my time on 'Winter Jam' I wasn't sure what to expect," said director Sean Hagwell. "What's more is that I was tasked with creating a cohesive and smooth live performance without any filler which requires an artist to be 100% consistent with their energy and stage presence. Night after night I would watch Manwell and Blanca give the crowd literally everything they had and consistently deliver a memorable performance without ever pulling the spotlight away from the message of Christ. With such an amazing live set, getting great footage was easy; deciding what had to hit the cutting room floor was the hardest part."
"Group 1 Crew is known for doing some fun and crazy music videos," adds Group 1 Crew's Blanca. "But I'm especially excited about this video because we get to show a side of us that not everybody gets to see unless they come to one of our concerts. We wanted to capture the energy and passion we bring on a live stage! That is what the 'His Kind of Love' video is all about."
On March 3, Group 1 Crew joins Audio Adrenaline, Seventh Day and Manic Drive on the "King's & Queens Spring Tour." The tour is scheduled to hit the following cities:
March 1 Municipal Auditorium - Morganton, SC
March 2 Washington High School - Washington, NC
March 3 Lancaster Bible College - Lancaster, PA
March 10 TBD - Green Bay, WI
March 14 Vero Beach Performing Arts Center - Vero Beach, FL
March 15 Pinewood Christian Academy - Bellville, GA
March 16 Calvary Baptist Church - Columbus, GA
March 17 Broad River Electric Auditorium - Gaffney, SC
March 21 Haven of Hope Worship Center - Philippi, WV
March 22 New Life Church - Biddeford, ME
March 23 Roland E. Powell Convention Center - Ocean City, MD
March 24 Greencastle High School - Greencastle, PA
April 5 Oakwood Christian Church - Enid, OK
April 6 Venue 510 - Burleson, TX
April 11 Indianola Community Church - Indianola, IA
April 12 Compass Church - Naperville, IL
April 13 Boswell Auditorium - Lebanon, MO
April 14 Lenexa Baptist Church - Lenexa, KS
April 19 Spirit Bank Event Center - Tulsa, OK
April 20 180 Youth Center - Four Smith, AR
April 25 Okolona Christian Church - Louisville, KY
April 26 First Assembly of God - Fort Wayne, IN
April 27 The Ungerground - Cincinnati, OH
April 28 McMorran Theater - Port Huron, MI
May 2 Lake Charles Civic Center - Lake Charles, LA
May 4 Bond County Fairgrounds - Greenville, IL
May 5 Bicentennial Center - Salina KS
For more information on Group 1 Crew and to purchase tickets, please visit www.Group1Crew.com
Facebook: www.facebook.com/group1crew
Twitter: www.Twitter.com/group1crew
YouTube: www.youtube.com/group1crew
Group 1 Crew has become one of the leading hip-hop focused acts in the Christian music scene, broadening the parameters of faith-based music with songs that percolate with energy and resonate with the truth of God's grace. To date, the talented group has had five hit singles break into the Top 5 on Billboard's Christian CHR chart, including, "He Said" (featuring Chris August), which went to No. 1. They have earned five Dove Awards; three for the Rap/Hip-Hop Album Of the Year Category and two for the Rap/Hip-Hop Recorded Song with "Movin'" and "Walking on the Stars." They also received a 2012 Dove Award for Special Event Album of the Year, thanks to Blanca's collaboration on The Story. Group 1 Crew made their national TV performance debut on "The Mo'Nique Show" and their music has been featured in a variety of popular television shows, including NBC's "America's Got Talent," FOX's "The Simple Life," Style Network's "Kimora Lee Simmons: Life in the Fab Lane," MTV's "Run's House," and The CW's "One Tree Hill."
About Word Entertainment
A leader in the music industry for over 60 years, Word Entertainment, a Warner/Curb company, is a unique, comprehensive entertainment company comprised of multi-faceted artist service departments including publishing, merchandising, booking, and online initiatives. Word Entertainment represents some of the top names and brands in music, including Meredith Andrews, Chris August, BarlowGirl, Francesca Battistelli, Big Daddy Weave, Jason Castro, Patrick Ryan Clark, Everfound, for KING & COUNTRY, Group 1 Crew, Dara Maclean, Point Of Grace and Sidewalk Prophets and is home to 25 Entertainment, Word Distribution (representing Curb Records and Big Idea/VeggieTales among others), Word Print, Word Films, Word Music Publishing and Word Label Group's Word Records, Word Worship and Fervent Records.
###
For more info on Group 1 Crew visit the JFH Artists Database.