NEW DAY CHRISTIAN DISTRIBUTORS SECURES EXCLUSIVE CHRISTIAN RETAIL RIGHTS TO FUTURE BEC RECORDINGS RELEASES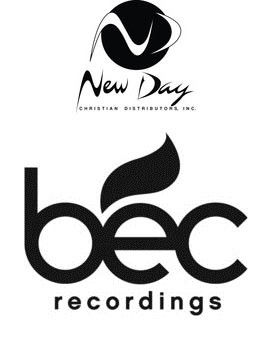 NEWS SOURCE: Savvy Media
May 29, 2013
(NASHVILLE, Tenn.) May 29, 2013-New Day Christian Distributors welcomes Seattle-based BEC Recordings to its growing roster of distributed labels, artists, and music products. The agreement gives New Day exclusive CBA distribution of future projects and select catalog titles released by BEC Recordings effective June 3, 2013.
New Day's Michael Turner comments, "I have always admired Brandon Ebel's grassroots approach and independent spirit. I am looking forward to working with the BEC team to promote artists and music I personally and professionally believe in."
"Brandon (Ebel), Jim (Worthen), and Tyson (Paoletti) are consummate indie record guys," adds Ed Leonard, vice president of New Day. "Their approach mirrors our own. Being that we are both independently owned companies, we are excited to see how God uses us to further His kingdom."
"New Day Distribution is the perfect home for BEC Recordings and our CBA titles," shares Brandon Ebel, president of BEC Recordings/Tooth & Nail Records. "We are excited to collaborate with an independent company and look forward to a fruitful partnership."
The first new distributed releases stemming from this partnership will be The Good King, from Mars Hill Music folk-rock worship band Ghost Ship, on June 11, quickly followed by Shine Bright Baby's Dreamers on July 23 and the sophomore project from 7eventh Time Down this fall.
New Day will also assume distribution for the debut self-titled album from All Things New (4/9/13), Seventh Day Slumber's Love & Worship (3/12/13), Citizens' self-titled release (3/12/13), the Mars Hill Music Worship Sampler (3/12/13) and The OC Supertones' For The Glory (11/6/12).
For more information on these and other New Day products, visit www.newdaychristian.com.
About BEC Recordings
Originally launched as a more commercially minded side of Tooth & Nail Records in 1997, BEC Recordings has since expanded with its own identity into one of the music industry's most celebrated imprints. BEC Recordings was placed on the map with artists such as Jeremy Camp, KJ-52, and Kutless, when the label began to receive significant CHR or AC radio attention. BEC artists soon became a staple at both formats. Outside of breaking through in multiple radio formats (a trend that continued with Seventh Day Slumber, Manafest, The Museum, Adam Cappa and many more) BEC also branched out to audiences from all walks of life, as evidenced by its increased presence in literally every facet of pop culture (including movie soundtracks, major retailer advertising campaigns and countless package tours). For more information on BEC Recordings, visit www.becrecordings.com.
About New Day Christian Distributors
New Day Christian Distributors is based in Hendersonville, Tenn. and has been a valuable supplier of consumer products-music, DVDs, toys, gifts, books and Bibles-to Christian retail for more than 30 years. Currently the company retains exclusive retail distribution of such top-notch artists as Thousand Foot Krutch, Newworldson, and JJ Heller, among others, and is the primary CBA distributor of brands including Melissa & Doug, Fisher Price as well as Playmobil. For more information on New Day, visit www.newdaychristian.com.
###