Unspoken plays private Nashville concert for special promotion with
JOY FM/St. Louis, MO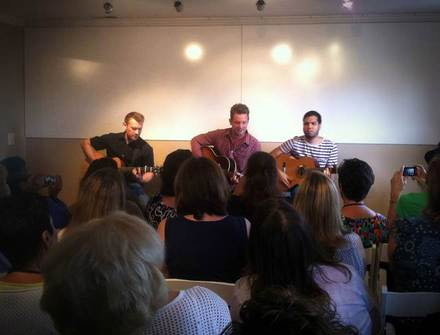 Unspoken (L-R): Jon Lowry, Chad Mattson, Mike Gomez
NEWS SOURCE: Bozeman Media
July 2, 2013
Nashville, TN (July 2, 2103) ---- Three members of Unspoken played a private concert in conjunction with a special promotion from Joy FM (KLJY)/St. Louis, MO. The women's only trip, JOY Ride To Nashville, included several Christian artists' private concerts and events for a once-in-a-lifetime experience. Unspoken treated the fifty women to an acoustic concert at the Centricity Music office that included their new single, "Lift My Life Up." Playing for the JOY FM guests were Jon Lowry, Chad Mattson and Mike Gomez, as drummer Ariel Munoz recently underwent gall bladder surgery but has rejoined the band on the road.
After only two weeks of radio airplay, Unspoken's new single is already #23 on AC Indicator and #31 on AC Monitored New & Active charts, and the just released EP, The World Is Waking, reached #3 on iTunes Christian Albums chart. For updates on Unspoken please visit online at www.unspokenmusic.com; www.facebook.com/unspokenmusic and on Twitter @unspokenmusic.
####
For more info on Unspoken visit the JFH Artists Database.