BIG DADDY WEAVE PREPARES TO LAUNCH "THE ONLY NAME TOUR"
ON SEPTEMBER 13
Current Single, "The Only Name (Yours Will Be)," Jumps Inside the Top 20 at NCA

Group Nominated for Four Dove Awards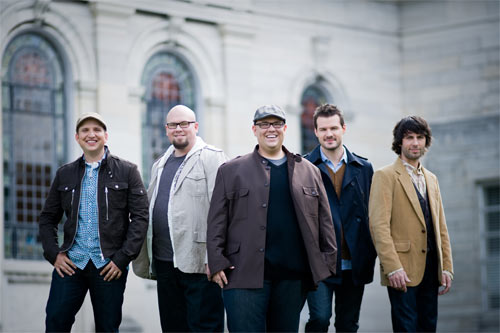 NEWS SOURCE: Warner Music Group / Word Entertainment
August 22, 2013
NASHVILLE, TN - (August 22, 2013) - Dove Award-winning group Big Daddy Weave is hitting the road next month to headline "The Only Name Tour" featuring special guests Chris August and Unspoken. The tour, which is scheduled to hit over 30 cities, commences on September 13 in Statesville, NC. The release of their current Top 20 single "The Only Name (Yours Will Be)," also the namesake for the tour, comes on the heels of the massive success of their No. 1 hit song "Redeemed" and marks the second single from their ninth album Love Come To Life. In addition, the group and their smash hit "Redeemed" just received four Dove Awards' nominations for "Song of the Year," "Contemporary Christian Performance of the Year," "Rock/Contemporary Song of the Year" and "Praise and Worship Song of the Year."
"We've seen God do so much on these tours that we not only have a great excitement about 'The Only Name Tour,' we have an even greater expectation about what God is going to do," said the band's frontman Mike Weaver. "It's become apparent to us that He wants to do a whole lot! We're experiencing so much more fulfillment trying to be obedient in experiencing God working that it far exceeds anything we could try to do on our own. We can't wait!"
Sept. 13: Statesville Civic Center - Statesville, NC
Sept. 14: Brunswich Exchange Club Fairgrounds - Brunswick, GA
Sept. 15: The Classic Center - Athens, GA
Sept. 18: Bill Riley Bandshell - Iowa Falls, IA
Sept. 19: Beautiful Savior Lutheran Church - LaVista, NE
Sept. 20: North Heartland Community Church - Kansas City, MO
Sept. 21: Marion Cultural & Civic Center - Marion, IL
Sept. 22: New Hope Baptist Church - Loveland, OH
Sept. 26: Moberly Area Community College - Moberly, MO
Sept. 27: Potter's Hope Ministries Church - Leitchfield, KY
Sept. 28: Trigg County High School - Cadiz, KY
Sept. 29: Village Baptist Church - Destin, FL
Oct. 4: Palm Valley Church- Mission, TX
Oct. 5: First Baptist Church - Nederland, TX
Oct. 6: Alexandria Riverfront Center - Alexandria, LA
Oct. 10: The Courage - Fort Payne, AL
Oct. 11: White Oak Worship Center - Blairs, VA
Oct. 12: Lewisburg Alliance Church - Lewisburg, PA
Oct. 13: Cornerstone Church - Bowie, MD
Oct. 18: Washington High School Auditorium - Washington, IN
Oct. 19: Pomeroy on the River Parking Lot - Pomeroy, OH
Oct. 24: New Covenant Fellowship Church - Carthage, NC
Oct. 25: Lifesong Church - Lyman, SC
Oct. 26: Cleveland County Fairgrounds - Shelby, NC
Oct. 27: The Heights Baptist Church - Colonial Heights, VA
Oct. 29: Body Renew Fitness - Winchester, VA
Oct. 30: Grace Capitol Church - Pembroke, NC
Oct. 31: Charleston Church - Charleston, ME
Nov. 1: Faith Christian Center - Seekonk, MA
Nov. 2: Goodwill Church - Montgomery, NY
Nov. 3: Community Alliance Church - Butler, PA
For more information on Big Daddy Weave and to purchase tickets, please visit www.BigDaddyWeave.com/shows.
Facebook: www.facebook.com/bigdaddyweave
Twitter: www.twitter.com/bdwmusic
YouTube: www.youtube.com/bdwmusic
About Big Daddy Weave:
This year, Big Daddy Weave's monster hit song "Redeemed," which spent 11 weeks at No. 1, took home top honors for "Song of the Year" at the first-ever K-LOVE Fan Awards and received a nomination for "Christian Song of the Year" at the 2013 Billboard Music Awards. The single is the first release from their greatest hits compilation, The Ultimate Collection, and their current single, "The Only Name (Yours Will Be)," marks the second. The band, comprised of Mike Weave, Jay Weaver, Jeremy Redmon and Joe Shirt, originally formed when attending the University of Mobile. In 2002 they stepped into the spotlight with the release of their second album, One and Only, which debuted in SoundScan's Christian Top 5 and earned them a nomination for Dove Awards' "New Artist of the Year." In 2010, Big Daddy Weave took home the Dove Award for "Christmas Album of the Year" for their seventh album Christ Has Come. They have also been honored at ASCAP's Christian Music Awards and are one of the 10 most played artists at Christian radio over the past decade.
About Chris August:
Upon his debut in 2010, Fervent Records' Chris August quickly became a favorite in the CCM genre. With an impressive sweep at the 42nd Annual Dove Awards, he earned awards for "New Artist of the Year" and "Male Vocalist of the Year," adding him to an elite group of only three artists in the history of the show who have received both awards. He also claimed the nod for "Pop/Contemporary Album of the Year" for his debut album No Far Away. The album delivered August's debut single "Starry Night," which stayed No. 1 for six consecutive weeks on Billboard's Christian/AC chart. Chris August released his highly-praised sophomore album The Upside of Down in August of 2012, which was painstakingly crafted and co-produced with award-winning producer Ian Eskelin. On August 30, this self-taught pianist, guitarist, and producer will release his third single, "Unashamed of You," off his latest effort. For more information on Chris, visit www.chrisaugustmusic.com
About Unspoken:
Unspoken, comprised of lead singer Chad Mattson, bassist Jon Lowry, guitarist Mike Gomez and drummer Ariel Munoz, released their debut single and Top 10 hit (AC), "Who You Are" in 2012 and have their current single "Lift My Life Up" climbing the charts now. The group was initially formed in the Dominican Republic when Mattson met Gomez and when the duo returned to the states the pair hooked up with Lowry, Mattson's childhood friend. Munoz joined the band when he met Unspoken at Nashville talent contest. The group has made great strides as an independent artist, playing with such high-profile acts as Third Day, David Crowder, Casting Crowns, TobyMac, and Pillar. For further information and continued updates on Unspoken please visit online at www.unspokenmusic.com.
About Word Entertainment
A leader in the music industry for over 60 years, Word Entertainment, a Warner/Curb company, is a unique, comprehensive entertainment company comprised of multi-faceted artist service departments including publishing, merchandising, booking, and online initiatives. Word Entertainment represents some of the top names and brands in music, including Meredith Andrews, Chris August, Francesca Battistelli, Big Daddy Weave, Jason Castro, Patrick Ryan Clark, Everfound, for KING & COUNTRY, Group 1 Crew, Love & The Outcome, Dara Maclean, NEEDTOBREATHE, Point Of Grace, Sidewalk Prophets, Skillet, Switchfoot and We As Human and is home to 25 Entertainment, Word Distribution (representing Curb Records and Big Idea/VeggieTales among others), Word Music Publications & Church Resources, Word Films, Word Music Publishing and Word Label Group's Word Records, Word Worship and Fervent Records.
- ### -
For more info on Big Daddy Weave visit the JFH Artists Database.