New Tribute Album to Christian Music Legend Larry Norman Spawns International Tour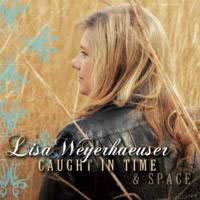 NEWS SOURCE: Adams Group
September 10, 2013
Nashville, TN-Singer/songwriter Lisa Weyerhaeuser will embark on a two-week concert tour in the United Kingdom next month as part of her new album release,
Caught in Time and Space
, a tribute album to the late
Larry Norman
. The UK tour will begin October 3 and make stops in several cities including Cambridge and Liverpool. The new album is being released by Blue Myrtle Records and marks Weyerhaeuser's sixth solo project, although this one holds a special place in her heart.
"Larry is one of the greatest influences in my musical life," says Lisa. "When he went home to be with Jesus in February 2008, it affected me deeply. Because of the musical journey we had been on together over the years and because of our friendship, friends and fans reached out to me after his passing as a way, I think, of trying to connect with someone who made such an impact in their lives. People kept asking me about the record that Larry produced for me back in the 80's. I only had copies on cassette, so after some prompting, I decided to re-release the project that he and I had worked on so many years ago."
Along with the original Norman-produced songs, Caught in Time and Space also includes acoustic tracks of each of the original tunes as well as additional recordings that have never been released. Larry's brother, Charles Normal, arranged several tracks on the album, and heads up the U.S. division of Solid Rock Records, founded by Larry. One of the unreleased gems is a duet of Larry's song "Sweet Sweet Song of Salvation," which was recorded during a tour Lisa and Larry did together in Indiana. Another track features a guest vocal from Larry on the song, "Politically Correct," which was recorded in Max Hsu's (Superchick) studio. A different version of "Politically Correct" was used on Lisa's solo album, Life on Earth, which was reviewed by Larry in CCM Magazine. Caught in Time and Space also features a duet rendition of Norman's classic "Great American Novel" and Weyerhaeuser gives her fresh take to "U.F.O."
"One of my last memories of Larry is when he and I stopped to see a friend of his who owned a record shop in Oregon," Lisa recalls. "That night, this friend began his personal walk with Jesus. I still stop by that record shop to see my friend when I go back to visit. Larry's music was just an extension of who Larry was – and he loved to see people come to Jesus. I hope this project will capture his essence and give a new generation an opportunity to enjoy his music."
Weyerhaeuser is a worship leader, a licensed counselor, a Professor of Adolescent Psychology with Master Degrees in both Religion and Counseling Psychology, as well as a mother of three boys and a pastor's wife. She has released several solo albums. including a recent children's album entitled Big Green Alligator under her "summer camp" moniker, La-La Lisa. A portion of the proceeds of her children's album helped support Teen Mother Choices International, a unique charity that utilizes volunteers from local area churches to help provide teen mothers with a support system. Weyerhaeuser served as a past board member of the organization and has witnessed first-hand the impact the program has had on teen mothers. One of the goals of Teen Mothers Choices is to keep all the girls off of welfare and to date, 100% of the girls who have participated in the program have graduated from school and found jobs to support themselves. For more information, visit http://www.LisaWeyerhaeuser.com.
# # #
For more info on Newsboys visit the JFH Artists Database.