COMPASSION INTERNATIONAL PRESENTS 'IN THE ROUND' TOUR
FEATURING TRIPLE HEADLINERS
BEBO NORMAN, ANDREW PETERSON & SARA GROVES
Launching Sept. 19, Tour Will Hit Nearly 20 Cities,
Marking Final Career Performances for Norman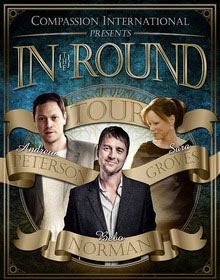 NEWS SOURCE: Southside Entertainment
September 16, 2013
NASHVILLE, TN – Sept. 16, 2013 – Bebo Norman, Andrew Peterson and Sara Groves, three of Christian music's most esteemed and highly-lauded singer-songwriters, are preparing to hit the road together this fall as co-headliners on the "In The Round" Tour. Kicking off Sept. 19, with three dates in Texas, the "In The Round" Tour will hit nearly 20 markets in September, October and November before wrapping up on Nov. 3, in Jefferson City, Tennessee. Tickets for all shows are available now and may be found by visiting www.InTheRoundTour.com.
Sure to be a one-of-a-kind experience for concert attendees, this series of performances will be unique in multiple ways. While Bebo, Andrew and Sara are recognized and celebrated as consummate storytellers and song crafters, they are also longtime friends. They will each perform some of their best-loved songs and share favorite stories, but as part of the "in-the-round" experience, all three will share the stage for the majority of the night, undoubtedly creating special moments throughout.
"I am honored to be sharing the stage with such thoughtful songwriters," says Sara. "The in-the-round night always leaves room for spontaneity, and the band is incredible. I can only anticipate an amazing night of music and stories."
The "In The Round" Tour creates another rare opportunity for attendees to catch one of Bebo's final career performances, as he announced earlier this year that he will retire from the music industry at the end of 2013. "I couldn't be more excited to be back out on tour again with Andrew and Sara," Bebo says. "I can't think of a better way to finish up my career than sharing the stage with two people who have inspired and moved me so deeply on personal and artistic levels."
"The first tour I ever did was with Bebo, back in 1998," Andrew adds. "I've been a fan ever since, and it's a huge honor (and bittersweet) to be on the road with him again on his last tour. His songs have blessed a lot of people. I'm one of them."
The "In The Round" Tour is presented by Compassion International, the world's largest Christian child development organization ( www.compassion.com) that works through local churches to permanently release children from poverty. Founded in 1952, Compassion successfully tackles global poverty one child at a time, serving more than 1 million children—pre-natal through higher education—in 26 of the world's poorest countries.
"Compassion is honored to have partnered with Bebo for more than a decade," says Mark Hanlon, Sr. Vice President, Compassion USA. "In that time, he has brought over 15,000 children into a Compassion sponsor relationship where they are known, loved and protected. The 'In the Round' Tour will be a meaningful way to complete our relationship with Bebo, and we are excited to see hundreds of children find new sponsors over the next few months."
For more information on the "In The Round" Tour, and to purchase tickets, visit www.InTheRoundTour.com.
ABOUT BEBO NORMAN
Cultivating a substantial national following as a self-supported independent artist in the mid-90's, Bebo Norman became the poster child for Christian music's acoustic singer-songwriter revival with his 1999 major label debut, which landed Norman on the cover of CCM—a rare honor for a new artist. The follow-up, Big Blue Sky, was voted No. 1 Christian album of 2001 by the editors at Amazon. Myself When I Am Real (2002) earned seven Dove Award nods and charted the defining hit, "Great Light of the World." Projects Try (2004) and Between the Dreaming and the Coming True (2006) continued the steady climb. In 2007, Norman partnered with Seattle's BEC Recordings to release his first Christmas project that garnered another Dove nomination. In 2008, he released the critically acclaimed self-titled project. In 2010, Bebo received a Dove Award for "Inspirational Recorded Song" for his song "The Only Hope" from this self-titled project. His next project, Ocean, released in 2010 and explored the theme of finding one's real identity. In October 2012, Bebo released his last full-length studio release, Lights of Distant Cities, on BEC Recordings to much acclaim – as with all of his releases. Media called this album a "triumph," "beacon of hope," "stunning masterpiece" and one of his best pieces of work. Bebo resides in Franklin, Tenn., with his wife and two boys Smith and Miller.
ABOUT ANDREW PETERSON
Andrew Peterson is a man of many talents with a successful recording and songwriting career, as well as being an award-winning author and the host of a highly popular online creative community known as the Rabbit Room ( www.RabbitRoom.com). Peterson released his latest album, Light for the Lost Boy last fall and it ranked #10 on USA Today's Top Albums of 2012 and #5 on Christianity Today's list of top albums last year. His previous project Counting Stars debuted at #1 on iTunes, and #6 on Billboard. His single "Dancing in the Minefields" reached the Top 10 on the Christian AC chart, while the video for the song has received well over 1,000,000 views online. Peterson is currently working on his fourth and final book in the Wingfeather Saga series that will release in 2014. Book two won the 2010 Christy Award for Young Adult Fiction. Peterson has appeared on two tours with Steven Curtis Chapman and has become the first artist spokesperson for Show Hope, Chapman's adoption charity.
ABOUT SARA GROVES
Since her debut release, Sara Groves has become one of the most critically acclaimed artists in the Christian music industry, with seven Dove Award nominations, being named CCM's Artist of the Year and receiving rave reviews and media highlights from Billboard Magazine, CCM Magazine and Christianity Today, among others. Sara's album, Fireflies & Songs was named "Album of the Year" by Christianity Today's esteemed list of Top 12 Albums of the year. Her 2011 release, Invisible Empires, pulls from the singer/songwriter's uniquely beautiful writing process of sorting through the layers of life through a new perspective. The project led to Sara being heralded as one of Christianity Today's "50 Women To Watch" in 2012. Throughout her career, Sara has been involved in a series of global conversations and experiences – from the flood-ravaged gulf of Louisiana to the genocide memorials of Rwanda and the testimonies of Southeast Asia sex trade survivors. These experiences have shaped Sara's music as she brings to light the difficult and meaningful work of social justice and engaging in the suffering of the afflicted. This fall, Sara brings together her 15-year discography into a special two-disc release entitled The Collection.
IN THE ROUND TOUR – FALL 2013
*Dates and venues subject to change without notice.
SEPTEMBER
9/19 Tyler, TX | First Baptist Church (South Campus)
9/21 Linden, TX | Music City Texas Theater
9/22 Houston, TX | Second Baptist – Woodway
OCTOBER
10/3 Knoxville, TN | Fellowship Evangelical Free Church
10/4 Manheim, PA | The Junction Center Tent
10/5 Harrisonburg, VA | Covenant Presbyterian Church*
10/6 Berrien Springs, MI | Howard Performing Arts Center
10/17 Excelsior, MN | Westwood Community Church
10/18 Lincoln, NE | College View Church
10/20 Greenville, SC | Southside Fellowship Church
10/24 Charlotte, NC | Hope Community Church
10/25 Columbia, SC | St. Andrews Presbyterian Church
10/26 Chattanooga, TN | Concord Baptist Church
10/27 Williamsburg, KY | Main Street Baptist Church
NOVEMBER
11/1 Dubuque, IA | Emmaus Bible College
11/2 DeKalb, IL | Harvest Bible Church
11/3 Jefferson City, TN | Carson Newman College *Without Sara Groves.
Visit www.InTheRoundTour.com for the most up-to-date tour information and ticket links.
###
For more info on Bebo Norman visit the JFH Artists Database.