KJ-52 Releases New Single, "Tonight," On iTunes Following Immediate Adds On Top Air 1 & AC/CHR Radio
"Tonight" Video Shoot Attracts Local Media

KJ-52 Headlines The House Party Tour: 20 Nights of Purpose, A Community Outreach Concert Event

NEWS SOURCE: TKO Marketing
February 14, 2014
CAPE CORAL, Fla. (February 14, 2014) - After top radio outlets, including Air 1 stations, immediately snapped up Multiple Dove Award winning Christian rap/hip-hop artist, KJ-52's single, "Tonight," making it the most added radio single for the week of February 3, 2014, the single will be unveiled on iTunes February 25, 2014. KJ's forthcoming album, Mental, which includes "Tonight," will be released April 29th by The Paradigm Collective.
In anticipation of the "Tonight" single release, KJ-52 partnered with action sports mission organization, Ride Nature, to shoot scenes for the music video in Golden Gate, Fla. KJ-52 invited locals out to the big event, and by the end of the night, the crowd had doubled in size! With so much fanfare, the shoot attracted attention and was covered by local media.
"The music video and the song were basically about a community of believers coming together to give God everything they have in every aspect of their lives," explains KJ-52. "We just wanted to reflect that - young people defying the odds, and shaking loose the constraints of the things that hold them back." With many fans fist-pumping and singing along to "Tonight," the video shoot perfectly captured the essence of the song's core message-union among Christians despite their denomination.
Click here to watch the "Tonight" music video:
http://vimeopro.com/tpcmusicvimeo/the-kj-52-music-video-tonight-itunes-single-releases-feb-25-2014
To view KJ-52's Story Behind the Song video, visit http://vimeo.com/86424604.
For a behind-the-scenes look at the "Tonight" video shoot, visit:
http://www.naplesnews.com/videos/detail/christian-rapper-kj-52-shoot-music-video-in-golden/.
KJ-52 also kicked off The House Party Tour: 20 Nights of Purpose on January 31st with pal and former Hawk Nelson front man turned solo artist, Jason Dunn, to bring together the youth of America for an amazing night of music, community outreach and Christian fellowship. KJ-52 and The Paradigm Collective will be travelling to the Dominican Republic next week to visit the young adults whom this tour supports.The House Party Tour is headed to cities around the U.S. with their inspiring and empowering message. To learn more about how to participate in this event, visit http://fh.org/get-involved/artist-program/volunteer Sponsored by Food for The Hungry, The House Party Tour is a call to action, giving young adults the opportunity to come together for the greater good. KJ-52, Jason Dunn, and Ride Nature's pro-surfers and skateboarders are creating the opportunity for youth in this country to help raise resources for young adults in the Dominican Republic and India.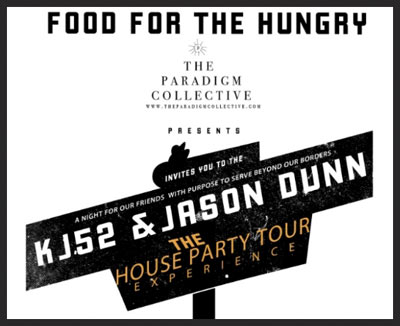 HOUSE PARTY TOUR DATES:
1/31/14: North County Union High School Auditorium, Newport, VT
2/1/14: New Lebanon Congregational Church, New Lebanon, NY
2/3/14: Memorial Chapel Building, Ft. Lee, VA
2/26/14: Dublin Baptist Church, Dublin, OH
2/27/14: Rocketown, Nashville, TN
2/28/14: Roane State Community College, Harriman, TN
3/1/14: Pittsboro Baptist Church, Pittsboro, NC
3/5/14: Church in the Son, Orlando, FL
3/6/14: Murray Hill Theater, Jacksonville, FL
3/7/14: Ramp 48 Skatepark, Fort Lauderdale, FL
3/8/14: TBD, Northport, FL
3/9/14: Summit Church, Ft. Meyers, FL
3/21/14: TBD, Muskegon, FL
3/23/14: TBD w/ Broken FM Radio, Avon, MN
3/29/14: TBD, Burkburnett, TX
4/2/14: TBD, Seattle, WA
4/3/14: TBD, Portland, OR
4/9/14: GV Christian Center, Henderson, NV
4/10/14: TBD, Modesto, CA
4/11/14: Pending: West McKinley Auditorium, Fresno, CA
3/12/14: TBD, Downey, CA
4/13/14: Faith Bible Church, Glendale, AZ
4/14/14: TBD, Oro Valley, AZ
4/15/14: TBD. Coronado, CA
KJ-52 LINKS:
KJ-52: http://kj52.tumblr.com/
"Tonight" Music Video: http://vimeopro.com/tpcmusicvimeo/the-kj-52-music-video-tonight-itunes-single-releases-feb-25-2014
Story Behind the Song Video: http://vimeo.com/86424604
Facebook: www.facebook.com/kj52
Twitter: https://twitter.com/kj52
Instagram: http://instagram.com/kj52instagram
iTunes: https://itunes.apple.com/us/album/tonight-single/id815879708
Soundcloud: http://smarturl.it/kjtonightitunes2day
HOUSE PARTY TOUR LINKS:
House Party Tour Promo: http://youtu.be/ShrYOMBPuEk
Tour Schedule: www.facebook.com/kj52?sk=app_123966167614127
Jason Dunn: http://jasondunnmusic.tumblr.com/
Food For The Hungry: http://fh.org/get-involved/artist-program/volunteer
The Paradigm Collective: www.TheParadigmCollective.com
ABOUT FOOD FOR THE HUNGRY:
Food for the Hungry (FH) is a Christian organization serving the poor globally http://fh.org/work/countries since 1971. They reflect the love of Christ in short-term emergency relief http://fh.org/work/emergency and long-term work http://fh.org/work/transformation to end world hunger. Their mission is to walk with churches, leaders and families in overcoming all forms of human poverty by living in healthy relationship with God. www.fh.org
ABOUT RIDE NATURE:
Ride Nature is a non-profit action sports missions organization dedicated to impacting the world through action sports outreach, evangelism, and discipleship. Founded in 2009, their mission and goal is to reach youth on a global basis with the Truth of Jesus Christ while working to equip and empower leadership to utilize action sports as an effective tool for ministry. Since 2009 they have been blessed to lead nearly 20 action sports focused mission trips to multiple countries around the world, given away over 500 boards, and recently produced a full length film titled, "PURPOSE". http://www.ridenature.org/
ABOUT THE PARADIGM COLLECTIVE:
The Paradigm Collective Music is a music services project, developed and founded by Teresa Davis. The core services for the music division includes brand marketing, music and live event development. Its offices are located in Franklin, Tenn. with subsidiary offices in New York. www.TheParadigmCollective.com
###
For more info on KJ-52 visit the JFH Artists Database.