GRAMMY-WINNING ROCKERS THIRD DAY ANNOUNCE
THE FIRST ANNUAL THIRD DAY FAMILY, FAITH & FRIENDS CAMP
AT GEORGIA'S LAKE LANIER ISLANDS RESORT MAY 30 - JUNE 1
Ultimate VIP THIRD DAY Family Weekend Experince Includes
Water Park Passes, Acoustic Performances, Guest Speakers, Meals,
Exclusive Access to the Band, and Prime Seating for
Sold-Out THIRD DAY & Friends Concert at Gwinnett Arena on May 31

Featured Speakers Include "Biggest Loser" Abby Rike, "America's Health Coach"
Dr. Andrew and Best-Selling Author/Pastor Jentezen Franklin

REGISTRATION OPEN NOW - LIMITED SPACE AVAILABLE!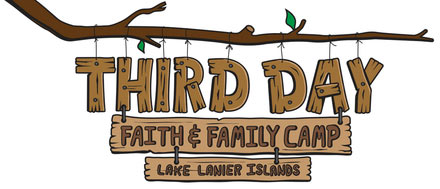 NEWS SOURCE: Southside Entertainment
May 7, 2014
NASHVILLE, Tenn. – May 7, 2014 – Four-time GRAMMY® Award-winning band THIRD DAY has partnered with Northeast Georgia's Lake Lanier Islands Resort to create the first-ever THIRD DAY Family, Faith & Friends Camp, the ultimate VIP family weekend experience for THIRD DAY fans everywhere. Registered campers will experience an entire weekend of THIRD DAY-led activities geared to strengthen and support the family. Registration includes beach/water park passes, Country Concert Under the Stars with (THIRD DAY lead singer) Mac Powell, inspirational Faith & Family sessions with THIRD DAY and special guest speakers, VIP meals, and VIP reserved seating for the sold-out "THIRD DAY & Friends" concert at Gwinnett Arena (Duluth, GA) on Saturday, May 31. Additional details and weekend activities are outlined at www.FaithAndFamilyCamp.com. Family Camp tickets are on sale now and are limited in availability.
"Our goal with the Family, Faith & Friends Camp is to organize an event that creates lasting family memories, facilitates quality family time, and helps strengthen family bonds." says THIRD DAY bassist Tai Anderson. "There is a huge market for Christian-based conferences and events. Numerous women's and men's events draw tens of thousands of attendees in cities across the United States. Youth-focused events like Winter Jam, Christian festivals and Acquire the Fire draw thousands. While these events are transformative and powerful, they are usually geared solely to one member of the family.
"We often hear that we're a band the entire family can enjoy. As fathers ourselves, we share the difficulty of trying to find activities for the whole family. As THIRD DAY evaluates its core audience, we see families, and this event is where these families can join the THIRD DAY family to bond while having the ultimate concert experience and weekend getaway.
The THIRD DAY Family, Faith & Friends Camp will also feature special guest speakers/personalities like best-selling author and pastor Jentezen Franklin; motivational speaker and star of NBC hit reality series "The Biggest Loser," Abby Rike; and best-selling author and radio/television personality known as "America's Health Coach," Dr. Andrew.
"We are so excited for everyone to join our family at the THIRD DAY Faith & Family camp," lead singer Mac Powell says. "We're going to share a lot of music and some great words from some of our good ministry friends who will be joining us. It's going to be a great time."
THIRD DAY drummer David Carr adds, "This weekend is going to be a wonderful time for THIRD DAY fan-families! For years we have been talking about putting together an extended event like this where we can provide a little more depth and substance than we're able to offer even in a live concert – the great part is, we'll be doing that too! All of us in Third Day are super excited to be a part of making memories for everyone attending the Faith and Family Camp."
###
ABOUT THIRD DAY
During the last decade, Atlanta-based, multi-Platinum rock band THIRD DAY (comprising members Mac Powell, Tai Anderson, David Carr and Mark Lee) has racked up 27 No. 1 radio singles and sold more than seven million albums, including two RIAA Platinum as well as eight Gold certifications. A Georgia Music Hall of Fame inductee (2009), THIRD DAY has garnered 24 career GMA Dove Awards from 42 nominations, four GRAMMY Awards (with 11 career nominations), an American Music Award (with four American Music Award nominations) and multiple ASCAP honors, including its coveted Vanguard Award, for songwriting. Long known as Christian music's premier live band, THIRD DAY has played for audiences reaching into the millions all around the world. THIRD DAY has been featured by top media outlets including "The Tonight Show with Jay Leno" (NBC), "The Late, Late Show with Craig Ferguson" (CBS), "60 Minutes" (CBS), ABC's "Nightline," USA Today, the New York Times and even graced the cover of Billboard magazine, which called THIRD DAY "one of the best rock bands." THIRD DAY released its 12th studio album, titled Miracle, in 2012. For more information on THIRD DAY, please visit: www.ThirdDay.com or www.facebook.com/ThirdDay.
ABOUT ABBY RIKE
Abby Rike, a loyal, hard-working, lover of life, faced an unfathomable tragedy in October 2006. In light of losing her beloved husband, 5 ½ year old daughter, and 2 ½ week old son in a fatal car crash, with God's grace, she chose to forge ahead in her new life. She worked as a high school theater and debate teacher for 13 years inspiring students to achieve their personal best. She and husband, Rick, lead their school to an overall state speech championship as well as numerous state speech qualifiers and two state champions. A favorite among teachers and students, Abby was voted Teacher of the Year in 2003. Following the wreck, Abby graduated with a Master's of Education degree maintaining a 4.0 grade point average.
Deciding there was more living to do in this life, in May of 2009, Abby embarked on a very public journey of healing and wellness when she went on NBC's hit reality series "The Biggest Loser." Abby began her journey on the show weighing in at 247 pounds and weighed in at 147 pounds at the December finale. Abby feels blessed to have had the opportunity to realize God's grace full circle and feels compelled to share with others what she experienced firsthand. She continues her healthy lifestyle and vigor for life and is a living example that even in your darkest hour, there is always hope. Currently she is taking her message of hope to businesses, schools, churches, grief groups, and health and wellness communities as a motivational speaker hoping to inspire them in the same manner she did her students.
ABOUT DR. ANDREW
Known as America's Health Coach, MD®, Dr. Andrew is a national best-selling author and host of one of the fastest growing radio and television programs in North America designed to transform your health. He is a medical contributor to NBC, ABC, CBS, CNN, and FOX and has appeared on many shows including Good Morning America and The 700 Club. As an internationally acclaimed expert in health transformation, fitness, wellness, lifestyle, and nutrition, he is a master communicator and highly sought after speaker for his entertaining message of Hope to audiences around the globe. In addition he has founded Diagnosis HOPE, a non-profit organization that encourages lifestyle, health, and wellness education to individuals and communities dedicated to empowering people to live extraordinary lives. He is a graduate of Florida State University where he was an assistant strength and conditioning coach for the 1993 National Championship football team. He serves as a diplomat of the American Clinical Board of Nutrition and as an honorary chair for the American Diabetes Association.
ABOUT JENTEZEN FRANKLIN
Jentezen Franklin is the Senior Pastor of Free Chapel, a multi-campus church with a global ministry. Free Chapel is known for helping people encounter God in a relevant way with multiple campuses in Georgia and California. Jentezen is also a New York Times best-selling author and he speaks at conferences worldwide. He and his wife Cherise have five children.
ABOUT LAKE LANIER ISLANDS RESORT
Nestled on the southern-most shoreline of Lake Sidney Lanier at the foothills of the scenic Blue Ridge Mountains lies the truly distinctive Lake Lanier Islands Resort®. Situated less than 45 miles from downtown Atlanta on 1,500 pristine acres of forests, meadows and beaches, this luxury resort is quickly growing in size, scope and reputation as one of the Southeast's leading lakeside retreats. The Resort's crown jewel – Lake Sidney Lanier is one of the United States' most popular man-made lakes, encompassing 38,000 miles of surface area and 690 miles of shoreline in Northeast Georgia. Legacy Lodge & Conference Center and Legacy Villas enhance the Resort's broad assortment of accommodation choices and meeting sites – making it the ideal choice for corporate meetings and company retreats. Popular excursions like fun in the sun at the boardwalk-themed LanierWorld, zip lining through the trees with Lake Lanier Canopy Tours, horseback riding on a lakeside trail from the Equestrian Center, and renting a boat and ski equipment from Harbor Landing make the Resort a terrific choice for families vacationing or "staycationing" in the South. Tranquility – the Spa and the picturesque 18-hole course at Legacy on Lanier Golf Club are major draws for visitors looking to relax or play.
For more information about the THIRD DAY Family Faith & Family Camp, or to purchase tickets, please visit www.FaithAndFamilyCamp.com.
For more info on Third Day visit the JFH Artists Database.