ALL NEW MUSIC FROM VASHAWN MITCHELL
'GOD MY GOD' DIGITAL EP
AVAILABLE AUGUST 19TH
EP ADVANCES 'UNSTOPPABLE' FULL LENGTH
RELEASE IN THE FALL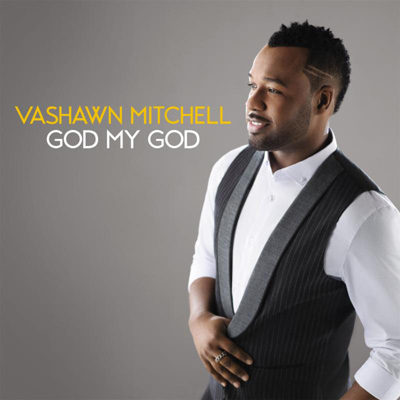 NEWS SOURCE: Ignition PR
August 14, 2014
August 14, 2014 (New York, NY) -- Award-winning singer, songwriter, producer, VaShawn Mitchell, will introduce all new music with the release of the 'GOD MY GOD' EP on all digital platforms, August 19, 2014.
The extended play release will include Mitchell's rising new radio single, "God My God," along with three additional songs "Amaze Me," featuring Anthony Brown, "This Is To You," and "Your Name ... The Moment." The 'GOD MY GOD' EP available for download on iTunes, Amazon.com, Google Play and all other digital outlets, is a preview of the powerful worship, eclectic style and visionary music Mitchell will release this year. The songs were part of an epic 2-part live recording in Chicago and Atlanta. VaShawn will release the entire live recording as a full-length album entitled, UNSTOPPABLE in the Fall.
Mitchell recently introduced "God My God," at live performances in New York at Central Park and Sirius XM radio to tremendous response. Radio was recently serviced with the single which immediately connected. Jerry Smith, Inspirational Programming Content Director for Radio One Gospel had this to say "Congrats to VaShawn Mitchell on such an amazing song... "God My God" is a great follow-up to "Turning Around For Me!" Very uplifting and inspiring. Sounds like VaShawn is on his way with another HIT single!"
VaShawn wrote the powerful and personal ballad during a challenging time. "After my first back surgery, the pain worsened which threatened another operation. My chiropractor said if you don't want another surgery just call on the God you sing about," explained VaShawn. "This truly served as a reminder to call on His Name ... that God's Name has ALL power. His Name is a strong tower ... I run to and am safe."
The 'GOD MY GOD' digital EP available August 19, 2014. For more information on VaShawn Mitchell check out https://www.facebook.com/VaShawnMitchell
###