RIGHTEOUS VENDETTA Announce Dates With NONPOINT,
EYES SET TO KILL, and LETTERS FROM THE FIRE
DEFIANCE EP Set For September 2nd Release

NEW Single "Take Over" At Radio Now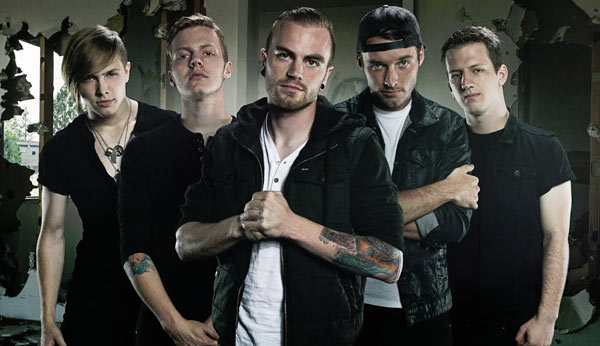 NEWS SOURCE: Street Smart Marketing
August 19, 2014
Cody, Wyoming road warriors Righteous Vendetta have just announced that they will join Nonpoint's headlining 'Breaking Skin' tour. The lineup also includes Eyes Set To Kill and Letters From The Fire. Before the start of the 'Breaking Skin' tour, Righteous Vendetta will play a string of headlining shows including select dates with LA outfit 9Electric.
"We've had a blast tearing up the road with all of you this season and capping off the summer with a Nonpoint tour is going to be unforgettable. Everyone in the band has been Nonpoint fans for a long time and to get to tour with them is beyond amazing. We look forward to the awesome shows, new friendships and epic times!" comments RV vocalist Ryan Hayes.
Righteous Vendetta have also slated their brand new EP Defiance for release on September 2nd, with their latest single "Take Over" at radio now.
"With summer coming to an end, it is with great excitement that we are able to keep the energy going. I am thrilled to be announcing our EP 'Defiance' is being unleashed into the world. Get Ready for our "Take Over" - New songs, new tour dates, new adventures to come!" adds Ryan.
Armed with an infectious sound and a habit of hitting venues across the nation hard, fast, and often, Righteous Vendetta will make waves on the road and on air with the unveiling of a brand new full length. More details soon to be announced. A complete list of tour dates are below.
Defiance, the brand new EP from Wyoming's own Righteous Vendetta will be released September 2, 2014.
Tracklist
01. Defiance
02. Take Over
03. What You've Done
04. Hard to Breathe
05. With Love
Catch Righteous Vendetta on the following dates!
AUGUST
23 Bismarck, ND - Rise Festival (Missouri Valley Fairgrounds)*
24 Fargo, ND - Ricks Bar*
26 Des Moines, IA - House of Bricks*
27 St. Louis, MO - Mad Magician*
28 Kansas City, KS - Aftershock*
30 Grand Junction, CO - Mesa Theater**
31 Abilene, TX - Legends Sports Bar**
SEPTEMBER
02 Lubbock, TX - Jake's Sports Cafe***
03 Wichita Falls, TX - Iron Horse Pub***
04 Shreveport, LA - Hanger 21***
06 Houston, TX - Lex Festival
09 Charleston, SC - Ocean Cowboys**
10 Jacksonville, NC - Hooligans**
14 Minneapolis, MN - Fine Line ***
16 Waterloo, IA - Spicoli's***
17 Steger, IL - Another Hole In The Wall***
18 Grand Rapids, MI - Intersection***
19 Rockford, IL - Take 20***
20 Dayton, OH - Oddboys***
21 Erie, PA - BT Theater***
23 Fostoria, OH - The Nest***
24 Pontiac, IL - Freaksters Roadhouse***
25 Chesterfield, MI - Diesel Concert Lounge***
26 Libertyville, IL - Austins Fuel Room***
27 Ringle, WI - Q&Z Expo Center***
28 Milwaukee, WI - The Eagles Hall***
29 Green Bay, WI - Luna Lounge**
30 La Crosse, WI - The Cavalier Theater***
OCTOBER
01 Mishawaka, IN - Smiths Downtown***
02 Macomb, IL - The Forum***
03 Battlecreek, MI - Planet Rock***
07 Morgantown, WV - Schmitt's Saloon**
08 Marietta, OH - Adelphia Music Hall**
* = with 9Electric
** = with Letters From The Fire
*** = with Nonpoint, Eyes Set To Kill & Letters From The Fire
###