GLEN CAMPBELL...I'LL BE ME ACCLAIMED DOCUMENTARY OPENS IN THEATERS IN NEW YORK AND NASHVILLE OCTOBER 24, FOLLOWED BY A NATIONAL RELEASE IN MORE THAN 50 CITIES
MOVIE BRINGS ATTENTION TO NATIONAL ALZHEIMER'S AWARENESS MONTH IN NOVEMBER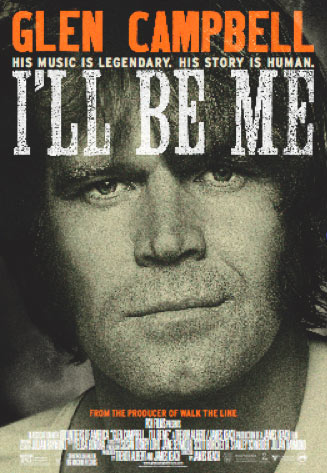 NEWS SOURCE: Merge PR
October 1, 2014
NASHVILLE, TENN. (October 1, 2014) - The announcement of Country Music Hall of Fame member and beloved artist Glen Campbell's Alzheimer's diagnosis in 2011 made history as he and his family began to fight the biggest battle of his life. The forthcoming documentary GLEN CAMPBELL…I'LL BE ME captures the undying bond between Campbell and his wife Kim, their family, and the power of music as he embarked on a 151-date "Goodbye Tour." The film is directed and produced by James Keach (producer of Walk The Line) and produced by Trevor Albert (Groundhog Day) and will open in New York, New Jersey, Nashville, Little Rock and Fayetteville, AR on October 24, followed by a national release to more than 50 cities.
The movie release brings the much-deserved attention to National Alzheimer's Awareness Month in November as more than five million American's suffer from Alzheimer's. Campbell's wife, Kim, and their children - daughter Ashley and sons Cal and Shannon - know firsthand what caregivers and family members encounter as their loved one is affected by this diagnosis.
Glen Campbell is the singular talent who created hits like Rhinestone Cowboy, Wichita Lineman, Southern Nights and Gentle on My Mind. Winner of the GRAMMY® for Lifetime Achievement and member of the Country Music Hall of Fame, he was the first country music star to cross over to the pop charts, opening a new realm of opportunity for generations of country musicians. In 2011, Campbell made history by going public with his diagnosis - the first time a major American celebrity would share this experience with the world.
The Campbell family began on a short "Goodbye Tour," but the three-week engagement turned into an emotional and triumphant 151-show nationwide tour de force. GLEN CAMPBELL…I'LL BE ME is the true tale of how America's greatest country star would not give up his music or his family, against all odds.
The film features those who know and love Glen, including Bruce Springsteen, Bill Clinton, The Edge, Paul McCartney, Jay Leno, Vince Gill, Jimmy Webb, Blake Shelton, Sheryl Crow, Keith Urban, Brad Paisley, Steve Martin, Chad Smith and The Band Perry among many others. Rare vintage footage and extraordinary new performances of Glen's most beloved hits immerse this moving cinematic account in the overwhelming talent of this humble family man. With joy and a tireless sense of humor, Glen and his family live each moment in the present while preparing for the future, all while playing their music to sold out venues spanning the country from Carnegie Hall to the Hollywood Bowl.
This film is made possible by LeadingAge, EMA, Volunteers of America (VOA), Mayo Clinic, The Disney Family Fund for the benefit of The Alzheimer's Association California Southland Chapter, Open Hearts Foundation and Easter Seals. These partners are passionate about improving the lives of those with Alzheimer's disease and other dementias, and are proud to support GLEN CAMPBELL…I'LL BE ME as part of their ongoing efforts to promote awareness and find a cure.
GLEN CAMPBELL...I'LL BE ME (2014, USA, 104 min.) Directed by James Keach. Produced by Trevor Albert and James Keach. Executive Producers: Scott Borchetta, Susan Disney Lord, Jane Seymour, Stanley Schneider, Julian Raymond. Editor: Elisa Bonora. Original Score by Julian Raymond. A PCH Films Production.
View the official movie by clicking below:
As a couple grounded in their faith, Glen and Kim Campbell have raised their children under their strong values. It has been that faith that has helped sustain them through this difficult time and diagnosis.
"I know God is always with us, and God allows things to happen for whatever reasons we don't understand His ways. God is always what has given me strength to face each day. I'm just trusting Him for the rest of our journey. The Bible says that a merry heart works like a good medicine. And bitterness is like dryness to the bones. So, it's just healthy all the way around to keep a merry heart. You'll be healthy not just to fight Alzheimer's, but to fight anything you're up against if you keep a good sense of humor." - Kim Campbell
"We were raised in a very religious household. My parents are both very strong believers. Like, every time I would go out of the house, he'd say something along the lines of, 'You be good, and honor the Lord.'" -Ashley Campbell
"Some days I'm so confused, Lord. My past gets in my way. I need the ones I love, Lord." -Glen Campbell
MOVIE RELEASE OPENING DATES & MARKETS*:
- October 24 -
New York, NY
Nashville, TN
Hendersonville, TN
Franklin, TN
Little Rock, AR
Fayetteville, AR
Hot Springs, AR
West Nyack, NY
New Brunswick, NJ

- October 31 -
Minneapolis, MN
Rochester, MN
Huntsville, AL
St. Louis, MO
Springfield, MO
Cape Giradeau, MO

- November 7 -
Phoenix, AZ
Cincinnati, OH
Chicago, IL
Washington, DC
Rockville, MD

- November 10 -
Anchorage, AK

- November 14 -
Los Angeles, CA
Irvine, CA
Burbank, CA
Santa Barbara, CA
San Francisco, CA

- November 21 -
Dallas, TX
Houston, TX
Austin, TX
Boston, MA

- November 28 -
Hartford, CT

- December 5 -
Miami, FL
Fort Myers, FL
Sarasota, FL
Tampa, FL
St. Petersburg, FL

- December 12 -
Jacksonville, FL
*Markets and theaters are being added daily; please check here for the most updated schedule
- ### -