JEAN WATSON AND PHIL KEAGGY TO PERFORM
ON THE 700 CLUB THIS THURSDAY
Award-Winning Musicians To Share Music From Watson's New CD,
Christmas...Not the Way it Seems,
Twice This Season On Popular TV Show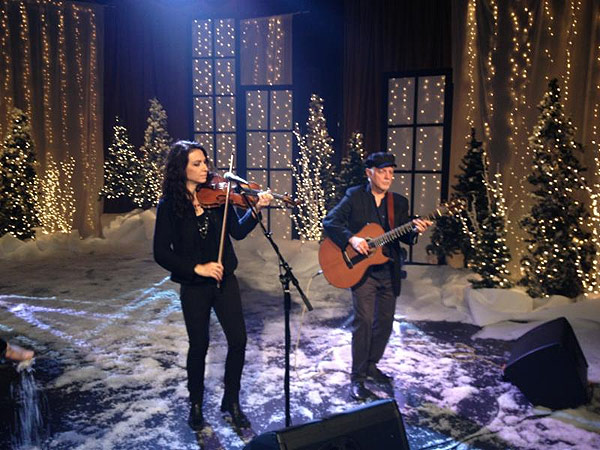 Jean Watson and Phil Keaggy will perform music from Watson's new CD, Christmas...Not the Way It Seems, on Thursday's episode of The 700 Club. Pictured (L to R): Watson and Keaggy perform during the taping of the show. (McCain & Co. Public Relations photo)
NEWS SOURCE: McCain & Co. PR
December 17, 2014
NASHVILLE, Tenn.(December 17, 2014) - Shadowlands recording artist Jean Watson is set to share her Celtic-infused Christmas music this Thursday on the CBN television network's flagship show, The 700 Club. She is also scheduled to appear on the show on Christmas Eve.
Watson will perform music from her recently-released Christmas project, Christmas...Not The Way It Seems. Produced by Grammy Award-nominated producer Billy Smiley, the 11-song collection of angelic and classic Christmas favorites also features the talents of legendary Gospel Music Hall of Famer and guitar virtuoso Phil Keaggy. Keaggy will perform with Watson, and will also be featured on the show throughout the holiday season performing songs from his Christmas CD, Welcome Inn.
"I feel very honored to be able to share my music and story on The 700 Club!" says Watson. "It was a thrill to perform with Phil Keaggy, and taping the interview was a an emotional moment for me. I hope that viewers are as touched in watching the show as I was in making it!"
To find affiliate listings and show times in your area, visit cbn.com/700club/ShowInfo/Schedule/schedule.aspx.
Watson, who resides in Michigan, enjoys a large fan base across the U.S. and throughout the United Kingdom. She also hosts a daily inspirational radio show, Jean Watson, which airs across Ireland.
Watson's appearance on The 700 Club is the latest stop on a media tour to promote Christmas...Not The Way It Seems. She recently performed on LeSea TV's The Harvest Show, TBN's Praise the Lord, Cornerstone Television Network's Real Life and the Christian Television Network's (CTN) Bridges.
Additional appearances will include an interview and performance on The 700 Club's Christmas Eve program, an interview with Campus Crusade for Christ radio (CRU), several upcoming special Christmas music performances on the Cornerstone Television Network and more.
For more information about Watson or Christmas...Not The Way It Seems, visit jeanwatson.com.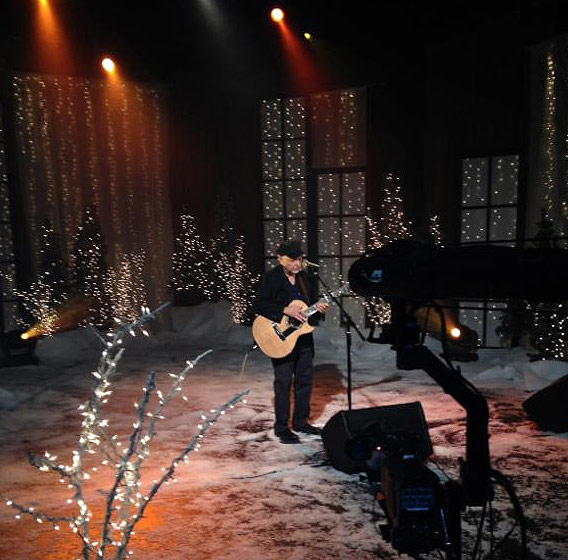 Phil Keaggy performs a song from his Christmas project, Welcome Inn, during the taping of the The 700 Club. The performance will air during the Christmas season. (McCain & Co. Public Relations photo)
About The 700 Club:
Hosted by Pat Robertson, Gordon Robertson and Terry Meeuwsen, with news anchor Lee Webb, The 700 Club is a mix of news and commentary, interviews, feature stories, and Christian ministry. The 700 Club is one of the longest-running programs in broadcast history. Seen in 97 percent of the television markets across the United States, the show's news/magazine format presents a lively mix of information, interviews, and inspiration to an average daily audience of one million viewers. To find affiliate listings and show times in your area, visit cbn.com/700club/ShowInfo/Schedule/schedule.aspx.
About Christmas...Not The Way It Seems:
Destined to become a Yuletide classic, Christmas...Not The Way It Seems blends time-honored, beloved carols like "Do You Hear What I Hear," "Angels We Have Heard On High" and "The First Noel," with melodic renditions of less familiar holiday songs like "Pat a Pan," "Coventry Carol" and "Lo How A Rose," along with Watson's newly-penned Christmas hymn, "Not The Way It Seems."
"Jean is a gifted soul and person. Very seldom do I find someone with incredible gifts in songwriting, singing, and violin all in one person," says Grammy Award-nominated producer Billy Smiley, who, in addition to his Grammy nominations, has produced more than 100 albums and 30 No. 1 songs, and is a founding member of legendary Christian rock band WhiteHeart. "It has been a pleasure to see her wings unfold throughout the recording process. It will be so exciting for the world to see and hear this beautiful talent!"
Musically, the album employs rich, emotive orchestration which, when combined with Watson's ethereal yet resilient vocals, is reminiscent of such world music artists as Enya, Maire Brennan, Clannad and Kristen Getty.
For more information about Watson or Christmas...Not The Way It Seems, visit jeanwatson.com.
About Jean Watson:
Classically trained violinist Jean Watson has recorded six albums since 2002, including her latest, Christmas...Not The Way It Seems, and has been honored four times as the Best Female Praise and Worship Artist USA by the U.K. Christian Music Alliance.
Born into a musical family, Watson's classical training began when she was still a young child. Early on she displayed an affinity for the violin, but as time passed she became equally recognized for her wistful, ethereal vocals. As an adult, music was set aside for Watson to focus on her responsibilities as a wife and mother. Her marriage ended in divorce and she found herself in a time of deep depression and hopelessness. At her lowest point, she cried out to God.
A short time later, the landlord of the house where Watson lived with her four children stopped by to bring her family a Christmas tree. As he was setting it up, he heard some Christmas carols that Jean recorded on a cassette.
"'What is that?, he asked. 'That's you? I don't know what you are doing with your life, but THAT is what you're supposed to be doing with your life.' Watson remembers. "He told me to keep my rent money and take it to a recording studio and make a CD.' He had no idea that his generosity was an answer to my prayers."
Her landlord's kind financial gift led to Watson's first CD in 2002 and set her on the path that she continues following today, which has taken her around the world performing music from her six albums.
Watson can be heard worldwide on UCB Radio Ireland where she hosts a daily inspirational radio program, Jean Watson, which she records from her Michigan home studio. Watson has logged thousands of miles traveling to perform churches, prisons, coffee houses, homeless shelters and concert halls. When she is not on the road, she plays violin in the Kalamazoo, Mich., Symphony.
Watson is a newlywed, having recently married Mark Roberts, a chaplain in the United States Air Force. She lives in Lawton, Mich., and has four children: Charlie, Andrew, Grace, Katharine, daughter-in-law Emily, and grandson Chase.
For more information on Watson or Christmas...Not The Way It Seems, visit jeanwatson.com or like on Facebook at Facebook.com/JeanWatsonMusic.
About Phil Keaggy:
One of the world's most beloved musicians, Phil Keaggy's solo career has spanned 40+ years and has included more than 50 solo albums, both vocal and instrumental, as well as three releases with his band, Glass Harp.
Widely recognized for his phenomenal guitar playing as well as his vocal and songwriting prowess, he has received numerous accolades and awards for his music, including seven Dove Awards and a Grammy nomination. Keaggy was inducted into the GMA Gospel Music Hall of Fame in 2007, and was named one of the 10 Best Rock Singers in Christian Music History by GospelMusicChannel.com in 2009. In 2013, Keaggy received the
prestigious ASCAP Golden Note Award in recognition of his outstanding career achievements. In addition, Rolling Stone has named him one of the "25 Most Underrated Guitarists," alongside Prince, The Beatles' George Harrison, Kurt Cobain, Neil Young and Fleetwood Mac's Lindsey Buckingham.
An accomplished record producer and one of the most sought-after studio guitarists on the planet, Keaggy also continues to sell out concerts all over the United States with his ever-changing style, ranging from rock & roll to fully-orchestrated instrumental compositions.
For more information, visit philkeaggy.com. Follow Keaggy on Facebook (facebook.com/philkeaggy) or Twitter (@Phil_Keaggy).
About Shadlowlands Music:
Shadowlands Music is a division of Best Media Group, a multi-entertainment company focusing on World Music and Organic Pop. Shadowlands Music produces music with a creative Indie mindset, and offers artist development, as well as both digital and physical distribution. To contact Shadowlands Music, email northernshoreprod@mac.com.
- ### -
For more info on Phil Keaggy visit the JFH Artists Database.