ISRAEL HOUGHTON & NEW BREED NEW SINGLE "HOW AWESOME IS OUR GOD"
FEATURING YOLANDA ADAMS
AVAILABLE TODAY
New Live Album "Covered: Alive in Asia" Available March 2015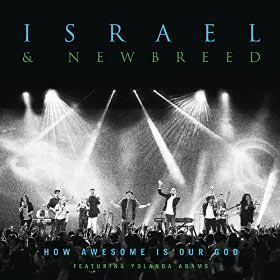 NEWS SOURCE: Ignition PR
January 13, 2015
January 13, 2015 (New York, NY) -- Multi Grammy®, Stellar and Dove Award winning gospel recording artist, Israel Houghton teams up, for the first time, with gospel powerhouse Yolanda Adams on his new single, "How Awesome Is Our God". A powerful declaration rejoicing in God's love, "How Awesome Is Our God" is the second single from Israel & New Breed's upcoming new album Covered: Alive in Asia (RGM-New Breed Music/RCA Inspiration), slated for release in March 2015. "How Awesome Is Our God" will be available on digital music providers (Google Play, Amazon, Spotify & iTunes) today.
"In 15 years playing together with New Breed, the song 'How Awesome Is Our God' was an incredible experience to perform live and share in God's love with our audience globally," said Israel Houghton. "Having Yolanda Adams singing with us on this song marks a personal 'bucket list' moment for me!"
The album was recorded during Houghton's recent tour in Asia before packed crowds in Singapore, Philippines, Indonesia, Jakarta, Japan, Malaysia and South Korea this past October. Covered: Alive in Asia will mark Israel Houghton & New Breed's 10th album together. Check out Israel & New Breed's single "How Awesome Is Our God" feat. Yolanda Adams:
In advance of the CD release Houghton will release the "Alive in Asia" concert film to theaters in select cities. Offering a behind-the-scenes, intimate look at the recording process and the core mission of New Breed the film captures the week-long recordings in some of the most exotic and beautiful cities in Asia.
Houghton will also kick off 2015 with several high profile appearances including the BMI Trailblazers of Gospel Music Awards where he'll be honored on January 17th in Atlanta. He is also slated to perform at the 16th Annual Superbowl Gospel Celebration concert series in Phoenix, AZ.
ABOUT ISRAEL HOUGHTON
Israel Houghton is a prolific worship leader, musician, songwriter, producer and recording artist. His music ministry has spanned 25 years. Houghton is the recipient of 5 Grammy-Awards, 13 Dove Awards, 2 Stellar Awards, a Soul Train Music Award and many more. In 1995, Houghton formed New Breed Ministries that gave way to his debut release in 1997 Whisper It Loud. Since that time Houghton has released 11 solo and group CD's and has consistently been a commercial success with Billboard chart toppers New Season, Power of One, and Jesus At The Center. He achieved Gold-selling albums with Alive in South Africa, and Live From Another Level.
ABOUT RGM-NEW BREED MUSIC
Houghton merged his NEW BREED entity with Galley Molina's RGM (Reverence Gospel Media) creating RGM-NEW BREED Music, a new multimedia and music company. The company released Houghton's Jesus At The Center garnering him his fifth Grammy Award and in 2013 released their second music release, Darlene Zschech's Revealing Jesus. RGM-NEW BREED released their first feature film "I'm in Love with a Church Girl," starring Ja Rule, Adrienne Bailon, Stephen Baldwin and Vincent Pastore, in 2013 marking their first foray in the faith-based feature films genre.
ABOUT RCA INSPIRATION
RCA Inspiration (formerly Verity Gospel Music Group), is the #1 gospel label in the country that operates under Sony Music Entertainment. Voted Billboard's #1 "Gospel Songs Label" for the past 15 years, RCA Inspiration is the home of mega-gospel artists Donnie McClurkin, Richard Smallwood, Israel Houghton, Marvin Sapp, Le'Andria Johnson, Fred Hammond and many more.
For more information and the latest updates on Israel Houghton & New Breed please visit: Website: http://rgmnewbreed.com/
Facebook: https://www.facebook.com/IsraelHoughton
Twitter: https://twitter.com/israelnewbreed
Instagram: http://instagram.com/ihoughton
- ### -
For more info on Israel Houghton visit the JFH Artists Database.