THE EAGLE ROCK GOSPEL SINGERS
HEAVENLY FIRE OUT FRIDAY, AUGUST 7TH
ON BA DA BING RECORDS
ON TOUR THIS SUMMER AND FALL INCLUDING
AUSTIN CITY LIMITS, PYGMALION, LANDMARK, AND MIDPOINT MUSIC FESTIVALS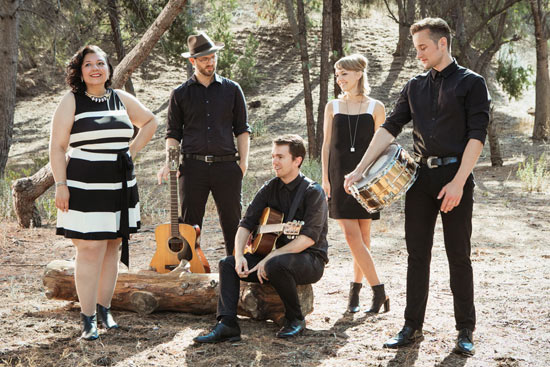 NEWS SOURCE: Big Hassle Media
August 5, 2015
The Eagle Rock Gospel Singers and Ba Da Bing records (Sharon Van Etten, Beirut) are excited to share the Los Angeles based group's debut album, Heavenly Fire. The album is streaming in full via Relix Magazine, and will be released Friday, August 7th. Recorded with Matt Wignall (Cold War Kids, J. Roddy Walston and the Business), Heavenly Fire is "a rip-roaring, soaring batch of rootsy-flavored originals," writes LA Weekly. An explosive barn-burner of a record, taught with electricity that The Bluegrass Situation praised for allowing the group's dynamic vocalist "Kim Garcia to spread her wings and share their message." This summer and fall the Eagle Rock Gospel Singers will tour North America in support of the album, playing clubs dates and festival bills including Austin City Limits, Pygmalion, Midpoint, and Landmark Music Festival among others. Stream Heavenly Fire on SoundCloud via Relix.com
"What began as a loose collection of 8-16 participants is now a full-fledged performing and recording force." -Relix
Will Wadsworth formed The Eagle Rock Gospel Singers in the winter of 2010 following a failed relationship, a band dissolution and a scary airplane ride. In order to respark his interest in music, he and his roommate, Jeremy Horton, gathered friends together to sing old Gospel songs. They sang songs inspired by their love of Washington Phillips, The Staples Singers, Mahalia Jackson, Sister Rosetta Tharpe - you know, the real classics - and held house parties just so they could perform.
Soon enough, a large, shifting group of people came each week to join in on the weekly jams. There could be anything from 8 to 18 participants, depending upon the night. Wadsworth and Horton, realizing this might work in a club setting, pared down the group to core members, and they began performing around Los Angeles. Their debut album provides an articulation of their sound, honed over those many group parties, into a band that has become a rousing celebration of traditional Gospel sounds with rock foundations.
Stay tuned for further music and news to come from The Eagle Rock Gospel Singers in the coming weeks.
Upcoming Tour Dates:
AUGUST
06 - Eugene, OR - Cosmic
07 - Seattle, WA - Tractor Tavern
08 - Burnaby, BC - Burnaby Blues & Roots Festival
09 - Portland, OR - Doug Fir Lounge
13 - Los Angeles, CA - The Echo
SEPTEMBER
04-06 - Quincy, CA - JoshuaFest
17 - Las Vegas, NV - The Bunkhouse Saloon
18 - Ogden, UT - Alleged
19 - Denver, CO - Hi Dive
21 - St. Paul, MN - Turf Club
23 - Grand Rapids, MI - Covenant Fine Arts Center
24 - Champaign, IL - Pygmalion Music Festival
25-27 - Washington, DC - Landmark Music Festival
29 - Charlotte, NC - Snug Harbor
30 - Nashville, TN - The Stone Fox
OCTOBER
01 - Atlanta, GA - The Earl
02-04 - Austin, TX - Austin City Limits Festival
03 - Austin, TX - Stubb's BBQ (Indoor)
09-11 - Austin, TX - Austin City Limits Festival
10 - Austin, TX - Stubb's BBQ (Indoor)
###