FOUR SELLOUTS AND COUNTING FOR K-LOVE CHRISTMAS TOUR FEATURING TENTH AVENUE NORTH, NATALIE GRANT, SIDEWALK PROPHETS AND DANNY GOKEY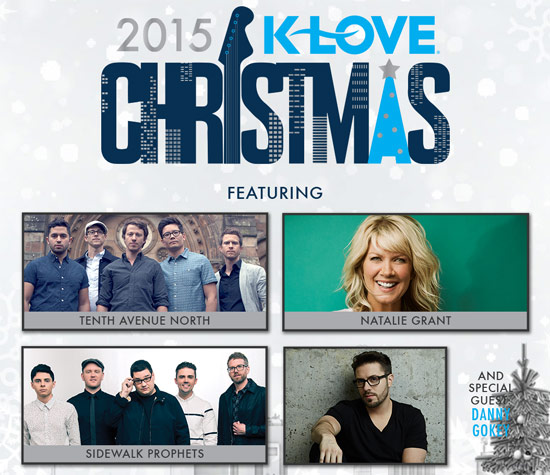 NEWS SOURCE: Warner Music Nashville
November 24, 2015
NASHVILLE, TN - (Nov. 24, 2015) - The launch of the fourth annual K-Love Christmas Tour is still a week away, and already four shows have sold out and tickets are growing scarce for remaining stops on the 16-show tour featuring Tenth Avenue North, Natalie Grant, Sidewalk Prophets and special guest Danny Gokey.
Fans can purchase individual, group and VIP tickets at www.KLOVEChristmasTour.com, with the exception of Indianapolis, Pittsburgh, Lexington, KY, and the Stamford, Connecticut matinee shows. The tour, presented by 25 Entertainment, notched several sellouts in 2014 and is back with an all-star lineup. It offers radio listeners and fans a unique and inviting evening of Christmas music and fan favorites for the entire family during the holiday season.
The tour will kick off Dec. 3 in Indianapolis and runs through Dec. 20 in San Antonio (see full schedule below).
This will be the fourth year the tour has partnered with Feed the Children to provide food and other necessities to children and families.
K-LOVE Christmas Tour Dates:
Dec. 3+ Indianapolis, IN Old National Center
Dec. 4+ Pittsburgh, PA Victory Family Church
Dec. 5 Reading, PA The Reading Eagle Theater, Santander Center
Dec. 6* Stamford, CT Palace Theatre
Dec. 8 Charlotte, NC Ovens Auditorium
Dec. 10 Chicago, IL Rosemont Theater
Dec. 11+ Lexington, KY Northeast Christian Church
Dec. 12 Kansas City, MO Sheffield Family Life Center
Dec. 13 Denver, CO 1st Bank Center
Dec. 15 Phoenix, AZ North Phoenix Baptist Church
Dec. 16 Albuquerque, NM Kiva Auditorium
Dec. 17 Oklahoma City, OK First Baptist Church Moore
Dec. 18 Baton Rouge, LA Bethany Church North
Dec. 19 Little Rock, AR First Baptist Church of Benton
Dec. 20 San Antonio, TX Laurie Auditorium
(* - two shows, matinee sold out; + - sold out)
For more information and to purchase tickets please visit www.KLOVEChristmasTour.com.
About Feed The Children
Founded in 1979 and headquartered in Oklahoma City, Oklahoma, Feed The Children is one of the largest international charities based in the U.S. With the mission of providing hope and resources for those without life's essentials, Feed The Children is a BBB Wise Giving Alliance accredited charity and uses a comprehensive and integrated program to combat hunger and poverty. Feed The Children addresses four basic needs: food and nutrition, water and sanitation, education and health, and livelihood community development. In addition to helping families and communities around the world achieve lasting self-sufficiency, Feed The Children also responds quickly in times of disaster to provide emergency supplies for those in need.
About K-LOVE
K-LOVE creates compelling media designed to inspire and encourage people to develop a meaningful relationship with Christ. K-LOVE is listener supported and delivers positive, encouraging contemporary Christian music to approximately 18 million people through its 446 signals across 47 states. For more information visit: www.klove.com
About 25 Entertainment
25 Entertainment is the event booking, production and promotion arm of Word Entertainment, a comprehensive Christian entertainment company comprised of multi-faceted artist service departments including recorded music, publishing, distribution, merchandising, Church resources, and online initiatives. Based in Nashville, 25 Entertainment's roster includes some of the world's most-renowned Christian artists including Chris August, Natalie Grant, Phillips, Craig & Dean, Point of Grace, Sidewalk Prophets and Love & The Outcome. The company also proudly represents national tours and conferences, such as the K-LOVE Christmas Tour, The Bible Tour and Girls of Grace, a nationwide conference for 6th - 12th grade girls, focusing on common age-related issues with positive Christian messages. K-LOVE Tour social media connections:
Facebook
www.facebook.com/TenthAvenueNorth
www.facebook.com/NatalieGrantMusic
www.facebook.com/SidewalkProphets
www.facebook.com/DannyGokeyOfficial
Twitter
@tenthavenorth
@nataliegrant
@swprophets
@dannygokey
Instagram
@tenthavenorth
@nataliegrant
@sidewalkprophets
@dannygokey
###
For more info on Tenth Avenue North visit the JFH Artists Database.
For more info on Natalie Grant visit the JFH Artists Database.
For more info on Sidewalk Prophets visit the JFH Artists Database.
For more info on Danny Gokey visit the JFH Artists Database.