POP MUSIC ARTIST JULIANNA ZOBRIST TO RELEASE LATEST ALBUM, SHATTERPROOF ON JULY 1ST
Zobrist combines her passions for marriage, encouraging women and motherhood in new music and through recent
Mother's Day concert for audience of 12,000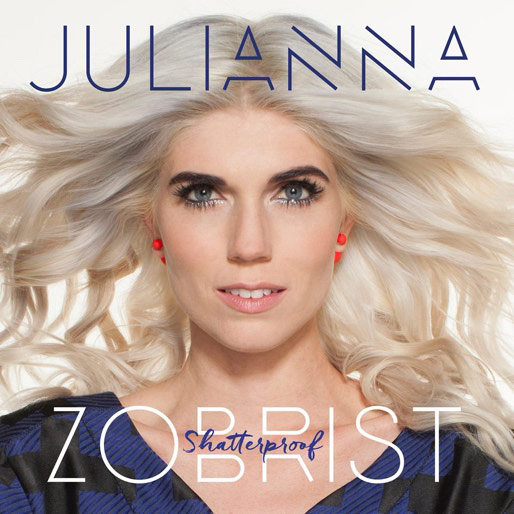 NEWS SOURCE: Rogers & Cowan
May 11, 2016
Los Angeles, Calif. (May 11, 2016) - Recognized pop music artist Julianna Zobrist is gearing up for the release of her highly anticipated full-length album, Shatterproof. Zobrist's debut project will be available online and in stores nationwide July 1, 2016. In anticipation of the full-length recording, Zobrist launched a pre-order on May 6th via iTunes, just in time for Mother's Day. The Shatterproof pre-release offers fans three sneak-peek tracks for select singles "Shatterproof", "Alive", and "The Dawn" with more instant-grat tracks becoming available in the build up to the release on July 1st. Zobrist's first AC radio single "The Dawn" peaked in the top 30 on the Christian AC Indicator chart.
Zobrist is a rural Iowa City girl raised on classical music, Michael Jackson grooves and farm-grown corn. Little did she know that her earliest lessons in classical piano at age seven would eventually bring her to Nashville, where she would study voice and piano and quickly go on to earn jobs in various music-industry management roles. At the age of 21, upon marrying baseball major leaguer Ben Zobrist (Chicago Cubs), Zobrist's wedding gift from her groom was a MIDI keyboard, a microphone, and a laptop equipped with a recording program. She began formulating her poetry into song as a means of expressing her heart, asking questions of God and recounting the things He was doing in her life.
Today, Zobrist shares her testimony through the song lyrics on Shatterproof. "I want the gospel to saturate what I do," she says. "If our lives end with loving ourselves, then we miss the point. We are to be sacrifices-living testimonies that seep the gospel out of every pore-so that in every song, every confrontation, every dialogue, every sermon, every testimony, we radiate the truth of God's acceptance by the righteousness of Christ. Nothing more, nothing less."
With a message that's confident, immediate, relatable, authentic, energetic, and joyful, Zobrist is a dynamic performer who has people laughing at life's antics one minute, and then diving deep into spiritual truths the next.
In support of releasing her newest album, Zobrist has been speaking and performing at a number of women's conferences and venues, most recently at Harvest Bible Chapel in Chicago for over 12,000 people at their Mother's Day weekend services. "So many artists have an exceptional voice or a clear potent message or a heart for ministry, Julianna Zobrist is blessed to have all three," said Luke MacDonald, Executive Ministry Pastor of Harvest Bible Chapel. "My message and music is for anyone who wants to express the joy and freedom of knowing Christ," declares Zobrist. "He supplies the strength to be bold, fearless, and confidently vulnerable, and the assurance that you don't have to measure up to what others think of you, but rather, understand that your true strength can shine because of who you are in Him."
When Zobrist is not touring or on the speaker's circuit, you can find her with her three children-Zion, Kruse and Blaise-watching her husband play baseball, who uses her song Alive as his walk-up song to home plate, and encouraging women everywhere she goes.
Track listing for Shatterproof:
1. Shatterproof
2. Alive
3. The Dawn
4. Cosmic Sanctuary
5. Jester
6. Over and Over
7. Always the Same
8. Heartbeat
9. Promises
10. Common Ground
11. The Dawn (Matt Erickson Remix)
For more information about Julianna Zobrist, please visit:
Lyric video for Shatterproof: https://www.youtube.com/watch?v=WHBLxQx9wco
Website: http://www.juliannazobrist.com/
Facebook https://www.facebook.com/juliannazobrist/
Twitter: https://twitter.com/JuliannaZobrist
Instagram: https://www.instagram.com/juliannazobrist/
SoundCloud: https://soundcloud.com/juliannazobristmusic
YouTube: https://www.youtube.com/watch?v=mILMJiDiqVY
About Julianna Zobrist
Julianna Zobrist is a small-town girl with big dreams. Although you would never consider her an introvert now, while growing up, she was content to sit in her bedroom with her headphones on, writing poetry or reading her father's medical encyclopedias. She had two goals: to be a singer/communicator and to be a microbiologist. After moving to Nashville, she served in various music-management roles with Plumb and Women of Faith, among others. She also married second baseman Ben Zobrist, who currently plays for the Chicago Cubs. With their combined platform of baseball and music, Julianna and Ben wrote their autobiography, Double Play, and speak regularly at churches, conferences and schools, sharing a message of hope in Christ nationwide. Currently, Julianna is speaking and performing nationwide while preparing for the release of Shatterproof on July 1, 2016. She is also writing her second book, which explores the qualities of "shatterproof women." Zobrist resides in Franklin, Tenn. with her husband and three children.
###