KIRK FRANKLIN'S "123 VICTORY REMIX"
FEATURING PHARRELL WILLIAMS
AVAILABLE NOW AT ALL DIGITAL PROVIDERS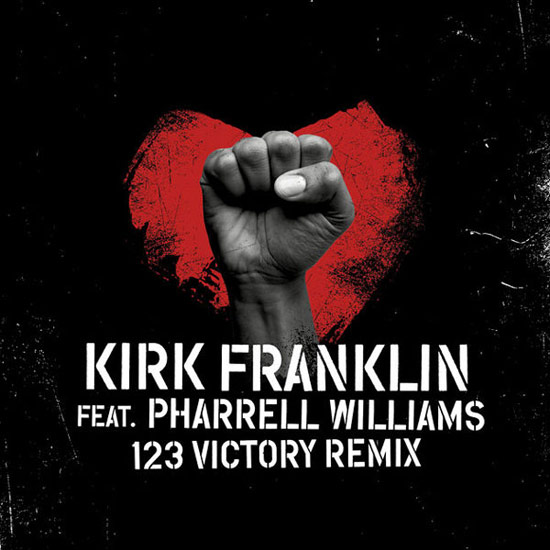 NEWS SOURCE: W&W PR
September 7, 2016
Dallas, TX (September 7, 2016) - Kirk Franklin's latest chart-topping hit, "123 Victory Remix" (featuring Pharrell Williams), is now available at all digital providers. Franklin teamed up with singer-songwriter, rapper and producer Pharrell Williams to create the fresh new version, featuring the smooth sounds of Williams on the hip-hop infused track. The recently-released collaboration between the two multiple GRAMMY®-winning superstars marks another #1 record in Franklin's prolific career. After debuting exclusively on Apple Music, "123 Victory Remix" is Franklin's fifth chart-topping single on Billboard's Hot Gospel Songs chart, breaking the record for most #1 Hot Gospel Songs in the history of that chart. "123 Victory Remix" also debuted at #1 on the Gospel Digital Sales chart.
Get "123 Victory Remix" online.
Kirk Franklin joined Pharrell and Scott Vener on Beat 1 Radio's OTHERtone to discuss music, religious beliefs, collaborating on the remix and more. For the full interview, please click the links below:
Kirk Franklin Before He Was a Born Again Christian
https://www.youtube.com/watch?v=vhkU0ySVR-I
Kirk Franklin on Working With Pharrell https://www.youtube.com/watch?v=3gETXDL-HWI
Kirk Franklin on Underground Gospel https://www.youtube.com/watch?v=eqBGUClcIHI
Kirk Franklin and Pharrell on Religious Beliefs https://www.youtube.com/watch?v=39RgDu4Yph0
Pharrell Was Raised on Gospel Music https://www.youtube.com/watch?v=1TJLVqrNiwk
For more information and the latest news on Kirk Franklin, also visit:
https://www.facebook.com/KirkFranklin
https://twitter.com/kirkfranklin
https://www.instagram.com/kirkfranklin/
https://www.youtube.com/user/realkirkfranklin
###
For more info on Kirk Franklin visit the JFH Artists Database.