Grammy® Award Nominated Artist Tamela Mann Drops New Album One Way Friday, September 9
Scheduled appearances include The Today Show, BET Joyful Noise, GMA Dove Awards, ABC Radio, Ricky Smiley Show, Willie Moore Jr. Show, Darlene McCoy Show, Essence.com, Vibe.com, TBN, Daystar TV, and others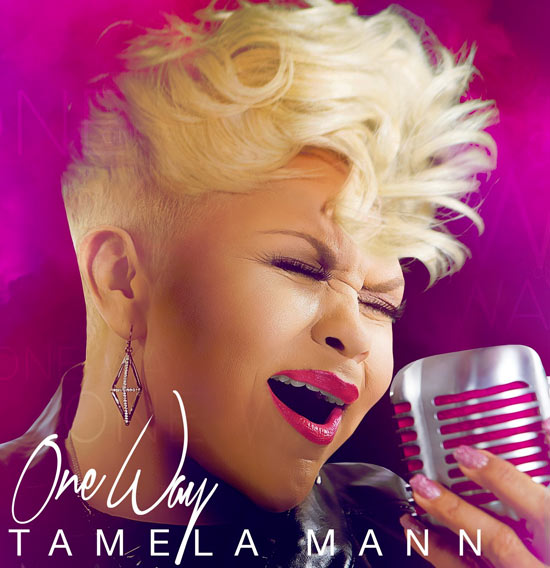 NEWS SOURCE: TKO Marketing
September 8, 2016
DALLAS (September 8, 2016) - Grammy® Award Nominated, NAACP Image Award Winning Artist and Billboard Chart-Topping Singer TAMELA MANN releases her highly-anticipated new album ONE WAY Friday, September 9 on her Tillymann Music label through RED Distribution. Simultaneously, Walmart is releasing a special edition of the album that includes two exclusive bonus tracks. One Way features the power ballad single "God Provides," which is currently No. 4 on the Billboard Gospel Radio Chart this week. "God Provides" is written and produced by long-time friend and collaborating partner, Gospel Music Icon Kirk Franklin.
Tamela is currently touring the country in support of the new album with upcoming appearances on The Today Show, Good Day New York, Good Morning Texas, Good Day Atlanta, Rickey Smiley Show, Willie Moore Jr. Show, Darlene McCoy Show, TBN Praise the Lord and more. Recent stops included Sirius XM radio Artist Confidential, Essence.com, Vibe.com, Daystar TV, ABC Radio and co-hosting the Tom Joyner Radio Show. In-store appearances are set for Philadelphia, Chicago, Atlanta, Dallas and Fort Worth, Texas where Tamela will meet fans and sign copies of One Way. Fans can also catch Tamela on the new season of BET Joyful Noise and the GMA Dove Awards this fall.
"I'm excited to get out on the road and share music from my new album One Way," Tamela said. "There is something for everyone on this album, and I believe it is going to encourage so many - wherever they're at in life."
One Way marks Tamela's fourth solo studio album, a diverse collection of songs that will inspire listeners. For the first time, Tamela's executive production team is a family affair helmed by Tamela, her husband and business partner, actor David Mann and son David Mann Jr. One Way is produced by the acclaimed Myron Butler and David Mann. The album's all-star guest producer credits, in addition to Franklin include Eric Dawkins, King Logan, Shaun Martin and Timbaland. Standout songs include the old-school vibe, up-tempo debut single "One Way" written and produced by Dawkins, the powerfully emotion-filled track "Potter" written by Travis Greene, and the beautiful ballad "God Provides" written by Tamela's "Take Me To The King" writer/producer Franklin.
Track List:
1. One Way
2. Through It All
3. Jesus Again
4. God Provides
5. We Exalt Your Name
6. Potter
7. That's What He Did
8. For My Good
9. Change Me
10. Greater
11. Press
12. Say Oh
Tamela's 2012 album Best Days debuted at No. 1 on the Billboard Top Gospel Albums chart and No. 14 on the all-genre Billboard Top 200. In 2014, Tamela earned the Stellar Award for Best Female Gospel Artist of the Year along with six additional Stellars and the Gospel Artist of the Year at the BET Awards. Best Days is RIAA-certified gold and spawned three consecutive No. 1 tracks including the RIAA-certified gold single "Take Me To The King."
ABOUT TAMELA MANN
Tamela Mann is a Grammy® Award nominee, NAACP Image Award® winner, BET Award winner, 7-time Stellar Gospel Music Award and two-time GMA Dove Award-winning singer, actress, songwriter, producer, and businesswoman. Tamela's seven-time Stellar Gospel Music Award-winning, two-time GMA Dove Award-winning album Best Days debuted at No. 1 on multiple music sales charts and includes the No. 1 RIAA-gold certified single "Take Me To The King," which earned Tamela her first Grammy® Award nomination for Best Gospel/Contemporary Christian Music Performance. With the release of Best Days, Tamela set a historic personal and industry record as the first Gospel lead artist in Billboard Gospel radio chart history to score three consecutive No. 1's from an album. The string of hits includes "Take Me To The King," "I Can Only Imagine," and "This Place." Tamela and husband and business partner, actor David Mann, star in It's A Mann's World (BET) and Mann & Wife (Bounce TV), both in production on third seasons. Tamela's fourth solo studio album One Way is available on September 9, 2016.
For more information about Tamela Mann, visit http://www.tillymannmusic.com.
###