HANNAH KERR JOINS CASTING CROWNS ON THEIR "THE VERY NEXT THING TOUR"
Overflow, The Debut Full-Length Album Is Now Available On All Digital Formats, New Single "Radiate" Goes For Adds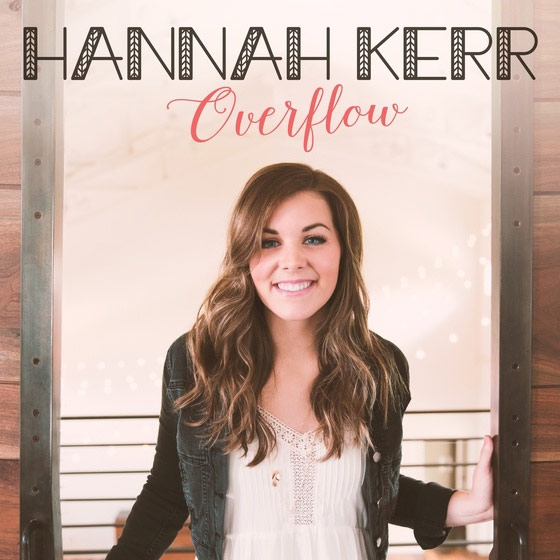 NEWS SOURCE: Merge PR
September 23, 2016
NASHVILLE, TENN - 23 September 2016 - Singer/songwriter Hannah Kerr has joined Casting Crowns and Matt Maher on "The Very Next Thing Tour," which just kicked off last night in El Paso, TX. The tour will hit close to 40 markets across the U.S., and the most current tour schedule can be viewed here.
On the heels of the tour comes the digital release of Kerr's first full-length album, Overflow, which releases today on Black River Christian/Provident Label Group. The 11-song LP is available here at iTunes and everywhere else digital music is sold, as well as on every stop of "The Very Next Thing Tour."
Overflow, the follow-up to Kerr's 2015 EP release I Stand Here, was produced by Sawyer Brown's Mark Miller (producer all of Casting Crowns projects, which have sold ten million to date). Overflow features guest vocals from Casting Crowns' Mark Hall ("Be Still And Know"), and seven of the eleven songs were co-written by Kerr along with artists/songwriters such as Matt Maher and Meredith Andrews, to name a few.
The album's next single is "Radiate," co-written by Kerr along with her brother Josh Kerr who's written two No. 1 country songs (Kelsea Ballerini's "Love Me Like You Mean It" and "Dibs"). "Radiate" goes for adds today and is the follow-up to her current single, "Undivided," now at AC radio.
Before heading out for "The Very Next Thing Tour" Kerr returned from an active few days earlier this month at CMB/Momentum in Orlando where she met with numerous radio stations and attended various events. A couple of her favorite moments? Singing the National Anthem prior to the 5K CMB Run and grabbing a photo with Provident Label Group labelmate Zach Williams, pictured below.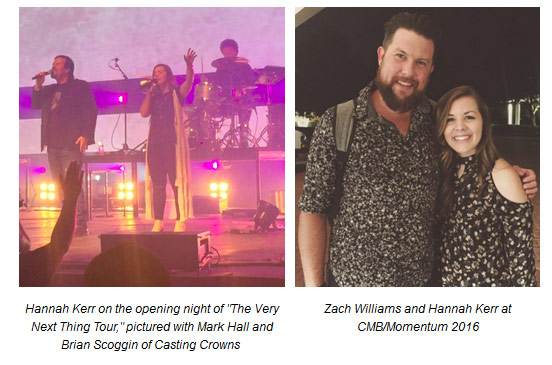 Kerr also has completed her first year at Nashville's Belmont University. She spent her summer visiting radio stations across the country along with performing at one-off dates and festivals, such as LifeFest, AliveFest and Kingdom Bound.
For the latest information and to keep up with Hannah Kerr, please visit HannahKerrMusic.com and on the social links below.
OVERFLOW song listing (songwriters):
1. Warrior - (Tami Hinesh/Alyssa Bonagura)
2. Undivided - (Hannah Kerr/Jon Newell/Scott Krippayne/Ron Robinson)
3. Radiate* - (Hannah Kerr/Josh Kerr/Jordan Reynolds)
4. Never Leave Your Side - (Hannah Kerr/Meredith Andrews/Jacob Sooter)
5. Your Love Defends Me- (Hannah Kerr/Matt Maher)
6. Overflow - (Hannah Kerr/Lindsey Sweat/Jonathan Smith)
7. I Stand Here- (Lindsey Sweat/Kipp Williams)
8. Lifeline - (Joel Houston/Melodie Wagner/Michael Fatkin/Renee Sieff)
9. Love I Leave - (Hannah Kerr/Josh Kerr/Tony Wood)
10. Mercy Won - (Lindsey Sweat/Justin Morgan)
11. Be Still and Know - (Hannah Kerr/Jonathan Newell/Chad Cates)
*all songs produced by Mark A. Miller except for track 3, which was produced by Josh Kerr and Jordan Reynolds
ABOUT BLACK RIVER CHRISTIAN: In September of 2015, Casting Crowns' Mark Hall, veteran producer/Sawyer Brown frontman Mark Miller, and music industry executive Gordon Kerr combined their talents and passions to create Black River Christian (Made To Thrive). Based in Nashville, Tennessee, "Black River Christian is committed to spreading the Gospel of our Lord and Savior Jesus Christ through artists who are committed to ministry through music," said Mark Miller. Partnering with Provident Label Group, the label officially entered into the Christian music this month at the Christian Music Broadcasters Momentum conference in Orlando, Florida to debut their first artist, Hannah Kerr. Having already shared the stage with Jon Guerra, I Am They, and many more, Hannah Kerr joins Casting Crowns and Matt Maher on the "The Very Next Thing Tour" this fall. Kerr's debut full-length album Overflow is now digitally available, and her new single "Radiate" is at radio now. For more information on Hannah Kerr, please visit HannahKerrMusic.com.
ABOUT PROVIDENT LABEL GROUP: Provident Label Group, whose labels include Essential Records, Reunion Records, Essential Worship and Beach Street Records, is home to an artist roster including Casting Crowns, Third Day, Steven Curtis Chapman, Matt Maher, Tenth Avenue North, RED, Brandon Heath, among others. PLG also consists of Provident Films ("Mom's Night Out," "Courageous," "Fireproof"), Essential Music Publishing and Essential Artist Services. ProvidentLabelGroup.com.
###
For more info on Casting Crowns visit the JFH Artists Database.