COMPASSION INTERNATIONAL PRESENTS
THE ROADSHOW 2018
FEATURING ALL-STAR CHRISTIAN MUSIC LINEUP INCLUDING
FOR KING & COUNTRY, MATTHEW WEST, NATALIE GRANT,
BETHEL MUSIC, ZACH WILLIAMS AND SOCIAL CLUB MISFITS
Popular Tour Launches Ninth Year as the Most Entertaining and Affordable
Christian Music Experience for the Whole Family
ADVANCE VIP TICKET PACKAGES ON SALE TODAY AT
TheRoadShowTour.com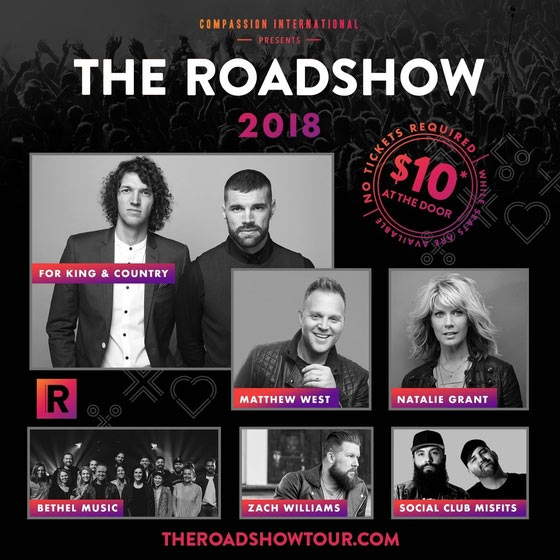 NEWS SOURCE: Southside Entertainment
October 23, 2017
NASHVILLE, Tenn. – Oct. 23, 2017 – An all-star lineup of some of Christian music's biggest names will take the stage when THE ROADSHOW embarks on its ninth year in February 2018. Grammy-winning duo for KING & COUNTRY, along with Grammy nominees Matthew West, Natalie Grant and Zach Williams are just some of the chart-topping artists slated to perform this year. As a special treat, popular Dove Award-winning worship ministry Bethel Music will kick off each event, and Miami hip-hop duo Social Club Misfits round out the stylistically diverse mix of music that will appeal to the entire family.

THE ROADSHOW launches Feb. 16, 2018, in Charlottesville, Va., and will hit 23 major market across the U.S. including Tulsa, Albuquerque, Phoenix, Portland, Seattle, Reno, Salt Lake City, Colorado Springs and Houston, to name a few. The tour will run through February and March, before wrapping up in Dallas on March 25.

Over the past nine years, THE ROADSHOW has grown to become more than just a concert tour. Each year, thousands of families come together in arenas across the country for an affordable night of fun and excitement for all ages. Part of The Roadshow's mission is to make it easier for families to create lasting memories together. A $10 general admission ticket price at the door helps make that possible (a few markets may have alternate pricing and/or reserved seating options). Starting today, advance VIP ticket packages are also available – the ROADSHOW UPGRADE ticket and the ROADSHOW EXPERIENCE ticket. These special ticket packages include early entry for premium seat selection, private pre-show artist appearances, exclusive VIP merchandise items and more. For details and ticket links, visit www.theroadshowtour.com.

THE ROADSHOW is presented by Compassion International, a Christian child development organization that works to release children from poverty in Jesus' name. Founded in 1952, Compassion revolutionized the fight against global poverty by working exclusively with the Church to lift children out of spiritual, economic, social and physical poverty. Compassion partners with more than 6,800 churches in 25 countries to deliver its holistic child development program to over 1.8 million babies, children and young adults. It is the only child sponsorship program to be validated through independent, empirical research. For more information, visit www.compassion.com.
THE ROADSHOW 2018
Dates, markets and venues subject to change without notice.
February
16 – Charlottesville, VA – John Paul Jones Arena
17 – Hershey, PA – Giant Center
18 – Charleston, WV – Charleston Civic Center
22 – Cape Girardeau, MO – Show Me Center
23 – Tulsa, OK – Mabee Center
24 – Albuquerque, NM – Santa Ana Star Center
25 – Phoenix, AZ – GCU Arena

March
01 – Henderson, NV – Henderson Pavillion
02 – Stockton, CA – Stockton Arena
03 – Fresno, CA – Save Mart Center
04 – Ontario, CA – Citizens Bank Arena
08 – Boise, ID – Taco Bell Arena
09 – Portland, OR – Veterans Memorial Coliseum
10 – Seattle, WA – Key Arena
11 – Spokane, WA – Spokane Arena
15 – Reno, NV – Reno Events Center
16 – Salt Lake City, UT – Maverick Center
17 – Colorado Springs, CO – Broadmoor Arena
18 – Wichita Falls, TX – Kay Yaeger Coliseum
22 – Cypress, TX – Berry Center*†
23 – Lubbock, TX – United Supermarkets Arena
24 – College Station, TX – Reed Arena*
25 – Dallas, TX – College Park Center*†

* Alternate Ticket Pricing
† Lineup includes Matthew West, Natalie Grant, Bethel Music, Zach Williams and Social Club Misfits

For ticket information, please visit www.TheRoadShowTour.com.
ABOUT for KING & COUNTRY
Soaring melodies, driving rhythms, theatrical instrumentation and personal themes are the heartbeat of two-time Grammy award-winners for KING & COUNTRY. They've celebrated an RIAA-certified Gold album with their most recent Run Wild. Live Free. Love Strong., and two Gold singles – their crossover hit "Fix My Eyes," and "The Proof Of Your Love," from the band's debut album Crave. The Australian brother duo raised expectations with their first release, winning Billboard's "New Artists to Watch" for 2012. Since then, they've sold 650,000 albums and had nearly 200,000,000 streams of their music. Their sophomore effort, Run Wild. Live Free. Love Strong., garnered unanimous critical praise with a No. 1 debut on iTunes, a headlining tour in 2014 and a 60-date arena tour during the Spring (2015). They have performed on numerous national a headlining tour that included 28 sold-out shows, and a 60-date arena tour. They've performed on "Jimmy Kimmel Live!," "The Today Show," "The View," "The Tonight Show" and "FOX and Friends," and have had songs featured on the Emmys, The Super Bowl, Sunday Night Football, The U.S. Open, 7UP and more.

Connect With for KING & COUNTRY:
Website: www.forkingandcountry.com
ABOUT MATTHEW WEST
Matthew West is a four-time GRAMMY® nominee, a multiple ASCAP Christian Music Songwriter/Artist of the Year winner and Dove Award recipient. He has garnered an American Music Award (2013), a Billboard Music Award (Top Christian Artist, 2014), a K-LOVE Fan Award (2016), and was named Billboard's Hot Christian Songwriter of the Year in 2016. West also received a Primetime Emmy® Award nomination for Original Music & Lyrics for "The Heart of Christmas," from the film of the same name. West has more than 130 songwriting credits to his name, including cuts by Rascal Flatts, Scotty McCreery, Casting Crowns, Michael W. Smith, Amy Grant, and Mandisa, among others. Selling more than 1.6 million albums to date (TEA), West's discography includes the acclaimed releases Live Forever (2015); GRAMMY®-nominated Into The Light (2012); The Story of Your Life (2010); Something to Say (2008); History (2005); and Happy (2003). He has garnered numerous #1 hits, most recently with "Grace Wins," while achieving a record-setting No. 1 for 17 straight weeks at radio with "Hello, My Name Is," and "The Motions" for 15 weeks. West's brand new release, All In (Sept. 22, 2017), debuted at No. 2 on the Billboard Top Christian Albums chart and includes the radio favorite, "Broken Things."
Connect With Matthew West:
Website: www.matthewwest.com
ABOUT NATALIE GRANT
Six-time Grammy nominated Natalie Grant is known for her powerful and soaring vocals, heart-gripping lyrics and passionate performances, and has remained one of the top-selling Christian & Gospel artists since her 2005 breakout RIAA Gold certified album, Awaken. She has since gone on to have nearly 4 million in career sales. The Gospel Music Association has named her Female Vocalist of the Year five times and she has had multiple #1s on the Billboard chart. Beyond her music career, Natalie has been an outspoken advocate for victims of human trafficking since 2005. She co-founded Hope for Justice International, which identifies and rescues victims of trafficking and then provides them with complete restorative care. The organization now has eight offices spanning four countries and three continents. Though she is a Seattle native, Natalie makes her home in Nashville with her husband, producer/songwriter Bernie Herms, and their three children: twins Grace and Bella, and their youngest, Sadie.
Connect With Natalie Grant:
Website: www.nataliegrant.com
ABOUT BETHEL MUSIC
Bethel Music is a worship ministry that formed as an organic extension of Bethel Church in Redding, CA. Over the last seven years, Bethel Music has grown from being a local church music ministry to becoming a global outreach featuring a cadre of songwriters and worship leaders, with both online and on-campus worship schools. The Bethel Music Artist Collective includes Brian and Jenn Johnson, Jeremy Riddle, Steffany Gretzinger, Amanda Cook, Jonathan David and Melissa Helser, Leeland, Matt Stinton, Hunter Thompson, Paul and Hannah McClure, Kalley Heiligenthal, Josh Baldwin, Cory Asbury and Kristene DiMarco. Together these artists have six acclaimed albums that all went to the top of Billboard's Top Christian Albums chart, in addition to four GMA Dove Awards and a GMA Covenant Award. Bethel Music's multi-artist double-disc live recording Have It All (2016) hit No. 1 on the overall iTunes Albums chart and No. 6 on Billboard's Top Albums chart, becoming Bethel Music's highest retail debut on the charts ever. Starlight, Bethel Music's first full-length album recorded live on tour, is among their latest to top the chart. In addition to thousands of people that attend Bethel's weekly worship services, another 350,000 plus people subscribe to the online stream of the services at www.ibethel.tv.
Connect With Bethel Music:
Website: www.bethelmusic.com
ABOUT ZACH WILLIAMS
As a husband, father, singer, recording artist, songwriter and worship leader, Zach Williams is already making history, having just been named New Artist of the Year at the 48th Annual GMA Dove Awards. Achieving two consecutive radio No. 1 hits as a debut artist ("Chain Breaker," "Old Church Choir") Williams' music comes from a place of humility and honesty as his songs are a direct reflection of God's redemption in his life. "Chain Breaker" has already impacted millions of people around the world and even earned him his first GRAMMY nomination (Best Contemporary Christian Music Performance/Song), a GMA Dove Award for Pop/Contemporary Recorded Song of the Year, a Billboard Music Award nomination (Top Christian Song) and a K-LOVE Fan Award (Breakout Single). Apple Music chose Williams as Artist of the Week in December 2016, while "Chain Breaker" was the top track of 2016 on iTunes' Christian Songs chart and also reached No. 12 on Billboard's Hot Rock Songs chart. Williams has already toured with Chris Tomlin, Rend Collective, Big Daddy Weave and many more.
Connect With Zach Williams:
Website: www.zachwilliamsmusic.com
ABOUT SOCIAL CLUB MISFITS
Miami hip-hop duo Social Club Misfits have built a cult following on the strength of their provocative oeuvre and singular, quick-witted approach. Comprised of Marty and Fern, Social Club is the after-effect of two distinctive personalities meshing to create an invigorating sound. The self-monikered "Misfits" are disruptors in every sense, challenging norms and bringing other misfits along for the ride. With a host of projects and EPs under their proverbial belt, including the Billboard-charting full-lengths Misfits 2 and US, Social Club Misfits has made a sport of pushing boundaries and redefining the possibilities of what faith-based music can accomplish. From headlining sold-out tours across the country to spawning imitators the world over, it's clear the duo has struck a chord with listeners from all walks of life. They have bypassed perceived gatekeepers in favor of carving their own lane and fueling their purpose. Their latest project, The Misfit Generation EP, is available now.
Connect With Social Club Misfits:
Website: www.socialclubmisfits.com
###
For more info on for KING & COUNTRY, visit the JFH Artists Database.
For more info on Zach Williams, visit the JFH Artists Database.